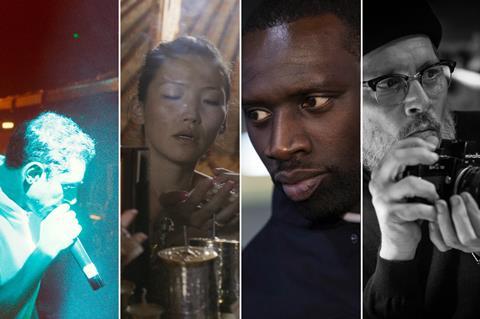 All eyes are on the first edition of the Berlinale put together by artistic director Carlo Chatrian, who joined from Locarno Film Festival, and executive director Mariette Rissenbeek, previously managing director of promotional organisation German Films.
Here, Screen picks out just a few of the stand-out titles playing at the event, from across the Competition, Berlinale Special, and Panorama sections.
The Berlin Film Festival runs from February 20 to March 1.
Competition
DAU. Natasha (Ger-Ukr-UK-Rus)
Dirs. Ilya Khrzhanovskiy, Jekaterina Oertel
The ultra-ambitious Dau art project has already yielded one epic, 330-minute screen work, simply titled Dau, which premiered in Paris in January 2019 as part of an immersive art installation, following a failed attempt to mount the project in Berlin in 2018. This latest exploitation of the material — which is based on the life of Soviet scientist Lev Landau and filmed in Ukraine over a two-year period involving hundreds of participants — is accompanied by DAU. Degeneration, playing in Berlinale Special. Contact: Coproduction Office
My Little Sister (Swi)
Dirs. Stéphanie Chuat, Véronique Reymond
Nearly a decade after their debut feature The Little Bedroom (2010) premiered at Locarno, and with TV and documentary work in the interim, Swiss writer/director duo Chuat and Reymond present their sophomore fiction feature My Little Sister (Schwesterlein). A Berlin playwright follows her husband to Switzerland, where he manages a private school, but when her twin brother develops leukaemia, she returns to be with him. The cast includes Christian Petzold regular Nina Hoss, alongside Lars Eidinger (TV's SS-GB). Zurich-based Vega Film produces. Contact: Beta Cinema
Undine (Ger-Fr)
Dir. Christian Petzold
Berlinale regular Petzold, last in the festival two years ago with Transit, reunites with that film's co-stars Paula Beer and Franz Rogowski for this modern-day retelling of a myth relating to the titular water nymph. In this version, Undine is a young tour leader in Berlin who connects with an industrial driver. Schramm Film produces, in co-production with Les Films du Losange. Backers include Canal+, Ciné+ and French and German national and regional film bodies. Contact: The Match Factory
Berlinale Special & Special Galas
High Ground (Australia)
Dir. Stephen Johnson
Set in 1930s Australia, this western action thriller stars Simon Baker as a bounty hunter who enlists the help of a young Aboriginal man to track down the most dangerous outlaw in the territory — his uncle. It is Australian filmmaker Johnson's second feature after 2001's Yolngu Boy. The producers are Maggie Miles, Witiyana Marika and Johnson alongside David Jowsey and Greer Simpkin. Contact: Playtime
Minamata (UK)
Dir. Andrew Levitas
Johnny Depp plays Life magazine photographer W Eugene Smith in Levitas's second feature after 2014's Lullaby. Set in the early 1970s, it follows Smith as he takes on a powerful corporation responsible for poisoning the people of Minamata, Japan. Developed by Depp's Infinitum Nihil banner, the actor produces alongside the company's Sam Sarkar, Levitas and Gabrielle Tana. Contact: HanWay Films
Night Shift (Fr)
Dir. Anne Fontaine
French filmmaker Fontaine makes her Berlinale debut with this contemporary drama about three Parisian police officers transporting an illegal immigrant to the airport for deportation. When he tells them his life is in danger if he is returned to his native country, the trio debate whether they should free him. Omar Sy, Virginie Efira and Grégory Gadebois star as the police officers with Iranian actor Payman Maadi (A Separation) as the condemned man. Contact: Gabrielle Tensorer, Studiocanal
Time To Hunt (S Kor)
Dir. Yoon Sung-hyun
Yoon's second film is set in a dystopian future in the aftermath of a severe financial crisis. Four men are left with no choice but to break the law in order to survive. The cast includes Lee Je-hoon and Park Jung-min, both from Bleak Night, and Choi Woo-sik, who played the son in Parasite. Yoon's 2010 debut feature Bleak Night won several awards, including Busan's New Currents prize. Contact: Contents Panda
Panorama
Black Milk (Ger-Mong)
Dir. Uisenma Borchu
Born in Mongolia and raised in Germany, Borchu made her feature debut in 2015 with the semi-autobiographical Don't Look At Me That Way, premiering at Munich International Film Festival. Black Milk (Schwarze Milch) presents a young woman searching for her roots and discovering a sensuality that transgresses not just Mongolian conventions but those of the supposedly liberal west. The cast includes Borchu and Franz Rogowski (Transit). Contact: Nine Film
Mogul Mowgli (UK)
Dir. Bassam Tariq
Marking the narrative feature debut of New York-based Pakistani director Tariq, this drama stars Riz Ahmed as a successful rapper who is forced to move back in with his family after being struck down by a crippling illness. Ahmed co-wrote the film with Tariq and produces the BBC Films-backed feature through his Left Handed Films banner with Pulse Films, Thomas Benski, Bennett McGhee and Michael Peay. Tariq's short documentary Ghosts Of Sugar Land won the short film jury award at Sundance last year. Contact: Charades
One Of These Days (Ger-US)
Dir. Bastian Günther
Germany-born Günther has shown a fascination with the US in both his documentary and fiction work — respectively with features California City (2014) and Houston (2013). That interest continues with this drama set in smalltown Texas, and based around an annual endurance contest where participants compete to win a pickup truck by keeping their hand on the vehicle the longest. Billed as "a psychological portrait of poverty, wealth and despair", and previously titled Avalanche, the film's cast includes UK actor Joe Cole (A Prayer Before Dawn, TV's Peaky Blinders). Germany's Flare Film produces. Contact: The Match Factory
Wildland (Den)
Dir. Jeanette Nordahl
This striking debut feature offers a rare female-driven look at a small-town mafia family. Teenager Ida (newcomer Sandra Guldberg Kampp) loses her mother and goes to live with her estranged aunt (Sidse Babett Knudsen) and her three sons. Ida soon learns about their strong bonds but also their criminal way of life. Danish producer Snowglobe has enjoyed a string of festival hits including Birds Of Passage, Godless and Monos. Contact: Bac Films