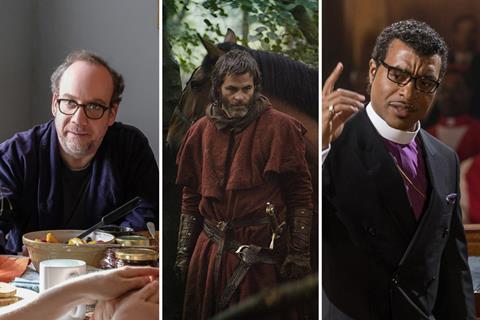 Last October Netflix chief content officer Ted Sarandos said the streaming platform was aiming to release approximately 80 original films in 2018.
"They range anywhere from the million-dollar Sundance hit, all the way up to something on a much larger scale," Sarandos said. One of these larger scale films — Will Smith's urban fantasy Bright — has recently been greenlit for a sequel.
With a content budget of around $7-8bn this year, the below titles are a snapshot of how Netflix has been investing in film for 2018. All will be released worldwide under their Netflix Originals banner. The release dates are subject to change.
Mute
Director: Duncan Jones
A new sci-fi outing for director Jones (Moon, Source Code) set in a near-future Berlin and starring Alexander Skarsgård, Justin Theroux and Paul Rudd. Jones wrote the script with Michael Robert Johnson. The film is produced by Stuart Fenegan. Charles J.D. Schissel and Trevor Beattie are executive producers.
Release date: 23 February
Come Sunday
Director: Josh Marston
Chiwetel Ejiofor plays the lead in this true story drama about Evangelist Carlton Pearson, who is ostracised by his church for preaching that there is no Hell. Josh Marston (Maria Full Of Grace) directs, whilst Martin Sheen, Danny Glover, Jason Segel and Lakeith Stanfield co-star. Endgame (Looper) is financing and producing. The film will premiere at the 2018 Sundance Film Festival.
Release date: 13 April
Hold The Dark
Director: Jeremy Saulnier
This Alaska-set thriller is Jeremy Saulnier's follow-up to his critically acclaimed Green Room, and stars Jeffrey Wright, Riley Keough and Alexander Skarsgård. Netflix came on board to handle distribution of the A24 project last year. Producers include Russell Ackerman, Anish Savjani, Neil Kopp and Eva Maria Daniels.
Release date: 1 June
Cargo
Directors: Ben Howling, Yolanda Ramke
As first reported in Screen International, Netflix swooped for the worldwide rights to this zombie thriller from the producers of The Babadook last year in a multi-million-dollar deal. The film is Ben Howling and Yolanda Ramke's collaborative debut, and is based on their short film from 2013, which garnered 12 million views online. Martin Freeman stars as a father who is stranded in rural Australia with only 48 hours to find a new home for his baby daughter, after being infected in the wake of a violent pandemic. It's the first Australian film to sit under Netflix's Originals banner.
Release date: 8 June
The Angel
Director: Ariel Vromen
Director Ariel Vromen is best known for his acclaimed hitman thriller The Iceman, which starred Michael Shannon. His new project is a $12m spy thriller telling the true story of Ashraf Marwan, who was the son-in-law to Egyptian President Nasser while also being an advisor and confidante to his successor Anwar Sadat. The project is based on Uri Bar-Joseph's novel The Angel: The Egyptian Spy Who Saved Israel. Marwan Kenzari stars alongside Toby Kebbell and Hannah Ware, and the film is shooting in Arabic, Hebrew and English.
Release date: 15 June
How It Ends
Director: David Rosenthal
Theo James (Divergent) stars alongside Forest Whitaker in this post-apocalyptic thriller about a young father who will stop at nothing to get home to his pregnant wife on the other side of the country. David Rosenthal (The Perfect Guy) directs from a 2010 black list script by Brooks McLaren. Netflix secured worldwide rights to the project from Sierra/Affinity in January 2017. Paul Schiff Productions' Paul Schiff and Tai Duncan are producing.
Release date: 27 July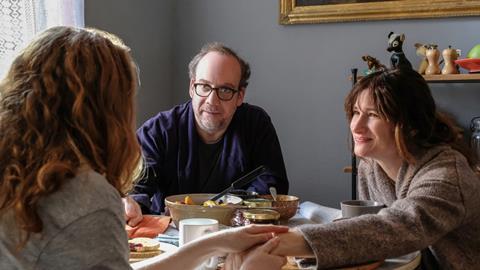 Private Life
Director: Tamara Jenkins
This is Tamara Jenkins' first film since 2007's acclaimed Sundance hit The Savages, which earned star Laura Linney a best actress Oscar nomination. The project stars Kathryn Hahn and Paul Giamatti as a couple trying to maintain their marriage as they descend deeper into the world of assisted reproduction and adoption. Jenkins also wrote the script, with Anthony Bregman and Stefanie Azpiazu producing.
Release date: 21 September
Apostle
Director: Gareth Evans
Gareth Evans (The Raid series) wrote the script and directs this period revenge thriller starring Lucy Boynton, Michael Sheen and Mark Lewis Jones. The film revolves around a man who travels to a remote island in search of his missing sister recently kidnapped by a murderous religious cult. Gareth Edwards, Aram Tertzakian and Ed Talfan are producing.
Release date: 28 September
The Other Side Of The Wind
Director: Orson Welles
Orson Welles' final film will see the light of day this year, after Netflix stepped in to restore and finish it. Welles started to shoot the Hollywood satire — which stars John Huston as a legendary director — in 1970, but died before it was completed, leaving 1,083 reels of footage. Producer Frank Marshall, actor Peter Bogdanovich and original producer Filip Jan Rymsza oversaw the project.
Release date: TBC
The Highwaymen
Director: John Lee Hancock
Kevin Costner and Woody Harrelson are to play the lawmen who hunted down Bonnie and Clyde. John Lee Hancock (The Founder, Saving Mr. Banks) directs from a script he co-wrote with John Fusco and Scott Frank. Casey Silver produces. This is another project previously set up at Universal.
Release date: 19 October
Untitled Dan Gilroy
Director: Dan Gilroy
Director Dan Gilroy will reunite with his Nightcrawler stars Rene Russo and Jake Gyllenhaal for this project set in the high-end art world that tells the tale of what happens when greed gets in the way of art. Gilroy also wrote the script, with Jennifer Fox producing. The project was won by Netflix in an auction.
Release date: 26 October
Norway
Director: Paul Greengrass
Paul Greengrass (United 93, the Bourne series), directed and co-wrote this real-life drama about how Norway united as a nation following the Anders Breivik terror attack in 2011, when the extremist murdered 77 people. Åsne Seierstad co-wrote the script, with the cast comprising local actors including Anders Danielsen Lie, Jon Øigarden, Ola G Furuseth. Scott Rudin and Gregory Goodman are producing.
Release date: 2 November
Untitled Noah Baumbach
Director: Noah Baumbach
Noah Baumbach returns to Netflix after last year's Cannes contender The Meyerowitz Stories with this untitled project starring Adam Driver, Scarlett Johansson and Laura Dern. No plot information has been released so far.
Release date: 30 November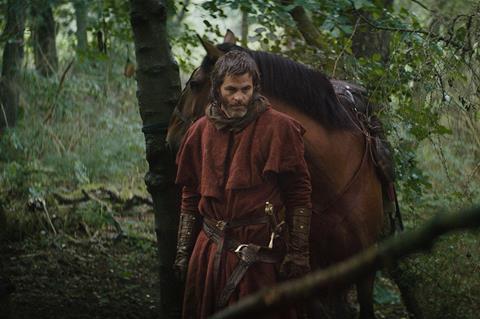 Outlaw King
Director: David MacKenzie
David Mackenzie's (Hell Or High Water) period drama epic stars Chris Pine as Robert The Bruce, alongside Aaron Taylor-Johnson, Florence Pugh and Tony Curran. The film is the first UK narrative feature that Netflix has boarded ahead of production. MacKenzie, James MacInnes and David Harrower wrote the screenplay. It was supported by Creative Scotland and shot in Scotland last year.
Release date: 23 November
Bird Box
Director: Susanne Bier
The Night Manager director Susanne Bier helms this thriller about a woman and two children struggling to survive as they head down a river in a post-apocalyptic world. Sandra Bullock, Sarah Paulson, Trevante Rhodes, John Malkovich and Jacki Weaver star. Arrival scribe Eric Heisserer wrote the script, and Scott Stuber developed the project at Universal before moving to Netflix.
Release date: 21 December