This year's American Film Market (Nov 6-13) will take place against a backdrop of US economic instability, but it's the small screen that is likely to be the hot topic of conversation, as Jeremy Kay reports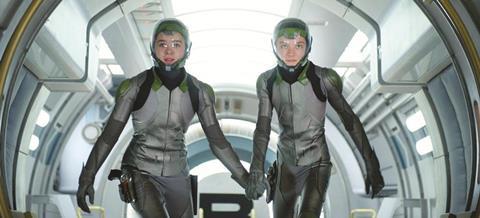 The 11th hour intervention by Congress last month ending the partial US government shutdown and averting a financial crisis has allowed AFM participants to focus on the matter at hand — making movies.
However the subject of US economic stability is not going away and is sure to be a talking point at AFM's annual venue, the Loews hotel, Santa Monica.
October's fleeting cross-party consensus merely bankrolled the government until January 16 and extended the US Treasury's borrowing authority until February 7. So it is against this backdrop of a potential return to the brink of calamity in the run-up to the February 6 start of Berlin's European Film Market that attention turns to more industry-specific issues.
The company on everyone's lips will be Focus Features International. The prognosis is gloomy in the wake of the merger between Focus Features and FilmDistrict. Nobody is willing to talk on the record at press time, however it seems that dramatic change is in store for the studio-based arthouse specialist as Comcast shifts the target to broader commercial fare. Incoming Focus CEO Peter Schlessel is a savvy executive with wide experience of the international markets, so it will be fascinating to see how this plays out.
Of broader interest is the small screen. TV production opportunities, a falling advertising market, sluggish international adoption of digital/VoD and Netflix's move into film production are likely to dominate the conversation.
Few would pretend to know how all this is going to play out, but a growing number of sales companies and filmmakers are willing to find out and have been migrating to TV alongside the likes of Steven Spielberg, Martin Scorsese, David Fincher and Tom Tykwer.
Next to established players such as Lionsgate and Content Media Corporation, a coterie of companies including Relativity, Sierra/Affinity, Voltage Pictures and Lakeshore have made or are making serious inroads into the TV space. Gaumont International and StudioCanal were active at MIPCOM and The Weinstein Company will co-produce a BBC adaptation of War And Peace. Financier Michael Benaroya is poised to enter the TV space and Ivanhoe Pictures, the entity launched in Toronto by financier Robert Friedland, producer John Penotti and Beijing-based media veteran Ray Chen, is also getting into the game.
"It is exciting now because almost everyone has one foot in the film business and one foot in the TV business," says Mister Smith Entertainment founder David Garrett. "You can explore complex subjects and characters in the TV format. It has given the film sector an injection of energy. People aren't always looking to make a movie now; perhaps it will be an eight-episode series."
Mister Smith's long-term strategy foresees a move into TV but Garrett is quick to point out the independent film arena is still a good place to be, although everyone needs to narrow focus, pursue top-notch elements with a hook and be creative with financing.
"It is very simple," says Lionsgate Motion Picture Group co-chairman Patrick Wachsberger, Garrett's former business partner at Summit. "There are the movies that work and the movies that don't work. The home-entertainment business is down, VoD is starting but it isn't there yet to compensate. The TV business is still active and US sales companies are getting into TV."
Last month Relativity chief Ryan Kavanaugh told MIPCOM attendees of his plans for a Limitless TV series based on the 2011 feature, which he said in this context could be regarded as "the biggest pilot of all time".
Beyond individual titles, Kavanaugh plans to construct a digital "TV-everywhere" platform within the next 12 months, a typically bold statement from the young mogul that calls to mind Netflix's streaming service.
Speaking of which, when the Netflix original series House Of Cards from Media Rights Capital went straight to order, it eliminated the pilot model. Company chiefs declared the series a hit — although it is difficult to quantify this because nobody has issued meaningful numbers.
Netflix and Amazon have shown the original-series business for internet-based entities is growing. As advertising revenue in broadcasting continues to fall, a situation that is exacerbated in Europe where economic woes endure, the conceptual and geographical expansion of Netflix and its peers heralds new opportunities for the film business.
"I am excited about the international development of Netflix, Amazon and other [subscription VoD] providers," says The Exchange CEO Brian O'Shea, "as it allows our foreign theatrical buyers to find new partners when acquiring films."
What international theatrical distributor wouldn't welcome a new class of hungry ancillary buyer with deep pockets? On the flip-side, who wouldn't want to acquire the best product from the independent space?
The movie business
This month an independent release, The Hunger Games: Catching Fire, is almost guaranteed to become one of the biggest hits of 2013. The Lionsgate smash, hot on the heels of the Twilight franchise, can hold its own with anything from the big six studios.
Other independent success stories from 2013 include IM Global's A Haunted House, Foresight Unlimited's 2 Guns and Blumhouse Productions' Insidious: Chapter 2. At time of writing all eyes were on the early November release of young adult adaptation Ender's Game, the first potential tentpole sold by Sierra/Affinity that Lionsgate-Summit was preparing to release in the US.
At AFM this month, Lionsgate's slate will include Gerard Butler in the fantasy adventure Gods Of Egypt and crime thriller Mortdecai with Johnny Depp and Gwyneth Paltrow. "It is the kind of movie that could work in every territory," says Wachsberger.
"People are realising the independent business is having an impact on the market all over the world," says Sierra/Affinity CEO Nick Meyer. "That's good and we have to keep that going."
"There is a lot of material out there and finding the right material is the needle in the haystack," says The Solution Entertainment Group co-founder Lisa Wilson, who believes there is a disconnect between the actors who studios want to work with and the more familiar names that please international buyers.
"It is harder then ever to get big stars to do movies for a pay cheque because studios are focusing on their tentpoles and will pay the third or fourth lead millions of dollars," says Michael Benaroya. "Hopefully they'll take the payday and come make some art with me because studios aren't making the kind of movies you see in the independent space."
Once again, TV may be the disrupter. Radiant Films International founder Mimi Steinbauer notes: "Some of [the rising talent in film] are coming out of TV and that's a launchpad it probably wasn't five years ago. Those US and UK TV series are travelling so well internationally now. That's real clout."
"It's all about the movies," adds Meyer. "You have to be super-rigorous about hunting for great properties and having relationships with suppliers who can keep delivering them; that comes with doing what you say you're going to do. I don't think that's ever going to change."
What will change is global acceptance of digital platforms, although the familiar refrain of the last 18 months has been how VoD is yet to replace DVD.
"A lot of international partners want to hear about the big theatrical release and I think that's about to change," says XYZ Films partner Aram Tertzakian. XYZ championed The Raid: Redemption, the Indonesian sensation directed by the UK's Gareth Evans, and is in post on the sequel. Tertzakian and his partners specialise in the early adoption of international talent and foster a high volume of close ties with their discoveries.
XYZ has sold or served as executive producer on a number of titles that debuted on digital channels. "It won't be overnight but as [VoD and digital] becomes more successful in the US we're going to see more of this internationally," says Tertzakian