PROMOTIONAL FEATURE: The UK's Department for International Trade, the Northern Powerhouse and Film Export UK have teamed up to ensure a great British presence at AFM.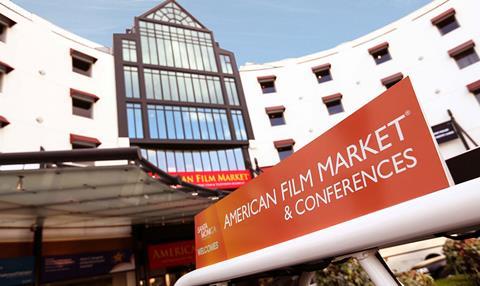 There will be a strong British flavour to AFM. For the first time since 2010, the UK has an umbrella stand in the Loews hotel. Run by Film Export UK and situated in the Yoga Room, it will provide meeting, stretching and office space for a number of UK companies, including Dogwoof Pictures, Film Constellation and Sheffield Doc/Fest. Several UK sales firms are also benefiting from ongoing government Tradeshow Access Programme (TAP) support, which helps to underwrite their visits to Los Angeles.
Meanwhile, the UK's Department for International Trade (DIT) and the Northern Powerhouse are organising a film-sector trade mission to AFM. It will showcase emerging talent as well as established companies from cities including Manchester, Leeds, Liverpool, Newcastle and Sheffield among others. All this activity is part of the DIT's five-year creative industries campaign for the US. Film, it is very clear, is regarded by the UK government as a priority sector.
Export-related activities in Los Angeles are not confined to AFM. As part of the ongoing Film Is GREAT campaign, there was plenty of noise ahead of AFM around Bafta LA's Britannia Awards. And on the horizon is the pre-Oscar party at the Consul General's residence in Los Angeles in February. The DIT is working closely with the consulate team in the city on all these initiatives.
Two-pronged approach
The DIT campaign has two obvious goals: to help UK companies increase export sales and to drive into the UK more direct inward investment from the film sector. However, all the AFM activity is primarily targeted at exporters. "For the last two or three years, we have been talking to various funding partners about how there is still a case for an umbrella stand at AFM," says Charlie Bloye, chief executive of Film Export UK. This year, after the UK referendum to leave the European Union, the argument for re-establishing the stand became yet more compelling.
AFM is an expensive event for UK sales agents to attend, and recent currency fluctuations have not helped. Nonetheless, it is a major market the buyers expect UK sellers to attend. Thanks to DIT support and the rebirth of the umbrella stand, this will be much easier for many of them. The international fund of the British Film Institute (BFI) also provided support for the stand. The DIT has close relations with the BFI and works with all the other main UK film agencies - British Film Commission, Film Export UK and the regional bodies among them - to help companies in the British film industry grow their exports and attract more inward investment into the country.
As the UK looks for export opportunities, the creative industries are assuming an ever greater importance. There is an obvious logic in upping the UK presence at AFM. There are Asian and Latin American distributors in attendance who do not come to Cannes or the European Film Market in Berlin.
"What I hear from our members is that AFM is a particularly good market to launch pre-sales on a new project," Bloye notes. It is also considered one of the best events for "clearing inventory" or, as sellers sometimes put it, "mopping up". Deals on older titles that may already have screened in Cannes or Berlin can be clinched here. AFM provides a unique opportunity to showcase both new and old product. Moreover, if UK sellers can find US buyers for their films, that will invariably trigger sales elsewhere.
Several DIT representatives will be in Santa Monica. Among them is Tony Humphreys, an executive with extensive film and TV experience who has been hired as a 'screen specialist for creative content' by the department.
Humphreys sees his role as two-fold. On the one hand, he is helping the creative industries department "to have a slightly more in-depth knowledge of how the industry works". He can explain the mechanics of the international film business as well as its nuances. Meanwhile, he and his colleagues will aim to strengthen further relations between the US and UK film industries.
According to a spokesperson for the DIT: "UK film has a global reputation for excellence and distinctiveness, based on world-class creative and technical talent and a full range of film-making capability, second only to the US. Creative industries are an important pillar of GREAT and underpin high-level activity in UK film's two key export markets, the US and China."
The DIT's goal in supporting the UK presence at AFM is obviously to increase export business for its companies. However there is no expectation that this will happen instantly, so a five-year plan is in place.
"It is very difficult in this industry to put together a short-term plan," suggests Humphreys. "Most feature films, even the smaller ones, will probably not come to fruition within a minimum of two to three years. It would be impossible to have a plan that was for less than five years. It wouldn't have any meaning to the industry."
Bloye endorses this point. He cautions against expecting an immediate surge in UK film exports as a result of the new investment. "A lot of people would love it if we could say that people on the [umbrella] stand had sold $6m this year, which is better than $5m last year, but I'm not sure how that helps in the whole picture. You're not actually clear whether it's the provision of the support, the fact that [the sellers] were there or the fact the
market is up or down."
In other words, there are many variables. Over a five-year period, though, trends will become apparent.
As the UK targets the US and China as vital export markets, that does not mean the country is ignoring its neighbours in continental Europe.
"Before we think about Europe as a market, Europe is important as a source of co-development," says Humphreys. "All of the funds and creative collaborations we share with Europe are valuable to the development of our industry [in the UK], and the UK film trade bodies and wider creative sector have said the UK government should do everything it can to protect those."
Beyond AFM
The DIT is not just supporting the Brits at AFM. It will also be helping UK companies, through Film Export UK, to attend Berlin's European Film Market in February and Hong Kong's Filmart in March. And through the Children's Media Conference, it will aid children's entertainment companies, including those from film, to attend February's Kidscreen in Miami.
The DIT is also organising a high-level creative industries forum and showcase in December 2016 in Shanghai, just prior to the People to People dialogue, which will include discussion on how the UK and China can make the most of the film co-production treaty between the two countries.
Film sellers are by their nature optimistic. Even so, in the past they felt neglected by government because public support was geared toward production and exhibition. Now, as the DIT championing of their activities at AFM and elsewhere underlines, they realise they are playing an absolutely central role in the ongoing British film export drive.