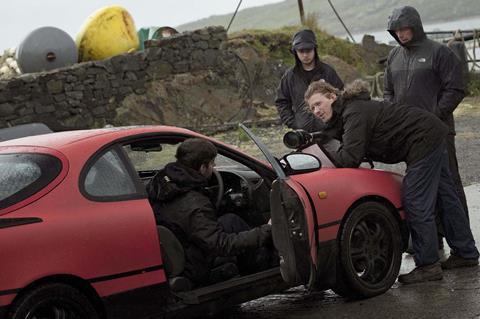 The past year has provided multiple showcases for Nick Rowland's debut feature, Ireland-set crime drama Calm With Horses. "Maybe the pandemic helped, in a way, because the film got two bites of the cherry," Rowland says.
"We had all the promotion at TIFF [Toronto International Film Festival, where the film launched in 2019] and we did festivals, then we had the launch; then another round of promotion for the digital launch. So it stayed in the conversation a bit longer."
Rowland chooses not to bemoan his luck but admits to being "heartbroken" when the UK-Ireland release of Calm With Horses was cut short after less than a week in March 2020. Distributor Altitude Films fixed up a video-on-demand release within a month to capitalise on the press tour that had already taken place pre-lockdown.
"I am happy with how it all panned out eventually," says Rowland, who segued into film from a rather unlikely profession: rally driving, which he quit after loss of sponsorship following the 2008 financial crash. Retraining as a filmmaker — studying first at Bournemouth's Arts University and then at the National Film And Television School (NFTS) — he made several shorts, including the Student Academy Awards-nominated Group B in 2015 (the year he was named a Screen Star of Tomorrow), and TV episodes for Cuffs, Ripper Street and Hard Sun.
Calm With Horses leapt onto Netflix UK and Ireland last October, cannily positioned by the streamer as awards viewership began to kick in. "I felt like the 'stumble-upon' factor would be good for us," Rowland says. "I was keen for it to go on Netflix — with a film like this, word-of-mouth helps." While the streamer has not shared any data with him, he cites the film's 'trending' position on the platform in the UK, and number-two spot in Ireland's 'most-watched' titles on its release week, as evidence of a breakthrough to a wider audience than "cinephiles that are missing the cinema" (counting himself among that group).
Set in a small town in Ireland, Calm With Horses tells the story of Arm, a former boxer turned enforcer for a crime family, who is caught between their demands and striving to be a better man for his young son Jack.
The film sees Rowland reteam with screenwriter Joe Murtagh, his collaborator on rally-driving short Group B, who he met at the NFTS. Adapted from a short story in Irish writer Colin Barrett's 2013 collection Young Skins, Calm With Horses is produced by Daniel Emmerson of DMC Film, and was shot in Ireland in summer 2018 for DMC and Element Pictures, with backers including Film4 and Screen Ireland.
"Even before we made it, everyone knew it was going to be a difficult one to explain," Rowland notes of marketing the title Calm With Horses, "because it's not definitively one thing, tonally. We had to have one campaign that would work for everyone, so it was always going to be tricky." This cropped up most prominently in the US, where distributor Saban Films insisted the title be changed to The Shadow Of Violence for a July 2020 theatrical release. "I preferred Calm With Horses," Rowland says, "but it was felt that it didn't work for that market."
Striking a chord
None of this held the film back from the UK awards stage though. Calm With Horses secured 10 British Independent Film Awards nominations in December, including British independent film, director and debut director. Despite no wins there, the momentum continued with four nods at the Baftas including outstanding British film, casting for Shaheen Baig, and in supporting acting categories for Niamh Algar and Barry Keoghan.
"It is such a competitive year — I don't think we expected any nominations," says Rowland, who is also keen to champion Cosmo Jarvis, who leads the film. "The bottom line is the film wouldn't work with anyone else. I've never worked with a more hardworking actor. He was the only English actor surrounded by a fantastic Irish cast — the pressure on him was immense. It was his first leading role, and he's in every single scene."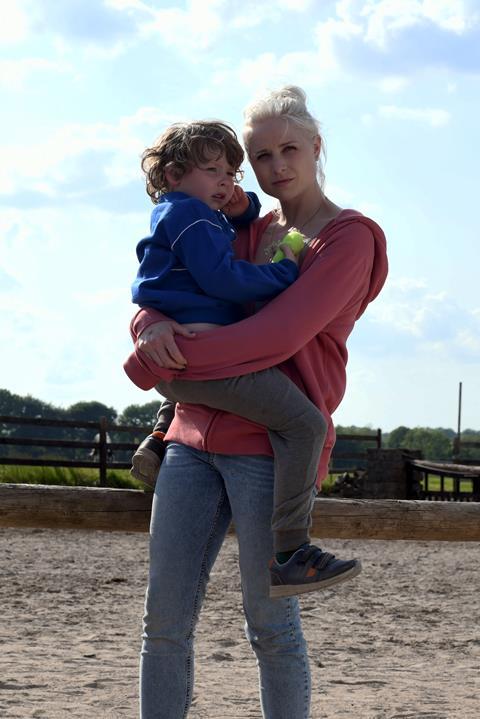 Acting alongside Jarvis, Algar and Keoghan is first-timer Kiljan Moroney, who was just five when he was offered the role of Jack, a character on the autistic spectrum. Depiction of autism has been under the spotlight in recent months, with criticism of the trailer for Australian performer Sia's debut feature Music. Murtagh's script for the Calm With Horses was developed in conjunction with UK charity the National Autistic Society. "We felt like we couldn't make the film without them on board," says Rowland, adding that depicting Jack "in a way that was truthful, authentic and tasteful… was the biggest challenge of the shoot."
"It's about being three-dimensional," Rowland continues. "That's one of the things the Society liked about this film. Calm With Horses is not a film about autism; but it still needed to be done in the right way. They educated us about how there are so many unhelpful portrayals of autism in films and TV."
For his second feature, Rowland is returning to a subject familiar to him: rally driving. A first draft is almost complete, and it will be the first time he has sole writing credit on his work. "It's a whole new learning curve, but I'm enjoying it," he says. A separate, unannounced TV project is on ice, delayed by the pandemic.
And his wish list for the future? "I want to do a love story, desperately. It would be easy for people to see Calm With Horses and go, 'Oh, Nick is interested in crime films and men beating people up.' That's not it. What I'm interested in is emotion, and stories that have heart and soul."