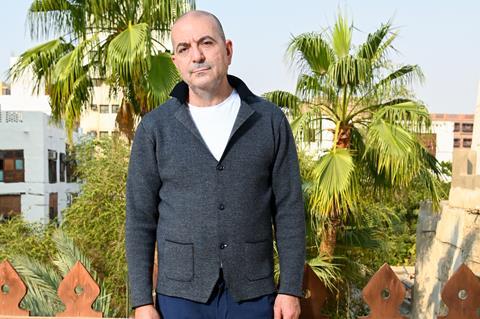 Palestinian director Hany Abu Assad's thriller Huda's Salon makes its Middle East and North Africa debut on Tuesday (December 7), opening the main competition of Saudi Arabia's new Red Sea International Film Festival, running December 6 to 15 in Jeddah.
The feature made its world premiere in Toronto three months ago but for Golden Globe-winning and double Oscar nominee Abu Assad, its arrival in the MENA region marks the most important leg of its festival and theatrical journey.
"I made this movie for my home audience, to start a discussion inside our own society about why we punish women when they are victims of sexual intimidation, harassment or exploitation," he says. "There's a part of our society that still punishes the victim and I wanted the film to begin a conversation about why we punish the weak and not the strong."
Huda's Salon is Abu Assad's first feature set in Palestine since his 2013 West Bank and Gaza-shot The Idol, having spent time in Los Angeles to work on the action- adventure titleThe Mountain Between Us.
The film taps into the murky world of intelligence gathering in the Palestinian territories. Manal Awad plays the titular Huda, a hairdresser operating a network of Israeli informers out of her salon in Bethlehem, who engineers intimate images of a young client with which to blackmail her into collaborating.
Ali Suliman, seen recently in 200 Meters, Amira and Farha, plays the interrogator while Maisa Abd Elhadi is the young mother with a jealous husband, who is Huda's victim.
"Manal is a huge star here. When Manal walks down the street everyone stops her," says Abu Assad of the Rada-trained actress, who is known internationally for roles in films including Tarzan. She has also appeared in Arab Nasser's Degradé and Gaza Mon Amour and Abu Assad's The Idol and enjoys celebrity status back home as a comedian.
"By casting her, I thought it would connect the film with a wider audience," the director explains.
He emphasises the bravery of co-star Abd Elhadi in taking on a scene where her character is stripped naked by her aggressor. "I will most probably cut that scene when I show it to a Palestinian audience. For the simple reason that it will deviate the discussion away from sexual exploitation to why did I show her naked, and it's not the issue," says Abu Assad.
"But I'll tell you why I did that scene. I want to make movies for history that can work 20 years from now, to be a witness to my time and be as brave as possible. Nudity is often used in cinema as flirtation, here it's a crime. It's the opposite of arousing, you need to be brave to do that because there's a big chance that people will be angry, and Maisa was even braver in taking it on."
Abu Assad says he screened the film with professionals who work in real-life to supportfemale abuse victims. "I was moved by their reactions, and I felt if they believe it, I've succeeded in my mission.'
Telling a female story
Abu Assad was inspired to tell a very female-focused story by Lebanese writer and curator Rasha Salti and his wife, the producer and filmmaker Amira Diab.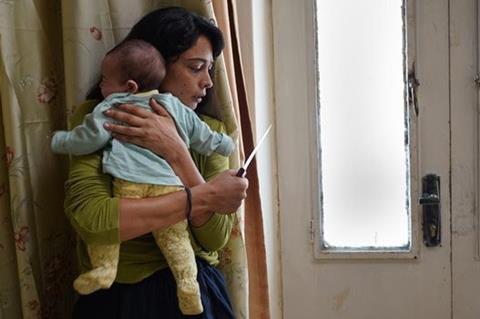 "Rasha is an old friend and once said to me, 'You really know how to write woman characters.' And it stuck in my mind. I felt like if it's true, I want to try to do a movie where women are the heroes," he recounts. "But then it came about by accident. My wife wanted to write something about women in our society and asked me if I had any story ideas. I told her about this salon that I'd read about in the newspapers. She was like, 'Ok but what's the story?' I don't know why but I woke up at four in the morning and started to write the outline. My wife woke up at eight, and I told her, 'I have the story'."
The production shot between Covid-19 lockdowns in 2020, filming the interrogation scenes in a subterranean location in Abu Assad's home city of Nazareth in early 2020, before moving to Bethlehem to shoot all the "above ground scenes" in late 2020.
"There were good and bad things about what happened," says Abu Assad of the enforced hiatus. "On one side, the gap gave me time to think more about the story arc of the characters, on the other when we did get to the set, there was the pressure of the virus and worrying about someone getting sick."
Although the director says the film is the least political of his Palestine-shot works, it is still permeated with a sense of the Israeli military presence in Bethlehem, as the camera homes in on the separation wall that cuts through the city and captures drones hovering over the street. "It's simply the situation the characters are living in," he says. "You have to define this, not just the characters but also the situation. This is the ABC of filmmaking, you define your characters, you define your place, and then you go with the story. It's part of the definition of the place. It's under occupation but the occupier has become invisible."
New projects
Abu Assad is now working on various new projects, Through A&H Productions, his production company with Diab, he is developing the desert kingdom saga Kings' Wives, which is at the financing stage to be made as a series. Out of the US, he is attached toTriStar's adaptation of the graphic novel The Infidel, which is close to delivering a script, and The Good Spy, about real-life CIA operative Robert Ames, which is scheduled for re-writes next year.
In the meantime, Abu Assad is looking forward to seeing how Huda's Salon is received by audiences as it goes on the local and regional leg of its release journey.
"It could go either way. It's a very controversial story," he says. "If was the same with Paradise Now. I had the same feeling," says the director, referring to his 2003 suicide bomber drama. "I knew it might anger people on both sides and it did, but there were also a lot of people who appreciated it too."