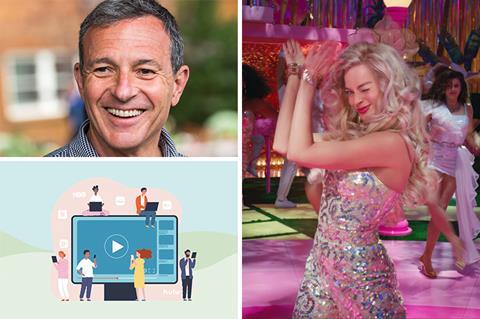 How to reverse a 30% decline at the global box office
The global box office is forecast to reach $29bn this year, up 12% on 2022. That may seem welcome news for cinemas but is not where they want to be. In the three most-recent pre-pandemic years of 2017-2019, the global total averaged $41.7bn, and the $29bn estimate for 2022 is a troubling 30% below that number. One challenge is China, which averaged $7.8bn for the years 2017-2019, but delivered just $4.3bn in 2022 – a shortfall of 45% – and Covid remains a stubborn issue. Another is Russia, where US studio titles are not being released.
2022 benefited from strong performers including Top Gun: Maverick, and ended the year strongly with Avatar: The Way Of Water, but only delivered three $1bn hits – also including Jurassic World Dominion. In 2019, eight films released that year achieved $1bn global box office.
For 2023, cinema operators are more bullish – although they have a tendency to talk up the release slate in anticipation, and then blame it when the box office disappoints. The year will offer three Marvel titles, a new Indiana Jones, a new Mission: Impossible (with a Maverick-boosted Tom Cruise), a second Dune, the Hunger Games prequel plus the likes of Wonka, Super Mario Bros, Barbie and Christopher Nolan's Oppenheimer.
More worrisome is the recent performance of adult-skewing titles and indie dramas. With collapsing theatrical windows, smaller distributors will need to work ever harder to persuade these audiences to see films on the big screen.
The growth of Saudi Arabia
Saudi Arabia is the only country where box office has more than doubled since the Covid-19 pandemic and box office revenues are predicted to surpass $1bn by 2030, placing it in the top 20 of global cinema markets. Cinemas are rapidly being built to meet the demand from a growing young audience that is becoming increasingly exposed to global cinema courtesy of ambitious events such as the Red Sea International Film Festival in Jeddah.
Don't count out China
Both the Chinese industry and Hollywood studios heaved a sigh of relief with the arrival of Avatar: The Way Of Water which grossed $14.3m (RMB100m) on its opening day on December 16. It was the first film to cross the RMB100m mark since the National Day holiday week on October 7 and delivered a much-needed final push to the under-performing Chinese box office which had been down 36.3% year-on-year as of December 11.
Avatar also marked the high-profile return of Hollywood tentpoles at a time when very few have been approved for release. But the US-China relationship remains precarious. Chinese censors are unlikely to loosen their grip and the public may avoid cinemas as Covid cases surge following the easing of pandemic restrictions.
Changing priorities for the US streamers…
This time last year, the high-spend model was revered as an evergreen business. Now the talk is about bottom line following a chastening 2022 triggered by Netflix's first net subscriber loss in over a decade, staff layoffs and that bruising 60% stock plunge. Will Universal Pictures owner Comcast snap up the now much more affordable house that Reed Hastings and Ted Sarandos built? Could Microsoft or Apple, which lacks a deep content library and has money to burn, move in? Will we see bundles emerge, offering consumer value amid high inflation and a looming recession?
Streaming isn't going anywhere, billions are still being deployed on content, and the name of the game is international expansion. However, wary media leaders are focused on shareholder value as opposed to subscriber growth at all costs. Warner Bros Discovery CEO David Zaslav is bullish on theatrical and as he implements several billion dollars worth of savings – laying off staff, shelving projects like Batgirl and gutting the HBO acquisitions team – it remains to be seen how the merged HBO Max-Discovery+ platform will perform.
Will newly reinstalled Disney CEO Bob Iger keep Disney+ on track to become profitable sometime in fiscal 2024 per his predecessor Bob Chapek's declarations? Iger lifted Disney's entertainment division to great heights on the back of theatrical tentpole success and may want to restore order to a jumbled distribution strategy, possibly by implementing a standard 45-day release strategy for the heavy-hitters in his pipeline. A lot could change in the coming year or so, and Hollywood is watching closely.
…as they face greater legislation in Europe
European governments are looking to bring the European Audiovisual Media Service (EAMS) directive into law and the US streamers are finding themselves increasingly subject to either levies or investment obligations. EAMS requires VoD services to have at least 30% of European works in their catalogues, but it's up to each EU country to determine how they achieve this. Most European countries have opted to introduce direct investment obligations. France has set the highest investment rates, compelling the streamers to spend 20% of their annual French revenues on local content. The rates vary across Europe, from Italy (17% of revenues), through to Spain (5%), Netherlands (4.5%), Switzerland (4%) and Greece (1.5%).
A handful of countries have chosen levies instead. Denmark and Ireland are both proposing these, with the proceeds administered by funding bodies. Denmark has set the highest rate, at 6%. By contrast it is 1.8%-2.5% in Germany, depending on the size of the streamer.
In general, the streamers oppose the idea of content levies which hand funds to external organisations, preferring the idea of investment obligations. Whichever route governments take, it will mean that more European films and TV series receive funding from streamers in the years to come. The French system is a notable revenue raiser; it is likely to generate between €250m and €350m annually.
The emergence of the international mega-players
Corporate acquisitions a go-go by the likes of Fremantle (Element Pictures, 72 Films, Lux Vide, Wildstar), Banijay (Beyond, Mam Tor), Mediawan (Plan B), The North Road (Kinetic Content), Mubi (The Match Factory), Cohen Media Group (Hanway Films) and Candle Media (Faraway Road) has meant film and TV sector consolidation has not been limited to the US giants in the last year.
Despite this, according to PwC, deal numbers in the media and telecommunications sector slowed by 26% in 2022 compared to 2021's record. The firm attributed some of the slowdown to higher interest rates, which makes financing deals more expensive. Many believe deal-making will continue in 2023, despite – or perhaps because of – the challenges facing the economy. Demand for content, particularly from streamers, will continue to make production companies attractive to trade buyers. In the streaming sector itself, there are predictions of business casualties.
Indie producers facing another difficult year
Everything is hard for independent film producers right now. Demand for crews and talent shows no sign of slowing in the big territories, particularly the UK, keeping prices high and shooting space at a premium. Increased energy costs, high inflation figures and the ongoing complexities of the fall-out from Brexit in Europe are adding to spiralling costs, while pioneering crew roles such as intimacy and wellness co-ordinators need to be built into already stretched budgets. To add to the challenges, the upscale dramas at which indie producers excel are fighting for screens at cinemas dominated by blockbusters and franchise titles and for the eyeballs and attention of a cash-strapped and distracted potential audience base. New deals with streamers under the EAMS (see above) may help producers hang on to rights and keep the wolf from the door in 2023. But it's not an easy fix.
Women to keep on talking
After Sian Heder and Jane Campion triumphed at the Oscars in 2022, progress in Hollywood seemed tangible. This year's awards race, however, may be a different story. The Golden Globe nominations saw not a single woman nominated in best picture or best director, with only Sarah Polley picking up a screenplay nod forWomen Talking. It is a similar story on the Bafta longlists with only one film directed by a woman, Charlotte Wells' Aftersun, on the best film list.
Scrutiny of the major festivals will also be necessary. The signs are good so far – over 50% of Sundance's 110 line-up come from women-identifying directors. Now all eyes are, as always, on Berlin, Cannes and Venice, whose tastes are determined by a trio of white men. 2023 will mark five years since France's gender equality group 50/50 Collectif took to Cannes to protest the lack of female representation at festivals. In spite of signing the 50/50 2020 pledge, along with many other prominent festivals, the last three editions of Cannes have each featured just four female-directed films in competition – only one up from 2018.
The rise and rise of K-content
Audience tastes are becoming ever more diverse and international and that can only be a good thing. Netflix says more than 60% of its global subscribers watched Korean titles in 2022 and K-content made its weekly top 10 in more than 90 countries. Korean films and series have long had their followings and niche fandoms, but Bong Joon Ho's Parasite best picture win at the Academy Awards in 2020 signalled the start of a knocking down of that "one-inch-tall barrier of subtitles" the Korean director referred to across the globe. Soon after, Hwang Dong-hyuk's Squid Game became Netflix's most popular show around the world and has been followed by other Korean-language series such as Extraordinary Attorney Woo and All Of Us Are Dead. The streamer's upcoming Korean series include Doona! from Crash Landing On You director Lee Jung-hyo and Parasyte: The Grey from Train To Busan director Yeon Sang-ho.
Korean films coming in 2023 include auteur Kim Jee-woon's much-awaited Cobweb, starring Cannes award-winner actor Song Kang-ho as a beleaguered 1970s director trying to reshoot a film's ending with confused cast and producers amidst meddling from censors.
And while Korean filmmakers like Cannes-awarded Decision To Leave director Park Chan-wook, who is shooting The Sympathizer for HBO, and Bong, who is working on sci-fi adventure Mickey 17 for a 2024 release, are going back and forth from South Korea to the US, other industry professionals have been encouraged to be more ambitious about developing local language projects that can reach wider audiences throughout the rest of the world.