How do you stand out in a busy festival calendar? Rome Film Fest's Antonio Monda believes engaging in conversations about cinema with artists, writers and architects might be the answer.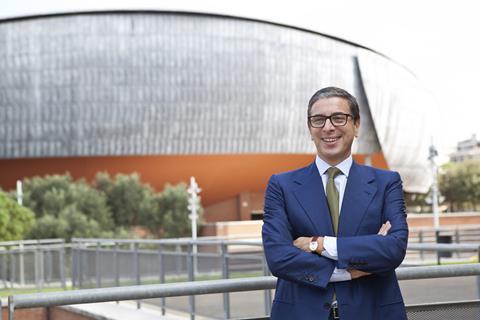 "I want Rome to be different," says Antonio Monda. "Not a festival but a feast." The artistic director of Rome Film Fest is talking about the festival's relationship to the behemoth that is Venice, which finished just over a month before Rome. But he could also be referring to the overlapping international autumn festival season.
Rome runs from October 18-28 this year, starting during the last few days of BFI London Film Festival (October 10-21) and Film Fest Ghent (October 9-19), and ending when Tokyo International Film Festival begins (October 25-November 3).
To stand out in this crowd, Monda is trying to imagine what festivals might look like in the future and, under his direction, Rome has opened up to different art forms and pursuits beyond cinema. (London has also taken a similar path with the launch of LFF Connects.)
"We have art exhibitions," says Monda. "This year, Marina Sagona, an Italian artist living in New York, will present her exhibition to engage a dialogue with cinema. With the talk series Close Encounters, the talents taking part include actors Sigourney Weaver, Cate Blanchett and Isabelle Huppert, along with architects, novelists and musicians. They will all come here to speak about cinema."
A wealth of appeal
Further participants in this year's Close Encounters series include French artist and filmmaker Pierre Bismuth, US novelist Jonathan Safran Foer, Italian director Giuseppe Tornatore, Iranian photographer/video artist Shirin Neshat and Cannes' general delegate and director of the Lumière Institute in Lyon Thierry Frémaux, who will be in town to discuss the future of film festivals.
"Stars don't come here just to promote their movie, do a red carpet and a press conference. They come without a movie!" Monda says. "Just to be here and engage in activities."
He points to Martin Scorsese, who is receiving the festival's lifetime achievement award and is spending two days at the festival, taking part in talks and screenings.
Monda, now in his fourth year in charge, has repositioned the festival as a fiesta of ideas and conversations, and jettisoned the traditional competition strand since 2015. Rome now showcases the European and Italian premiere screenings of around 40 films.
The full programme was announced on October 5, and includes Fede Alvarez's The Girl In The Spider's Web with Claire Foy; Edoardo De Angelis' The Vice Of Hope; Paolo Virzi's Notti Magiche; and Oscar-winner Charles Ferguson's Watergate documentary series.
"What I've learned in these years is that choosing good films is just a small part of a [festival] director's job," says Monda. "Directing a festival today means also helping to find money, talking with all institutional partners and trying to adapt the event to the changing landscape of our society."