Will an upswing in the fortunes of the UK and European cinema industry in 2015 mean the long-awaited sale of Odeon & UCI may finally happen?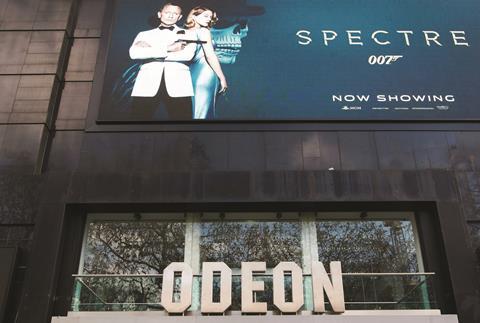 When Guy Hands' private-equity firm Terra Firma bought the UK's most famous cinema chain, Odeon, in 2004 and merged it with rival UCI, it was not expected to hold on to the cinemas for very long. The assumption was, in time-honoured private-equity fashion, the cinema group would be restructured, fattened up and sold on for considerably more than the reported £650m for Odeon ($780m at the time) and £350m for UCI ($420m) Terra Firma had paid for the two circuits.
Instead, more than a decade later, the Odeon & UCI cinema chain is still in Terra Firma's possession, and no-one seems quite sure what will happen to it. Earlier this year, Hands announced the cinema operator — Europe's largest in terms of the number of sites it operates — was up for sale again, with an asking price understood to be around $1.5bn (£1bn) or more. But a deal has yet to be done and Terra Firma's investors are becoming increasingly agitated about the failure to find a buyer.
"Private-equity [investors] generally have a 10-year life on their funds," notes one financial analyst. In 2007, Terra Firma returned some funds to these investors after refinancing Odeon & UCI but that is not the same as selling it on. In February 2015, Hands was quoted by Reuters as saying: "We are likely to appoint banks by May. Possible buyers could include US cinema groups or South American cinema firms, and private equity groups from Europe, the US and China."
Chinese property and media giant Dalian Wanda is understood to have been in extensive discussions about a potential takeover of Odeon & UCI for close to two years. There was an obvious logic for Wanda to target the chain as part of its global expansion plans. In 2012, Wanda bought blue-chip US exhibition chain AMC for $2.6bn. Last summer, Wanda also bought Australian cinema operator Hoyts.
If Wanda was looking to get into Europe, the UK would be an ideal bridgehead — and Odeon & UCI is up for grabs. But, as the Financial Times reported in September, Wanda took the "unusual step" of issuing a statement denying it had any intention of acquiring the chain. "[Wanda] spent a lot of time [looking into a possible deal] but things just didn't work," notes one well-placed observer.
Rival UK-based exhibitors, including Vue Cinemas, are known to have looked at acquiring Odeon & UCI. There was a serious $1.65bn (£1.1bn) offer for the chain from UK private-equity firm BC Partners in 2011, but this was rejected by Hands.
Emerging from a slow 2014
As it was for many exhibitors, 2014 was a difficult year for the chain. As the group's own annual report acknowledged, "2014 was a poor year for attendance globally with an exceptionally light film slate due to the FIFA World Cup, lack of family content and tentpole titles like Fast & Furious 7 being moved to 2015". Even as the group insisted its "liquidity position was comfortable", it accepted that 2014 had been "an exceptionally low market volume year overall primarily due to the poor film slate".
Industry analysts were not much impressed. "Odeon's capital structure is likely to be unsustainable over the long term," observed credit ratings agency Standard & Poor as it reduced the cinema chain's debt rating to CCC+ in the autumn of 2014. There was speculation Terra Firma would have to "pump in cash" to reduce the group's debts. According to half-year results circulated to bondholders, earnings at Odeon's operating business, which excludes figures from its property assets, fell from £30.8m ($51.5m) to £19.2m ($32m) in the first six months to 2014.
Amid a cull of top-level management, several of Odeon's most trusted executives left the company, including CEO and former BBC Worldwide boss Rupert Gavin. "When you have a year as bad as [Odeon] had last year, you have to look as if you're doing something to fix it. They had to fire everyone and blame management," says a financial analyst with close knowledge of the exhibition business.
Sale plans were put on hold. "If you're not going to get proper value in the short term, you can say to your investors, 'This is the wrong time to sell, which last year was, but if you wait until after Star Wars [The Force Awakens opened in the UK on December 17], then it will be the right time'," the analyst adds.
Paul Donovan, who took over from Gavin as chief executive of Odeon & UCI in early 2014, is a highly respected figure. A former Vodafone executive and ex-CEO of Irish telecoms operator Eircom, his lack of experience in UK exhibition has not held him back. If anything, Donovan argues, his telecoms experience has helped him. "In areas such as CRM [customer relationship management] and data and analytics, cinema exhibition is three to five years behind, which presents us with great opportunities," Donovan says. One of his first interventions was to scrap online booking fees. "We don't see why guests should be penalised for booking ahead, and it helps us to plan and gain good insight into guest behaviour," he explains.
Any new management at the company faces the very same problems, namely what observers call the chain's "legacy problems". Odeon has a glittering history: the first Odeon Cinema was built in Perry Barr, Birmingham, in 1930 — a huge picture palace, neo-Egyptian in design. The chain's founder Oscar Deutsch quickly created a nationwide circuit, and several of Odeon's art-deco theatres are now listed buildings. This may be fascinating to historians but is not much help to owners trying to run a 21st-century cinema circuit.
Even so, Donovan is in bullish mood, claiming Odeon & UCI has been growing at twice the rate of the market.
"It's no secret that 2015 [ended up being] a very exciting year, and 2014 was a bit of an anomaly," he says. "We have to remember that two of the standout titles of 2015 were originally slated for 2014, which would have given it a different overall feel. I don't want to detract from the quality and success of 2015, which has reminded us just how vibrant the market is at the moment, and of the continued popularity of cinema-going across Europe."
Long before Star Wars: The Force Awakens opened, the company announced it was on track for a good 2015. In late November, the chain reported a fourth consecutive quarter of market-share growth and also trumpeted its intention to invest in new cinemas in the UK, Spain, Italy and Germany from 2016-19.
Putting the money on screen
A regular criticism levelled at the company from both the industry and audiences is that not enough money has been spent upgrading or replacing its older cinemas. Prospective buyers are wary about the amount they will have to invest to bring the circuit up to scratch.
Donovan, however, highlights the three "stunning new cinemas" opened recently in Milton Keynes, Edinburgh Fort Kinnaird and Dublin Charlestown. "We've also invested in more than 30 of our existing cinemas this year, with a variety of new features including reclining seats, extended retail counters and new technology," he says.
"The teams in our cinemas are passionately embracing innovation and change, and this is driving our retail sales up nearly 18% over the first nine months of the year, in markets that grew 6.8% on average. Our box-office sales are up 13%, and this has had a noticeable effect on our EBITDA [earnings before interest, taxes, depreciation and amortisation], which has doubled."
Diversifying beyond the UK has obvious advantages. Around 60% of the chain's more than 2,200 screens are in continental Europe, with sites in Austria, Ireland, Italy, Germany, Portugal and Spain as well as the UK. "Having multiple markets is a good thing," says one veteran exhibitor. "You tend to have different markets performing at different levels at different times. The difficulty you run into when you have a number of chains coming together is trying to put them all together into one cohesive group."
"A lot of it has been put together by a series of acquisitions of very different collections of cinemas," says analyst Karsten Grummitt, managing director of UK-based Dodona Research, discussing the way the circuit has been assembled. "On the one hand, you've got things like the UGC builds in Italy. On the other hand, you've got small miniplexes." As Grummitt points out, small cinemas tend to "drive up your cost base" as these are more expensive to staff.
However, there is a sense that a corner has been turned. The Q3 financial results and investor presentation (from November 24, 2015) were notably upbeat. Cinema attendances in Spain and Italy, which suffered in the wake of the economic downturn, are increasing, with market attendance up 15% and 17% respectively in the two countries. What made these results more impressive is that they were posted in advance of a fourth quarter that would see the launches of blockbusters such as Spectre, Star Wars: The Force Awakens, The Hunger Games: Mockingjay — Part 2 and The Good Dinosaur.
It is understood the property value of the chain is minimal. As part of the refinancing in 2007, most of the various freeholds are thought to have been sold and leased back (it is unusual nowadays for UK cinema operators to own their properties). "Most operators tend not to have money tied up in property but to have money spent on cinemas," states a rival exhibitor.
Odeon & UCI remains the best-known brand in the UK cinema exhibition business. Given the success it has enjoyed in 2015, it seems inevitable a buyer will be found soon — and the headlines will return to events on, rather than off, screen.
UCI & Odeon in Europe
UK
Brand ODEON
Total Cinemas 109
Total Screens 868
Italy
Brand UCI
Total Cinemas 46
Total Screens 466
Ireland
Brand ODEON
Total Cinemas 10
Total Screens 68
Portugal
Brand UCI
Total Cinemas 3
Total Screens 45
Spain
Brand Cinesa
Total Cinemas 46
Total Screens 535
Germany
Brand UCI-Kinowelt
Total Cinemas 23
Total Screens 203
Austria
Brand UCI-Kinowelt
Total Cinemas 3
Total Screens 38