With 13 Oscar nominations without a win, will cinematographer Roger Deakins finally get his due with his 14th citation for Blade Runner 2049? Screen talks to the celebrated visual maestro.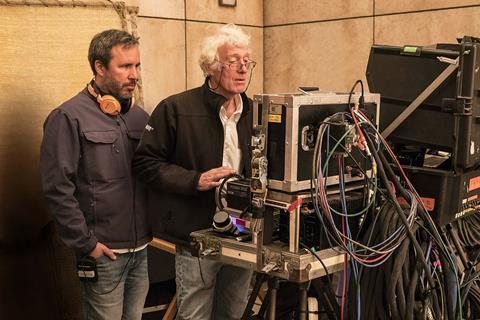 Even at 68, Roger Deakins is not ready to rest on his laurels. "I'm definitely at the stage where I want new challenges," says the UK cinematographer, whose 40-year career shooting such visually arresting features as Another Time, Another Place, The Shawshank Redemption, Kundun, Skyfall and No Country For Old Men (one of a dozen films he has made with Joel and Ethan Coen) has earned him accolades including three Baftas, three American Society of Cinematographers awards and, as of last week, no fewer than 14 Oscar nominations.
Blade Runner 2049, Alcon Entertainment and Sony's dazzling, Denis Villeneuve-directed sequel that earned Deakins his latest Academy nod, might not have joined that impressive filmography but for its potential to test the abilities — and nerve — of its behind-the-camera talents. "Had it been a remake I wouldn't have been interested at all," Deakins tells Screen International over the phone from New York at the end of a week doing prep on his next job, Brooklyn director John Crowley's adaptation of Donna Tartt's acclaimed novel The Goldfinch. "I had to really think about it. Not for very long, I must admit, because it was Denis asking me and I'd had two great experiences with him and loved his sensibility."
Feeling the pressure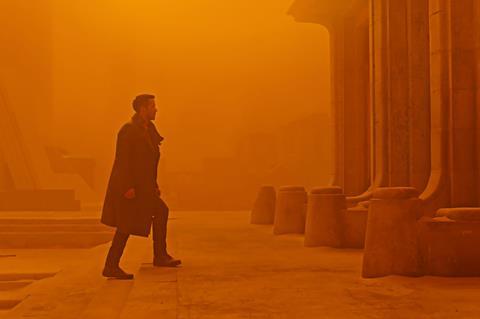 As Villeneuve — with whom he previously teamed on Prisoners and Sicario — has done, Deakins concedes there was pressure to do justice to Ridley Scott's 1982 sci-fi noir classic. But, he adds: "I really don't think that paying homage to the original film was very much part of the conversation. And from my point of view, [Blade Runner cinematographer] Jordan Cronenweth's work on that is just stunning. But I'm not Jordan Cronenweth and I couldn't do that."
After a brainstorming session nine months before shooting, Deakins and Villeneuve came up with a visual approach that was futuristic, yet grounded in an early 21st-century reality of accelerating climate change and widening economic inequality. "We talked about wanting to create something that wasn't completely fanciful, that the audience could relate to but that also felt kind of scary," Deakins recalls
Taking inspiration, and sometimes footage, from real places and events — a recent dust storm in Australia, the bleak landscape of Iceland, a ship-recycling yard in Bangladesh and vast solar-panel fields in California — director and cinematographer set out to combine "the original Blade Runner with what could literally be our future. You're starting from a fictional world created by the original film [set in 2019 Los Angeles] but you're also suggesting what LA would look like in the future."
The results include the new film's spooky, orange-hued Las Vegas episode, its chilling depiction of a rural Californian wasteland and an opening sequence that was assembled by compositing images of the flying vehicle driven by new blade runner K (played by Ryan Gosling) with aerial shots captured high above Mexico City.
There is also, Deakins points out, "a sort of naturalism to the film in terms of the way the light works". And naturalism has always been an important part of the work of a filmmaker who started his career shooting documentaries in Africa and other parts of the world.
Deakins' tendency towards naturalism may explain why Blade Runner 2049 is only his second sci-fi outing, after 2011's near-future thriller In Time. "I've loved science fiction since I was a kid, but I don't like fantasy," he explains. "I like films that show a possible future and are somehow based in reality. I like that sort of science fiction and I'd love to do more, but people don't make those sorts of films very much."
One sci-fi project Deakins insists he has not had any discussions about is Villeneuve's planned adaptation of Dune, the Frank Herbert genre literary classic previously filmed — to unhappy effect all round — by David Lynch in 1984.
Asked about future projects after The Goldfinch, Deakins offers only that he is continuing in his role as a visual consultant to animation companies with DreamWorks Animation's How To Train Your Dragon 3 and that he expects to work on something he is "quite excited about" this summer.
Getting back to laurels, though, there is the inevitable question raised by last week's Academy nod: after 14 nominations without, as yet, a win, wouldn't it be nice to finally take home a golden statuette on awards night?
Deakins replies good-naturedly, but with the sigh of a man who is just a little bit tired of being asked. "I really don't know any more," he says in the soft drawl that only occasionally hints at his upbringing in the English county of Devon, where he still lives between projects in the US. "Twenty years ago it would probably have meant a lot more that it would now.
"I just like the fact that I'm still here and doing it," he says. Another nomination in itself "means to me that people kind of appreciate what I do. And that means I might do it again next year."
Roger Deakins Awards History
Academy Award nominations - Best Cinematography:
2018: Blade Runner 2049
2016: Sicario
2015: Unbroken
2014: Prisoners
2013: Skyfall
2011: True Grit
2009: The Reader (shared with Chris Menges)
2008: The Assassination Of Jesse James By The Coward Robert Ford
2008: No Country For Old Men
2002: The Man Who Wasn't There
2001: O Brother, Where Art Thou?
1998: Kundun
1997: Fargo
1995: The Shawshank Redemption
Bafta Film Award nominations - Best Cinematography
2018: Blade Runner 2049
2016: Sicario
2013: Skyfall
2011: True Grit
2009: The Reader (shared with Chris Menges)
2008: No Country For Old Men
2002: The Man Who Wasn't There
2001: O Brother, Where Art Thou?
1997: Fargo