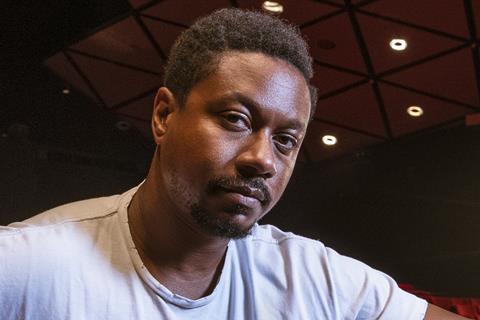 Nathaniel Martello-White is one of the few writer-director-actors to participate in Stars of Tomorrow, and he is committed to the idea of being a multi-hyphenate.
Stars of Tomorrow One-to-One: Noel Clarke & Nathaniel Martello-White
"I feel like a double agent," grins the London-born, Rada-educated talent.
Having established a successful acting career on stage and screen, which has recently included roles in feature Daphne, Sky Atlantic series Guerrilla and BBC Two and Netflix's upcoming crime series Collateral, Martello-White is now lining up his debut feature, Dumbarton Road, which he has set up with independent producer (and 2016 Star of Tomorrow) Rob Watson along with Valentina Brazzini at The Bureau.
He is preparing to deliver the first draft of the screenplay — a partial adaptation of his play Torn, which was staged at the Royal Court in 2016.
One of Martello-White's early breaks arrived in the form of a starring role in Tarell Alvin McCraney's play The Brothers Size at London's Young Vic.
"Meeting with Tarell, also an actor who was writing and dipping his toe into directing, that opened up my mind a bit," Martello-White recalls of the Moonlight co-writer.
He continued to land choice theatre roles — including August Wilson's Joe Turner's Come And Gone — and began using the relationships he was developing with prominent theatre figures to get his own work read, which he was writing in his spare time.
His first play as a writer, 2012's Blackta, which satirised the auditioning process for black actors, took Martello-White back to the Young Vic and was directed by the theatre's artistic director David Lan.
Having his first play staged was a boon for Martello-White's career: "People see you in a different light, they see you as having a brain. It ramped up the interest."
Rather than being inundated with commissions for writing work, however, it was the acting that really took off. Alongside further stints in high-profile theatre, he began taking television roles in the likes of ITV's Law & Order: UK and Channel 4's Misfits, as well as small film roles including Lucasfilm's Red Tails.
Martello-White soon found himself tempted to move behind the camera, and assembled a series of short-film ideas. Along with Joel Fry and Will Thorne, he set up production outfit Break Em Films, and their first production was Slap, his debut short as a director, which subverted audience expectations of gang violence.
The project caught the attention of Creative England, which expressed interest in his next project, a 30-minute piece about gentrification called Cla'am.
The project needed the organisation's highest bracket of funding, $65,000 (£50,000), to get made, which proved a potential sticking point.
Serendipitously, Martello-White mentioned Cla'am in a separate meeting with BBC Films, which was so enthused it co-financed the project with Creative England.
The completed film, produced by Watson and starring Joel Fry, premiered at SXSW in March.
Contact: Roger Charteris and Zoe Stoker, The Artists Partnership email@theartistspartnership.co.uk
Click here for the complete list of 2017 Screen Stars of Tomorrow.