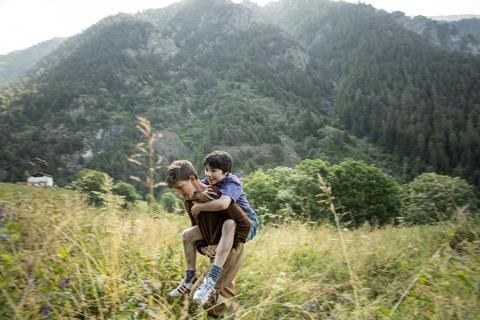 The Italian film industry brings to Cannes a more internationally focused outlook than ever, alongside a double slot in Competition, a film in Cannes Premiere, one in Special Screenings and one in Directors' Fortnight.
Just eight months after premiering The King Of Laughter at Venice, Mario Martone is on the Croisette with his Competition entry, the Neapolitan drama Nostalgia starring Pierfrancesco Favino.
Also in Competition is Felix van Groeningen and Charlotte Vandermeersch's Italian-language The Eight Mountains, which was shot in the mountains of Aosta Valley in northwest Italy. A tale about male friendship, the film stars Luca Marinelli and Alessandro Borghi, and Rome-based Wildside is co-producing with Belgium and France.
The veteran director Marco Bellocchio, who was awarded an honorary Palme d'Or last year, is in Cannes Premiere with Exterior Night. It expands on Good Morning, Night, his 2003 fictional exploration of the 1978 kidnapping of former Italian prime minister Aldo Moro. The film will be released in Italy in two parts by Lucky Red, in May and June, before being broadcast as a three-part Rai miniseries later this year.
Actress Jasmine Trinca's much-anticipated directorial debut Marcel! plays in Special Screenings; the filmmaker is also on the main Competition jury. Finally, Pietro Marcello's Italy-France collaboration Scarlet will open Directors' Fortnight, the final selection by Paolo Moretti who is stepping down as delegate general of the sidebar after this year's festival.
Funding boost
The relatively strong Italian presence is a result of an increase in public funding for production since 2020 as well as a more international mindset from the country's producers. Previously, a strong box office for homegrown titles meant producers and directors were happy to make films with only the local market in mind. But things are different now. While international blockbusters are thriving at the Italian box office, both mainstream and arthouse Italian films are not proving as appealing to local audiences as they are to international festivals.
After the initial pandemic lockdown in spring 2020, production resumed quickly and a steady flow of films has been released since, via theatrical and on demand. Yet both medium- and high-budget Italian titles continue to underperform, on average grossing just a half to a third of pre-pandemic releases.
The highest-grossing Italian film of 2021 was Me Contro Te — Il Mistero Della Scuola Incantata, taking around $5.2m (€5m). It was the only local title in the top 10 for 2021 and paled in comparison to the $20.8m (€20m) gross of top film Spider-Man: No Way Home. The second highest-grossing Italian title in 2021 was Like A Cat On A Highway 2, which saw $3.3m (€3.2m) compared to the $10.3m (€9.7m) taken by the first in the series in 2019.
With a strong line-up and a challenging situation at home, Italy is betting more than ever on the international market. Out in force once again in Cannes, the Italian delegation will feature all of the sales companies that previously attended the Marché, and — interestingly — both of the the Italian films in Competition will be sold by national sales companies.
Catia Rossi's Vision Distribution kickstarted sales for The Eight Mountain last year at the virtual Marché and will continue this year, while True Colours is handling Nostalgia as it did for previous Martone films including The King Of Laughter and The Mayor Of Rione Sanita.
In the market, The Open Reel has high hopes for Isabel Coixet's Spanish documentary The Yellow Ceiling, about the infamous Lleida Theatre case when former students filed sexual abuse complaints against two teachers.
True Colours has recently announced a new strategy that will see it focus on international films as much as it does national ones, and genre-loving sales and production company Minerva has struck a deal to co-produce films with Argentina-New Zealand producer and distributor Black Mandala.
It is selling an initial five films from the partnership, including What The Waters Left Behind: Scars, the sequel to Nicolas and Luciano Onetti's Spanish-language 2017 horror film What The Waters Left Behind. The trailer is showing in the Marché's Blood Windows showcase.