After an encouragingly diverse set of Oscar and Bafta acting nominations last year, the academies may now be fearing this year's awards will take a backwards step. Screen assesses the leading contenders in supporting actor and actress.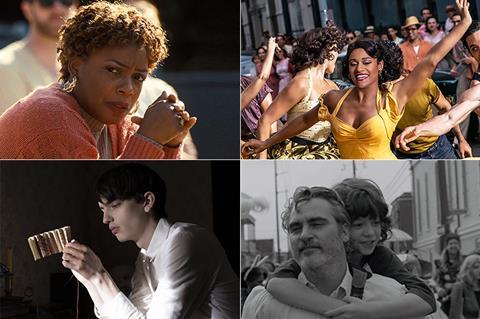 At last year's Oscars and Baftas, the supporting acting categories were won by Daniel Kaluuya for Judas And The Black Messiah and Yuh-Jung Youn for Minari. With the lead acting categories scooped by two white performers — Frances McDormand for Nomadland and Anthony Hopkins for The Father — the supporting wins helped paint a picture of racial diversity for the two major film academies. It was an outcome that came as relief for both organisations given the acting nominations for the 2020 Oscars and Baftas were dominated by white performers.
This year, King Richard's Will Smith is considered the frontrunner for best actor, although it is still around three months until the Bafta Film Awards (on March 13) and US Academy Awards (on March 27), and a lot can change in that time.
Meanwhile, this year's supporting acting categories — according to the early consensus of tastemakers and awards tipsters — appear to feature a majority of white performers, at least in the case of the men. Both academies will certainly not wish a repeat of #OscarsSoWhite, and may now be braced for criticism. Diversity does come in many forms, and nominations for deaf actors Troy Kotsur and Marlee Matlin — from Sian Heder's CODA — might help the academies tell a more inclusive story.
In the previous edition of Screen International we looked at the performers making the biggest waves in the lead acting categories, and this time it is the supporting actor and actress categories that come under our scrutiny. Whatever you make of the names that are coming to the fore in the early stages of this awards season, we can only urge voters to view widely, and to vote passionately and imaginatively.
Best Supporting Actor - leading contenders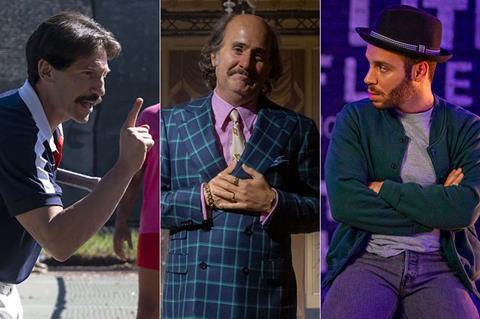 Jon Bernthal, King Richard
Tasked in King Richard with playing opposite Will Smith, noted for his confident, cocksure performances, Bernthal was not fazed — his take on the role of tennis coach Rick Macci was to push charisma and confidence to a higher level, adding a highly entertaining flavour to Reinaldo Marcus Green's already-entertaining film. Bernthal, whose feature roles include The Wolf Of Wall Street, Fury and Sicario, has yet to receive major film award recognition.
Bradley Cooper, Licorice Pizza
Cooper in Licorice Pizza provides a high-energy, fizzy performance in a film that's not short of energy or fizz. He provides a memorable highlight playing film producer (and Barbra Streisand's then partner) Jon Peters, who takes delivery of a waterbed from the film's teen entrepreneur protagonist (Cooper Hoffman). Cooper is also in contention for lead actor with his role in Nightmare Alley.
Robin de Jesus, Tick, Tick… Boom!
A US actor of Puerto Rican descent, de Jesus had his first screen role playing a gay teen in 2003 US indie movie Camp, and earned three Tony nominations on stage for his roles in La Cage Aux Folles, In The Heights and The Boys In The Band. Here he plays Michael, a gay man who has quit acting to find comfort and security working at an ad agency — to the initial disapproval of his stage-writer best friend Jonathan Larson (Andrew Garfield).
Ciaran Hinds, Belfast
Hinds, who plays the grandfather of young protagonist Buddy (Jude Hill), is one of two Northern Irish actors vying for supporting actor nominations via Belfast — the other is Jamie Dornan, who plays the boy's 'Pa'. Hinds has already been named best supporting actor by the National Board of Review and nominated at the British Independent Film Awards for this role. His film credits include Munich and Tinker Tailor Soldier Spy in a screen career that spans four decades.
Jason Isaacs, Mass
Best known for colourful and often-villainous performances in the likes of Peter Pan, The Death Of Stalin and the Harry Potter series, Liverpool-born Isaacs offers a change of pace in Fran Kranz's intimate US indie drama about the parents of a murdered teen (Isaacs, Martha Plimpton) meeting the parents of the school mass shooter who killed him (Reed Birney, Ann Dowd). Isaacs' TV work has been nominated at Bafta (for The Curse Of Steptoe in 2009) and the Golden Globes (The State Within in 2008).
Troy Kotsur, CODA
Two decades into his screen career, Arizona-born Kotsur — who is deaf since birth — makes a breakthrough in Sian Heder's film CODA, which stands for Child Of Deaf Adults. As the filter-free fisherman father to the high-school senior protagonist (Emilia Jones), Kotsur adds warmth and charisma to the family dynamic. He has won acclaim for stage work with the Deaf West Theatre in Los Angeles, including in Cyrano and A Streetcar Named Desire.
Jared Leto, House Of Gucci
Not everyone loves the barely recognisable Leto's attention-grabbing turn as dim, deluded Paolo Gucci — who is outwitted at every turn by his smart cousin Maurizio (Adam Driver) and Maurizio's ambitious wife Patrizia (Lady Gaga). But the performance has firm champions who could well propel Leto to his second Oscar nomination — following his 2014 supporting actor win for Dallas Buyers Club. The actor has yet to gain the attention of Bafta.
Woody Norman, C'mon C'mon
The UK has produced some astonishing child actors over the past couple of decades, from Nicholas Hoult to Freddie Highmore and more recently Noah Jupe. Now add Woody Norman to that list — playing the sweet, precocious, entertainingly complicated nine-year-old who is temporarily entrusted to the care of his childless and single uncle (Joaquin Phoenix) in Mike Mills' winning black-and-white drama.
JK Simmons, Being The Ricardos
A supporting actor Oscar and Bafta winner in 2015 for Whiplash, Simmons is back in contention portraying actor William Frawley who played one half of couple Fred and Ethel Mertz — best friends to central pairing Lucy and Ricky Ricardo — on hit sitcom I Love Lucy. Aaron Sorkin's film is gaining attention for many of its cast members, also including Nina Arianda as actress Vivian Vance, who played Ethel.
Kodi Smit-McPhee, The Power Of The Dog
Jesse Plemons was many tipsters' early pick from this Jane Campion western, and he may yet secure a nomination in the supporting acting Oscar category. But attention is increasingly being pulled in the direction of Adelaide-born Smit-McPhee, playing the fey medicine student who attracts the disdain of his rancher stepfather's brother (Benedict Cumberbatch) before a more nuanced, ambiguous relationship ensues.
In contention
Ben Affleck, The Tender Bar
David Alvarez, West Side Story
Willem Dafoe, Nightmare Alley
Jamie Dornan, Belfast
Mike Faist, West Side Story
Corey Hawkins, The Tragedy Of Macbeth
Richard Jenkins, The Humans
Jesse Plemons, The Power Of The Dog
Strong Bafta plays
Richard Ayoade, The Souvenir: Part II
Idris Elba, The Harder They Fall
Colin Firth, Mothering Sunday
Timothy Spall, Spencer
Best Supporting Actress - leading contenders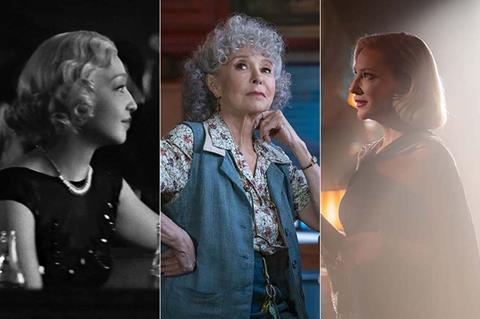 Caitriona Balfe, Belfast
Although nominated in best actress at the British Independent Film Awards, Balfe is being positioned for the supporting actress category, which is traditionally seen as less competitive. The Dublin-born actress stars as 'Ma' in director Kenneth Branagh's autobiographical drama — which won the people's choice award in Toronto, often seen as a key signpost on the way to Oscar. Balfe's credits include Ford v Ferrari and Starz series Outlander.
Cate Blanchett, Nightmare Alley
Blanchett has seven Oscar and seven Bafta nominations, with five wins across the two sets of awards — for features Elizabeth, The Aviator and Blue Jasmine. She could pick up her first nods since Carol with a femme fatale-like turn as the psychiatrist who captivates Bradley Cooper's conman in Guillermo del Toro's adaptation of the pulp novel by William Lindsay Gresham.
Ariana DeBose, West Side Story
In the previous West Side Story, the actress playing Anita (Rita Moreno) won the Oscar. Will history repeat, to the benefit of DeBose in Steven Spielberg's new version — playing the girlfriend of Sharks leader Bernardo (David Alvarez), who is in turn the brother to romantic lead Maria (Rachel Zegler)? DeBose — who starred in Ryan Murphy's The Prom — is already popping up on critics lists for supporting actress.
Judi Dench, Belfast
Kenneth Branagh did not cast his favourite actress to play a Northern Irish grandmother simply because he enjoys working with her — Dench also has Irish heritage on her mother's side, and her father lived in Dublin. She could net her first Oscar and Bafta nominations since Philomena in 2014. The actress has six Bafta wins for film work, beginning in 1966 with the most promising newcomer award, and a single Oscar win for Shakespeare In Love in 1998.
Ann Dowd, Mass
Although her screen career began in 1985, celebrated theatre actor Dowd enjoyed a notable film breakthrough with Compliance, picking up an Independent Spirit nomination in 2013. She has four Primetime Emmy nominations (three of them for The Handmaid's Tale, winning in 2017), and could now earn her first Oscar and Bafta nominations playing the mother of a mass shooter in Fran Kranz's admired drama.
Kirsten Dunst, The Power Of The Dog
Despite admired work with directors including Sofia Coppola, Lars von Trier and Michel Gondry, Dunst has yet to earn an Oscar or Bafta nomination — instead picking up a Primetime Emmy nod for TV's Fargo in 2016. That could change thanks to her performance as a widow who marries a Montana rancher, attracting the bullying enmity of her brother-in-law (Benedict Cumberbatch) in Jane Campion's western.
Aunjanue Ellis, King Richard
A Primetime Emmy nominee for When They See Us (in 2019) and Lovecraft Country (in 2021), Ellis is best known for her TV work — but appeared in films including If Beale Street Could Talk, Get On Up and The Help. Although her King Richard role as Oracene Williams, mother of Venus and Serena Williams, is less showy than her titular husband (played by Will Smith), she is a powerful balancing presence who gets to assert her authority in a pivotal scene.
Marlee Matlin, CODA
Matlin, who lost most of her hearing aged 18 months, won the best actress Oscar in 1987 for Children Of A Lesser God. She followed that with four Primetime Emmy nominations for guest actress in a TV series — telling its own story about the opportunities offered to her. In CODA, playing the deaf mother of a hearing teen, she is back on the Oscar radar, and has earned a supporting performance nod at the Gothams.
Rita Moreno, West Side Story
While Ariana DeBose might earn an Oscar nomination for playing Anita in Steven Spielberg's West Side Story, an even more likely nominee is Moreno — who won the 1962 supporting actress Oscar for that role in the original film version. Now the veteran actress plays Valentina, the store owner who casts a grandmotherly eye over male protagonist Tony (Ansel Elgort).
Ruth Negga, Passing
Ethiopian-Irish actress Negga was nominated for her first Oscar in 2017 for Loving, and was also nominated the same year for the Bafta rising star award. Five years later, she is back in contention in Rebecca Hall's writing/directing debut about two former friends who reconnect in New York City: one (Tessa Thompson) lives her Black identity; the other (Negga) chooses to pass for white. Negga has already been nominated at the Gothams for this role.
In contention
Nina Arianda, Being The Ricardos
Haley Bennett, Cyrano
Gaby Hoffmann, C'mon C'mon
Kathryn Hunter, The Tragedy Of Macbeth
Dakota Johnson, The Lost Daughter
Regina King, The Harder They Fall
Martha Plimpton, Mass
Saniyya Sidney, King Richard
Meryl Streep, Don't Look Up
Strong Bafta plays
Jessie Buckley, The Lost Daughter
Olivia Colman, Mothering Sunday
Ana de Armas, No Time To Die
Claire Foy, The Electrical Life Of Louis Wain
Sally Hawkins, Spencer
Lashana Lynch, No Time To Die
Vinette Robinson, Boiling Point
Tilda Swinton, The Souvenir: Part II
Anya Taylor-Joy, Last Night In Soho