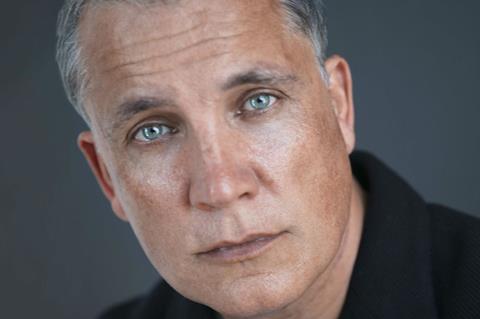 As AGC Studios kicks off talks at AFM 2020 Online this week on Dave Bautista sci-fi Universe's Most Wanted and updates buyers on Doug Liman's recent London production Lockdown, first details have emerged of the company's ambitious UK slate.
Since founder and CEO Stuart Ford launched the company two years ago, he and his European team have been quietly assembling a robust film and TV production and development roster alongside the US titles.
The burgeoning pipeline features a rare directorial outing from Richard E. Grant, and new work from Troll Hunter director Andre Øvredal, Vicky Krieps of The Phantom Thread, and Steve Thompson, the writer and showrunner whose TV credits include Sherlock, Doctor Who and Vienna Blood.
Ford has been building the slate of broadly commercial titles with his "tight-knit" team of European executives led by Callum Grant and Sam Hall in the central London office and former Beijing office head Leslie Chen in Munich.
UK feature slate
AGC is producing and financing Norse King, an upcoming 9th-century set action thriller that it is developing for Øvredal to direct. Christopher Andrews wrote the screenplay about Viking leader Rolf the Walker and his niece Hetha, who embark on a revenge mission into the heart of western Europe.
The company is financing two features for Hopscotch, and will produce both with Troy Lum and Andrew Mason, and Philomena producer Gabrielle Tana.
The first of these is thriller All That I Am which will star Krieps and Vanessa Redgrave in the true story of four German-Jewish anti-Nazi activists who flee to London during Hitler's rise to power. Kate Dennis (Hulu's The Handmaid's Tale) is set to direct.
The other will see Grant directing Majesty, a seriocomic, feminist take on the story of Caroline of Brunswick, who was queen of England for 21 days and battled misogyny in the 19th-century court.
AGC has optioned The Englishman, a potential franchise-builder based on the novel by UK author David Gillman. The company is producing and financing the story of a former French foreign legionnaire who infiltrates a Russian penal colony to track down a mercenary.
The expansion of Ford's UK business seems timelier than ever as Lionsgate UK appears to be scaling back on local production following the departures of former CEO Zygi Kamasa over the summer and Nicola Pearcey, current president of UK and Europe, by the end of the year.
"There has been some shrinkage in the UK distributor marketplace in recent years, and a knock-on effect is that circle of leading independent distributors has been investing less in the development of local production," said the Liverpool-born AGC founder.
"AGC's team is a well-known commodity in the UK community and to some extent we've helped fill that gap."
True to its goal, the company is staying nimble and performs a range of roles across various titles. AGC will commence sales when each project is ready.
Varied TV roster
The slate of TV projects is growing alongside War Of The Worlds, the Gabriel Byrne and Elizabeth McGovern sci-fi that wrapped season two in the UK, with AGC on board as co-producer and co-financier with Studiocanal.
Steve Thompson is adapting Becket, a four-part historical series from a feature screenplay by William Monahan and Michael Mann, based on the play by Jean Anouilh depicting the 12th-century conflict between King Henry II and Archbishop of Canterbury Thomas Becket. AGC and Mann are producing.
Political sitcom House & Home hails from screenwriter David MacPherson and sees AGC produce with Sharon Horgan's Merman.
AGC is co-producing Jesus sitcom JC: BC – The Original Millennial with Hat Trick's former head of comedy Mario Stylianides, now of Golden Path Productions. Comedy writers Andy Yerlett and Simon Uttley are writing the script.
"In TV, the production sector is robust but there are relatively few indie financier-distributors," said Ford. "We can fund development, we can deficit-finance, produce, handle distribution, and play the role of US anchor partners, all without having to commit to a broadcaster at an early stage."
AGC is fine-tuning its marketing strategy on Lockdown, Liman's darkly comedic heist tale set against the pandemic and based on a script by regular Ford collaborator Steven Knight (Locke, Redemption).
The company is producing and financing, and the project starring Anne Hathaway, Chiwetel Ejiofor, Ben Stiller, and Ben Kingsley, among others, is currently posting in the UK.
AGC is also involved in Passion Pictures' documentary Lady Boss chronicling the life of novelist Jackie Collins. AGC, CNN Films and BBC Arts are co-financing and co-producing. Laura Fairrie directs.
In keeping with a commitment to support UK product, Ford recently announced a personal investment in White Star Productions with longtime associate and author Kevin Sampson. White Star has a first-look deal with AGC, and the pipeline includes projects about rock star Courtney Love, and former boxing champion Naseem Hamed.