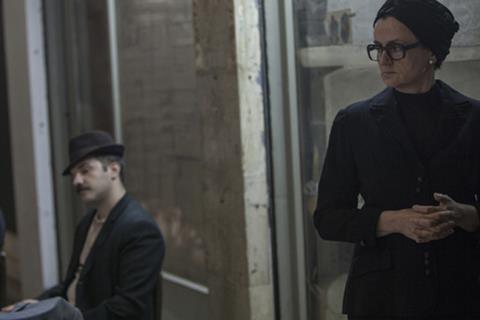 Eftyhia, a biopic of celebrated Greek songwriter Eftyhia Papagianopoulou, scooped eight awards including best film at the at the Iris Hellenic Film Academy (HELFIAC) awards last night (April 14).
The ceremony was conducted online, due to the ongoing Covid-19 pandemic, and broadcast by public TV network ERT.
Scroll down for full list of winners
Directed by Angelos Frantzis, Eftyhia went into the night with 13 nominations and picked up awards including best actor for Pygmalion Dadakaridis, supporting actress for Katia Goulioni and supporting actor for Thanos Tokakis.
The film, produced by Donysis Samiotis for Athens-based Tanweer Productions, performed strongly at the Greek box office when it was released in December. Tanweer also distributed the biopic, which generated 650,000 admissions. (For comparison, Joker, the highest-grossing film of the year drew 950,000 admissions).
It marked another strong year for director Frantzis, whose Still River won three Iris Awards in 2019.
This year's awards also saw crime thriller The Miracle Of The Sargasso Sea win two prizes for director Syllas Tzoumerkas and actress Angeliki Papoulia.
The film, which debuted at the Berlinale in 2019 in the Panorama section, was produced by Maria Drandaki for Greece's Homemade Films and co-produced with the Netherlands' PRPL, Germany's unafilm and Sweden's Dragon Films.
Other features that picked up two awards included Rinio Dragassaki's fantasy drama Cosmic Candy and drama Winona, directed by Alexandros Voulgaris (aka The Boy).
The awards represented a healthy crop of local productions, which may not be the case next year due to the pandemic halting all film shoots as well as pre-production in Greece.
Giorgos Tsemberopoulos, president of Hellenic Film Academy, told Screen the organisation is considering "extending submission deadlines to allow consideration for films delayed by the pandemic".
Full list of winners
Best feature film, fiction - Eftyhia
Best feature film, documentary - When Tomatoes Met Wagner
Director - Syllas Tzoumerkas, The Miracle of the Sargasso Sea
Screenplay - Zacharias Mavroidis, The Defunct
First time director - Rinio Dragassaki, Cosmic Candy
Actress - Angeliki Papoulia, The Miracle of the Sargasso Sea
Actor - Pygmalion Dadakaridis, Eftyhia
Supporting actress - Katia Goulioni, Eftyhia
Supporting actor - Thanos Tokakis, Eftyhia
Cinematography - Christina Moumouri, Zizotek
Editing - Nikos Pastras, Winona
Production design - Mihalis Samiotis, Giannis Papadopoulos, Eftyhia
Costumes - Ioulia Stavridou, Eftyhia
Music score - Mis Trichromi, The Boy (aka Alexandros Voulgaris) for Winona
Sound - Nikos Bougioukos, Kostas Varybopiotis, Ari Louziotis, Eftyhia
Make up - Dimitra Giatrakou, Eftyhia
Special effects - Giorgos and Roulis Alahouzos, Giannis Angeladopoulos, Andreas Helmis, Giorgos Foukarakis for Cosmic Candy
Short film, fiction - Electric Swan, Konstantina Kotzamani
Short film, documentary - The Handwrestler, Giorgos Gousis
Short film animation – Heatwave, Fokion Xnos