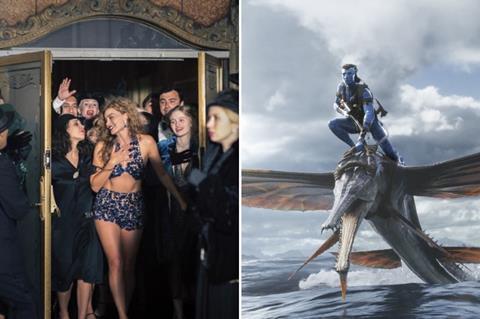 | Rank | Film (distributor) | Three-day gross (Jan 20-22) | Total gross to date | Week |
| --- | --- | --- | --- | --- |
| 1. | Avatar: The Way Of Water (Disney) | £2.8m | £67.6m | 6 |
| 2. | M3GAN (Universal) | £1.4m | £4.7m | 2 |
| 3. | Babylon (Paramount) | £1.32m | £1.32m | 1 |
| 4. | Whitney Houston: I Wanna Dance With Somebody (Sony) | £766,097 | £9.6m | 4 |
| 5. | Roald Dahl's Matilda The Musical (Sony) | £661,279 | £25.8m | 9 |
GBP to USD conversion rate: 1.24
This weekend's highest-grossing new opener at the UK-Ireland box office is Damien Chazelle's Babylon, taking £1.32m for Paramount, and landing third in the weekend's overall chart.
La La Land and Whiplash filmmaker Chazelle depicts the hedonistic days of the pre-sound film industry, kicking off in the late 1920s, with a cast led by Margot Robbie, Brad Pitt and Diego Calvo.
It is Chazelle's widest-ever release in the territory, playing at 631 sites to an average of £2,091. His 2017 Oscar winner La La Land played at 606 sites for Lionsgate, bringing in £5.6m in its first weekend.
Robbie and Pitt have previously starred alongside one another in Quentin Tarantino's Once Upon a Time in Hollywood – another film that takes a look behind-the-screens of the film world, but this time set in the late 1960s. It took £5.1m in its opening weekend in August 2019.
In comparison to Robbie's more recent big screen outings, Babylon exceeds the first weekend figure for David O Russell's Amsterdam, that debuted with £631,064 in October 2022, but falls behind The Suicide Squad's £3.25m July 2021 opener.
The top performer this weekend is Avatar: The Way Of Water, hitting the number one spot at the UK-Ireland box office for the sixth weekend on the trot, taking £2.8m for Disney. Its total is now £67.6m.
Viral sensation and horror film, Gerard Johnstone's M3GAN, has made £1.4m at the box office in its second weekend – down 43% on its opener – for a total of £4.7m for Universal.
Sony's performed well in holdovers this weekend: Whitney Houston: I Wanna Dance With Somebody added £766,097 to boost the overall total to £9.6m after four weekends. Its stablemate Roald Dahl's Matilda The Musical also continues its impressive run, with £661,279 on its ninth weekend, for an overall figure of £25.8m, alongside A Man Called Otto that has £577,167 on its third weekend, grossing £3.6m.
Sam Mendes' Empire Of Light's second session brought in £445,000, for an overall figure of £2.8m, released by Disney through its Searchlight Pictures label.
Todd Field's TÁR starring Cate Blanchett is Universal's second-best performing title this weekend, bringing in £364,363, a small 8% slide on its opening weekend. Its overall figure is now just over £1m.
Animation Strange World added £88,000 to its haul for Disney on its ninth weekend, for a total of £3.8m. Disney is also continuing to bring in audiences for Black Panther: Wakanda Forever on its 11th session, taking £85,000 across the weekend, and £34.2m overall.
Mark Jenkin's Cornish folk horror Enys Men made £41,935 in its second weekend, for an overall gross of £204,340.
Fresh from its 10 nominations at the Baftas, Disney's Searchlight Pictures title The Banshees Of Inisherin has added £40,000 to its total, which is at £9.3m after 14 weekends.
Universal's Till added £36,100 on its third weekend – a 70% drop on its second session. Its overall figure is £752,049.
Sony's new anime release That Time I Got Reincarnated As A Slime The Movie: Scarlet Bond brought in £35,321 from 86 sites, for an average per location of £410. With £27,291 in previews, its overall total comes to £62,612.
Disney's The Menu scooped up £33,000 in its 10th session, now on £4.1m overall.
Mubi's Holy Spider – a Cannes premiere about a serial killer in Iran – opened to £24,726 from 38 sites, for an average of £651. With previews, the total figure rises to £60,731. Aftersun – now boasting four Bafta nominations – continues to bring in audiences for Mubi, taking £28,264 on its 10th weekend, for a total of £1.4m.
Trinity Film/Cine Asia released Ying Chi Wen's Hong Kong feature Everything Under Control at 55 locations, chiming with Chinese New Year celebrations. It took £15,737 in its first weekend, for a site average of £286.
Picturehouse Entertainment's Corsage added £12,242 on its fourth outing, now up to a £492,579 total, and officially surpassing the £472,904 of 2021's The Nest to become the distributor's biggest post-pandemic hit. It's looking likely to cross the £500,000 mark in the upcoming week.
Lionsgate took £4,479 from 10 locations for Mary Nighy's Anna Kendrick-headlined Alice, Darling, for a location average of £448.
Also out this weekend – Hide And Seek (Nascondino) played at one site, London's Bertha DocHouse; Dogwoof's Dreaming Walls played at seven; Sovereign had The Substitute at five; Modern Films' More Than Ever at 15; and Parkland Entertainment released The Book Of Vision.