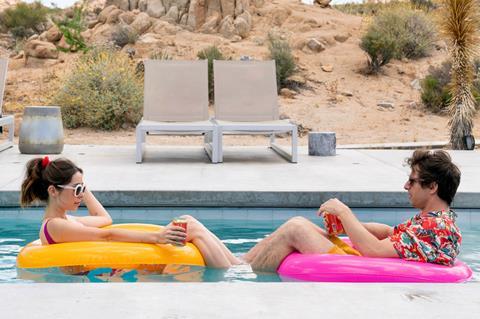 A handful of major deals at Sundance 2020 including a record acquisition asserted the primacy of streamers, who in each case were either the prime mover in the transaction or a major factor in the calculation.
The star of the show was arguably Hulu, and at time of writing buyers of all shapes and sizes had laid out in the region of $80m all told.
Hulu teamed up with Neon for a record on-site Sundance acquisition, getting its wallet out for worldwide rights on Adam Samberg comedy Palm Springs in a deal that eclipsed by 69 cents the $17.5m paid by what was then known as Fox Searchlight for The Birth Of A Nation in 2016.
If the sum sounded like a gimmick, there was nothing fatuous about the endgame. However the theatrical run through Neon plays out, Disney-owned Hulu has another appealing title to entice its subscribers.
The platform appears to be targeting a younger demographic and plundered another treasure on offer at Park City, beating out others to pay around $8m for the world on Bad Hair, Justin Simien's Dear White People follow-up, without any mention of a theatrical partner. It is understood Simien wants a theatrical release, and it remains to be seen whether Hulu will go through regular partner Neon or four-wall the film before the all-important launch on the platform.
Amazon Studios was involved in two notable trades that made a splash yet otherwise behaved modestly compared to its $46m-plus spending spree in 2019. The platform paid around $12m for the world on Alan Ball's coming-out drama Uncle Frank starring Paul Bettany and has not made aggressive noises about a theatrical release. The North American deal for Phyllida Lloyd's Herself would have been considerably less and smacks of an awards play given the rave reviews for Clare Dunne, who also co-wrote the story about an abused wife who escape with her children and builds them all a new house. Cornerstone Films handles worldwide sales.
After Amazon Studios' Sundance 2019 buy Late Night flopped in theatres, company head Jennifer Salke has revised the theatrical strategy and Amazon now calibrates the scale of its theatrical releases on a case-by-case basis. The company has since claimed Late Night was a hit on Prime Video and while streamers' viewership numbers cannot be independently verified, what appears to count is is either some kind of theatrical uplift to raise awareness among subscribers, or a marketing spend to achieve the same goal even if the film is going straight to the platform.
Apple and A24 snapped up the documentary Boys State for reportedly $12m, a record documentary sale in Park City. At time of writing Netflix was circling drama The 40-Year-Old Version in what would be a late on-site worldwide buy to complement the 11 titles it brought to the festival.
HBO Max was quiet until it picked up Russell Simmons accusers documentary On The Record after the fesival closed, while nobody seemed too sure what Peacock was up to. Nonetheless the take-away from Sundance 2020 is that by and large streamers will get what they want and if the filmmakers desire a theatrical release, a partnership to that effect can sweeten the pill.
"A lot of these deals are so rich that if you're the financier, who cares [if the theatrical release under-performs]," said one insider with a track record of theatrical success. "It depends on the movie – some need the word of mouth on theatrical, or [if the release will be online-only] you have to spend just as much to get awareness of the streaming deal as you would theatrically.
"You can't just throw it all on streaming and hope it all works. That's the other thing we're seeing – even the streamers are going to have to commit to spending something and we'll probably see a change in deals like that."
Searchlight Pictures paid what is believed to be $12m for the world on David Bruckner's horror The Night House starring Rebecca Hall. The studio has dabbled recently in horror – it released Ready Or Not last year – yet this deal, too, speaks to the might of streamers. Searchlight films go out on Hulu, whose target young audiences enjoy horror.
Lionsgate bought US rights to Dominic Cooke's well regarded yet old-fashioned espionage tale Ironbark with Benedict Cumberbatch (Roadside Attractions will oversee the theatrical release); Magnolia Pictures took documentaries Assassins and The Fight; Kino Lorber acquired Mexican drama Identifying Features; Sony Pictures Worldwide Acquisitions took international rights to Zola; RLJE Films bought Spree; Film Constellation acquired international eights to Farewell Amor; HBO took worldwide TV and streaming rights to Siempre, Luis; and Sony Pictures Classics (SPC) and Stage 6 partnered on the epic romance I Carry You With Me.
SPC pre-bought The Father – which stars Anthony Hopkins and Olivia Colman and is likely to be in the awards conversation next season – and documentary The Truffle Hunters.
Moving early on projects before a festival premiere sparks a bidding war that inflates prices has been a tactic used by SPC and other savvy theatrical buyers for a few years now. It may be the only way these companies can update their war chests.
Nobody has bigger pipelines to fill than the streamers, and the huge numbers they are willing to spend ensure financiers get their investment back, and sales agents get their commission. The only downside is there may not be a theatrical release, but as one observer said, "These are crazy prices and these platforms can pretty much get whatever they want. This is the new normal."