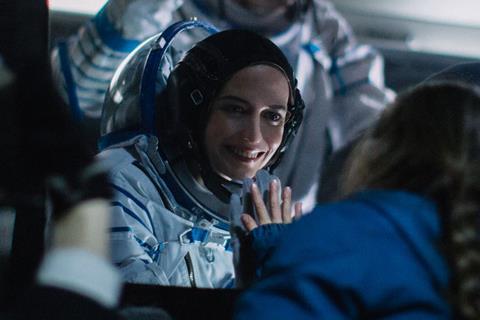 South Korea, opening Wednesday July 29
In South Korea, where theatrical releases open on Wednesdays and Thursdays, the new films in cinemas this weekend with top ticket reservation rates, according to the Korean Film Council (KOFIC), are led by Lotte Cultureworks' Jung Woo-sung-starrer Steel Rain 2: Summit - director Yang Woo-suk's sequel to his North-South Korea political action thriller.
The film opened Wednesday, July 29 and as of Thursday has clocked up $1.2m atop the box office chart.
Further new titles include Chinese shark animation Happy Little Submarine: Space Pals, distributed by Pop Entertainment; the Dardennes' French drama Young Ahmed, distributed by Jinjin Pictures; US immigration attorney biopic Saint Judy, starring Michelle Monaghan and distributed by Miro Space and Taewang Enterworks; and Kim Beom-sam's feature directorial debut On The Road, Khaosan Tango, a local independent drama distributed by gram Films.
Spain, opening Wednesday July 29
Films coming out this weekend in Spain will be able to be shown in a key area for the industry: Barcelona and its metropolitan area, after a judicial decision allowed them to reopen. Exhibitors in Barcelona took legal action after the Catalan government ordered them to close on July 17 after a spike of Covid-19 cases in the city. The exhibitors argued it was unfair to penalise the cinemas considering the safety measures theatres have taken and that they could not be equated to riskier venues such as nightclubs when it comes to social distancing.
This is in time for the biggest release so far of the reopening season in Spain, Sony Pictures Spain's comedy Padre No Hay Más Que Uno 2: La Llegada De La Suegra by the hugely popular Spanish filmmaker Santiago Segura. Segura also stars in the film about a father forced to look after his five children. It is a sequel to Padre No Hay Más Que Uno (literally, 'Father There Is Only One') which was released in August 2019 and grossed $16m for Sony Pictures Spain. The new film has the added addition of a mother in law.
Also out this week is Craig Zobel's horror-thriller The Hunt for United Pictures International Spain, starring Betty Gilpin and Hilary Swank. Puntual Films Distribución has Veit Helmer's The Bra, Paycom Cinema is releasing Gary Wang's animated feature Cats, and Flins i Pinículashas has the fantasy action film Mortal from Norway's André Øvredal.
Additionally, Elamedia is opening Théo Court's White On White. The Chilean-Spanish co-production won the best director award of the Orizzonti section in Venice last year as well as the Fipresci award.
France, opening Wednesday July 29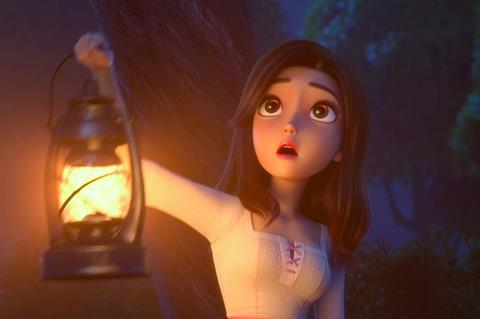 Two animated features open in France this week as the country settles firmly into holiday mode. ARP Selection has South Korea director Hong Sung-Ho's Red Shoes And The Seven Dwarfs, a parody of the classic fairytale, while KMBO is opening the Danish animation Dreamcatcher, directed by Tonni Zinck and Kim Hagen Jensen.
Live action local titles on releases include Apollo Films' comedy adventure Terrible Jungle, starring Catherine Deneuve, directed by Hugo Benamozig and David Caiglioli, and Adeline Picault's comedy T'As Pecho? which is on release via Pathe.
Metropolitan Filmexport is opening Michael Angelo Covino's 2019 festival title The Climb. The US comedy drama about the lifelong friendship between two friends spanning years, marriages, heartbreaks, and conflicts, played at Sundance, Un Certain Regard in Cannes and Toronto last year.
Finally, Wild bunch has Keith Thomas' horror title The Vigil, Ad Vitam is releasing Jean-Charles Hue's English-language Tijuana Bible, and UFO Distribution and Premium Films have Paul Manate's L'Oiseau De Paradis.
Italy, opening Thursday July 30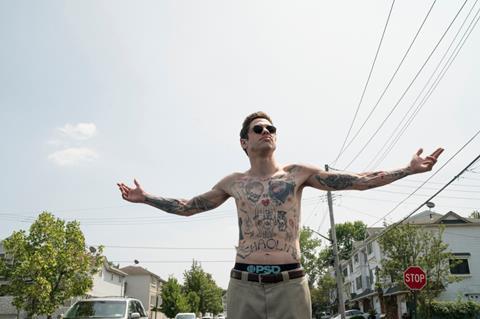 Universal is opening Judd Apatow's The King Of Staten Island this weekend. It is the first film the distributor has released in Italian cinemas since lockdown
Movies Inspired is continuing to re-release international arthouse films from its library. This weekend it has Bi Gan's Cannes 2018 drama Long Day's Journey Into Night , and Antoine Raimbault's French drama Conviction.
The best performing films on release are the bigger titles that were in cinemas earlier this year and were forced off screens by the national lockdown. They are Gabriele Muccino's comedy drama The Best Years (which has grossed €13.446 from 54 screens for 01 Distribution on its second stint on release), Greta Gerwig's Little Women (€11.221 from 22 screens for Warner Bros), and Nicolas Bedos' La Belle Epoque (€10,067 from 18 screens for I Wonder).
The most successful new title on release in Italy is Lady Lj's Les Miserables which has grossed €9,876 from 26 screens afer six weeks on release for Lucky Red.
Germany, opening Thursday July 30
A slew of international comedies opened in German cinemas this Thursday (July 30). They ranged from Judd Apatow's The King Of Staten Island from Universal through French-Tunisian director Manele Labidi's Venice audience award-winner Un Divan A Tunis from Prokino to Michel Hazanavicius' French adventure comedy The Lost Prince, which Studiocanal is handling.
Additionally, MFA is releasing Mika Kaurismäki's culinary comedy Master Cheng. The film from the Finnish filmmaker won the audience award at last year's Nordic Film Days in Lübeck.
In addition, Croco Film is re-releasing German comedian Otto's first foray into films with the 1985 Otto – The Film which sold 14.5m tickets 40 years ago. Swiss film composer Martin Skalsky's first film as director, the documentary Cody – The Dog Days Are Over, is being released by Filmwelt, while Happy Entertainment is opening first-time filmmaker Jesco Puluj's journey through modern Buddhism in The Odd Monk.
Leonine's Russell Crowe-actioner Unhinged held onto the top spot of the German box office in its second weekend, with a gross of €175,000,(down from € 217,000 on its first weekend), while Paramount's family film Paw Patrol: Mighty Pups sold the most tickets – 31,500 (an increase of over 4,000 on the previous weekend) – compared to Unhinged's 21,500 admissions (down from 26,988 in the opening weekend).
UK and Ireland, opening Friday July 31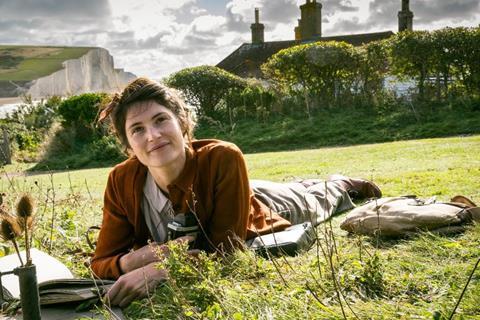 Today is a milestone for the UK and Ireland exhibition sector as a wave of previously closed cinemas resume business and a selection of notable titles open across the country.
Leading the pack is road rage thriller Unhinged, starring Russell Crowe, which Altitude Film Distribution is opening in more than 250 cinemas including drive-ins. It marks the widest release and biggest US feature to open since cinemas in England began reopening on July 4. Directed by Derrick Borte, it also stars Caren Pistorious as a mother who angers a fellow driver, played by Crowe, with terrifying results.
Representing another first is wartime drama Summerland, which marks the first new British film to be released in cinemas since lockdown. Lionsgate will open the drama, starring Gemma Arteton, Gugu Mbatha-Raw and young actor Lucas Bond, in 110 locations including Everyman, Showcase and a mix of independent cinemas. Writer-director Jessica Swale will attend three live Q&As as part of the push.
Vertigo Releasing will open Australian animation 100% Wolf in 155 cinemas nationwide and horror The Vigil in 105 sites. The Vigil marks the feature debut of Keith Thomas and debuted at Toronto 2019.
Picturehouse Entertainment is releasing Alice Winocour's astronaut drama Proxima in 137 locations. Starring Eva Green, the film picked up awards at San Sebastian and Toronto 2019, where it received its world premiere.
Signature Entertainment, which has scored box office success in recent weeks with animation Dreambuilders, will follow up with German animated feature The Fairy Princess And The Unicorn. It will open in 89 sites.
After recording record box office with Oscar-winner Parasite earlier this year, Studiocanal will release Parasite: Black & White Edition in partnership with Curzon across 70 sites. Studiocanal will also release a 4K restoration of Flash Gordon in 42 locations.
Curzon will also open Make Up this weekend across nine sites. Written and directed by Screen Star of Tomorrow Claire Oakley, the British relationship drama was first seen at the London Film Festival last October.