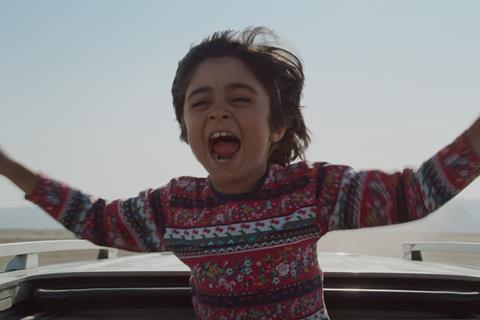 Cannes has sailed over the half-way mark, with hopes high it won't be scuttled by another wave entirely. Initially assailed by Covid-19 tests and overcome by sheer delight to be back on the Croisette, critics and buyers are now beginning to realise that while Cannes 74 is a landmark event in many ways, thus far the 24-film Competition itself, stuffed with auteurs and old friends of the festival, is not shaping up to be a vintage year (such as 2019).
Eleven films have yet to show, however, and they include some highly anticipated titles including Titane and Memoria, so there's everything left to play for, while some such as Drive My Car and The Worst Person In The World, have gone down very well indeed. Notices have been coldly polite, though, for titles from Francois Ozon, Mia Hansen-Løve and Catherine Corsini, not to mention the frozen reception for Sean Penn or Nanni Moretti.
Reaction to Paul Verhoeven's medieval lesbian nun trash-fest Benedetta have predictably ranged from rapturous to censorious – to be expected when a dildo fashioned from a statue of the Virgin Mary plays such a key role. That was never a film that wouldn't sell.
The noise outside Competition has been loud though, however, and Un Certain Regard looks set to be hailed as the section of Cannes 74, blasting out new voices which could have, should have, would have played Competition and might even have freshened it up a little.
Let's take a look at 20 titles that have already set hearts aflame in France, and the hot tickets for the rest of the festival.
Already screened:
The Innocents (Un Certain Regard)
Dir. Eskil Vogt
Screen' s review
The Souvenir Part II (Directors' Fortnight)
Dir. Joanna Hogg
Screen's review
Hit The Road (Directors' Fortnight)
Dir. Panah Panahi
Screen' s review
After Yang (Un Certain Regard)
Dir. Kogonada
Screen' s review
The Velvet Underground (Out Of Competition)
Dir. Todd Haynes
Screen' s review
Great Freedom (Un Certain Regard)
Dir. Sebastian Meise
Screen' s review
The Worst Person In The World (Competition)
Dir. Joachim Trier
Screen' s review
Ahed's Knee (Competition)
Dir. Nadav Lapid
Screen' s review
Drive My Car (Competition)
Dir. Ryusuke Hamaguchi
Screen' s review
Small Body (Critics' Week)
Dir. Laura Samani
Screen' s review
Playground (Un Certain Regard)
Dir. Laura Wandel
Screen' s review
Anticipated titles coming up with buyers onside already:
Casablanca Beats (Competition)
Dir. Nabil Ayouch
Screen's profile
Titane (Competition)
Dir. Julia Ducournau
Screen's profile
Lamb (Un Certain Regard)
Dir. Valdimar Johannsson
Screen's profile
Women do Cry (Un Certain Regard)
Dir. Mina Mileva, Vesela Kazakova
Screen's profile
Vortex (Cannes Premiere)
Dir. Gaspar Noé
Screen's profile
Paris, 13th District (Competition)
Dir. Jacques Audiard
Screen's profile
Europa (Directors' Fortnight)
Dir. Haider Rashid
Screen's profile
Red Rocket (Competition)
Dir. Sean Baker
Screen's profile
The Year of the Everlasting Storm (Special Screenings)
Dirs. Apichatpong Weerasethakul, Jafar Panahi, Anthony Chen, Laura Poitras, David Lowery, Dominga Sotomayor, Malik Vitthal
Screen's profile