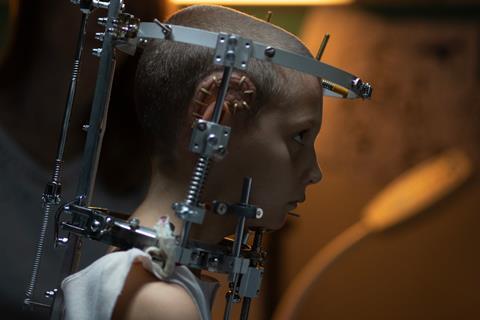 Julia Ducournau's Titane landed with a thud on Screen's Cannes 2021 jury grid, scoring an average of just 1.6 with our critics.
That places it fourth from last on the grid to date, only ahead of Sean Penn's Flag Day (1.1), Catherine Corsini's The Divide (1.4) and Nanni Moretti's Three Floors (1.5).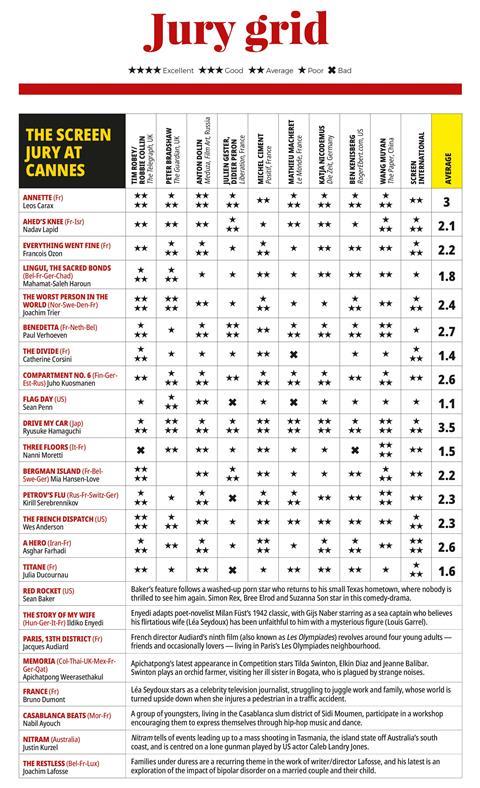 Starring Agathe Rousselle and Vincent Lindon, Titane is Ducournau's much-discussed follow-up to her feature debut Raw, which debuted in Critics' Week in 2016.
Liberation's critics Julien Gester and Didier Péron were not impressed, awarding it a 0 (bad), with three critics scoring it one (poor), and four twos (average). The highest mark – a three (good) – was from Screen's Jonathan Romney, who said the film delivers "a deranged cocktail of outrage, excess, conceptual ferocity and sheer silliness".
Asghar Farhadi's A Hero arrived in joint-fourth place on the grid (alongside Juho Kuosmanen's Compartment No. 6) with an average score of 2.6. Set in contemporary Iran, the drama revolves around a man (Amir Jadidi) who is in prison because he is unable to repay a debt.
It took a wide range of scores; fours (excellent) from Screen and Positif's Michel Climent, balanced out by ones from Liberation and Le Monde's Mathieu Macheret. It marks an improvement on Farhadi's previous competition title Everybody Knows, which scored an average of just 1.8 in 2018.
A final review for Petrov's Flu updates the average score to 2.3. Next up on the grid are Sean Baker's Red Rocket, Ildikó Enyedi's The Story Of My Wife, and Jacques Audiard's Paris, 13th District.