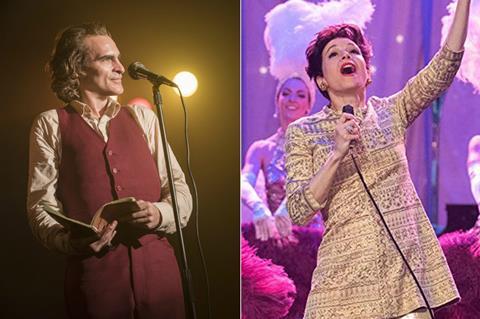 Two pop culture icons battle for supremacy at the UK box office this weekend, as Todd Phillips' Venice Golden Lion winner Joker through Warner Bros goes up against Rupert Goold's Judy Garland biopic Judy which is released this through Pathé.
Phillips' film has proved controversial since its victorious Venice premiere in August. The studio released a statement last week defending the film in response to parents of victims of the 2012 Aurora cinema shootings, who expressed concern over the film's depiction of gun violence.
It stars Joaquin Phoenix – widely tipped for awards success – as Arthur Fleck, a mentally ill man who turns to violence after repeated mistreatment from those around him.
The Joker has been a recurring character throughout the last 50 years of cinema and first appeared in a live-action film in Leslie H. Martinson's 1966 Batman, played by Cesar Romero, reprising his role from the TV series.
Jack Nicholson gave a memorable interpretation of the character in Tim Burton's 1989 Batman (opened: £2.1m, closed £12.1m); while Heath Ledger won a posthumous Oscar for best supporting actor for playing the character in Christopher Nolan's 2008 The Dark Knight.
That film is still in the top 50 highest-grossing titles of all time in the territory, having started with £11.2m and grown to a huge £49.1m.
Jared Leto took on the role in 2016's Suicide Squad, which began with £11.3m and finished on £33.6m.
The film is a genre departure for director Phillips, who has previously made his name through Warner Bros' comedies.
The most successful of these was the Hangover series. The first title opened to £3.2m in June 2009, ending on £22.1m; part II opened to £10.4m and hit £32.8m in May 2011; while part III started with £6m and closed on £19.3m in May 2013.
Phoenix's record gross in the UK is still the £31.2m made by 2000's Gladiator, which is all the more impressive considering its £3.6m start.
Does Judy pack a punch?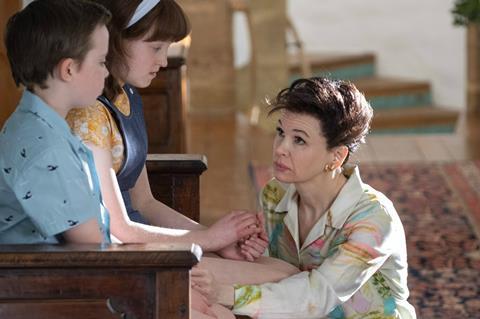 Counter-programmed against the supervillain story is Pathé's Judy, the story of Judy Garland's arrival in London in winter 1968 for a series of sold-out concerts.
It debuted at Telluride Film Festival in August this year, before going on to Toronto and Zurich.
The film had a limited release on Wednesday, October 2, before opening wide on Friday for the weekend.
This is the first significant film about the life of one of the stars of the Golden Age of Hollywood, and just as Joker has generated awards buzz for Phoenix, so has Judy for lead Renée Zellweger.
She is best-known in the UK for the Bridget Jones series, each of which has performed strongly at the box office.
Bridget Jones's Diary opened to £5.7m in April 2001, hitting an impressive £42m; while Bridget Jones: The Edge Of Reason started with £10.4m and hit £36m from November 2004.
The highest-grossing is 2016's Bridget Jones's Baby, which opened to £8.1m and grew to a spectacular £48.3m total. While those figures should be beyond Judy's reach, the combination of Zellweger's star power and a familiar subject suggests that it could perform well.
Further openings
Altitude's music documentary Hitsville: The Making Of Motown had an event cinema release on Monday, September 30 before its theatrical run opens this weekend, with its online/DVD release from Monday, October 7. Focusing on the legendary music production phenomenon throughout the late 1950s through to the early 1970s, the film is produced by UK company Fulwell 73, which has recent credits including Bros: After The Screaming Stops and Netflix doc series Sunderland 'Til I Die, as well as James Corden's Carpool Karaoke.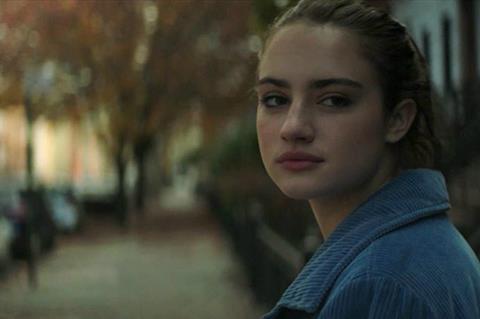 Pinpoint Films is releasing Dolly Wells' Tribeca 2019 comedy-drama Good Posture starring Grace Van Patten alongside Emily Mortimer and Nat Wolff; while Signature Entertainment has Ross Clarke's post-Second World War thriller The Birdcatcher.
Jade Films is distributing Harry Birrell Presents Films Of Love And War, Matt Pinder's documentary about the titular amateur filmmaker's vision throughout the 20th century. Narrated by Screen Star of Tomorrow 2010 Richard Madden, the film won the audience award on debut at Glasgow Film Festival in March.
Foreign-language launches this weekend include several Chinese titles; airline rescue drama The Captain and Mount Everest adventure The Climbers through Trinity Film/Cine Asia; Chinese historical anthology drama My People, My Country through Independent; Polish woodland horror Werewolf through Eureka Entertainment; and Indian action thriller War through Yash Raj Films.
In event cinema, Trafalgar Releasing screened concert film Roger Waters Us + Them on Wednesday 2, with CinemaLive distributing Placido Domingo - 50th Anniversary Gala Evening the day before.
Key holdovers include Downton Abbey, which has been top of charts for three consecutive weekends at the top of the chart; Ad Astra starring Brad Pitt; and Hustlers with Constance Wu and Jennifer Lopez.