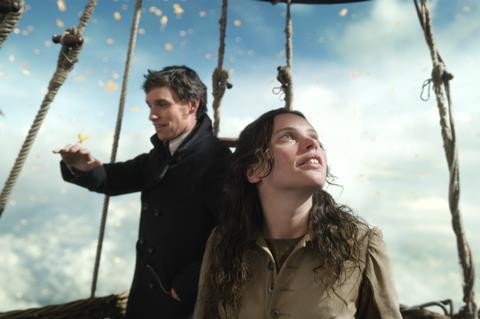 eOne's The Aeronauts will hope to capitalise on momentum gained through a debut on Monday, November 4, as it heads into its first weekend in UK cinemas.
Directed by Tom Harper (Wild Rose), the film reunites The Theory Of Everything co-stars Eddie Redmayne and Felicity Jones as a scientist and pilot respectively, looking to fly their hot air balloon higher than anyone has ever been.
The film debuted at Telluride Film Festival in August, going on to screen at Toronto and London.
Redmayne and Jones both have excellent box office pedigree across independent and blockbuster fare. Working Title's The Theory Of Everything had a £2.9m opening weekend through Universal in January 2015 and went on to generate an excellent £21.7m total gross.
As the star of Warner Bros' Fantastic Beasts series, Redmayne brought in £54.7m for the first instalment from a £15.3m start in 2016, with the second hitting £34m from £12.3m in 2018.
Jones led Rogue One: A Star Wars Story in 2016 to a £17.3m opening weekend and £66m total gross, the 16th highest-grossing film of all time in the UK to date.
Further box office hits include 2013's Les Misérables (total gross: £40.8m) for Redmayne and a supporting role in 2014's The Amazing Spider-Man 2 (total gross: £24.1m) for Jones.
The Aeronauts is the fifth feature for UK director Harper, who has also worked extensively in TV on series including Peaky Blinders, War & Peace, This Is England and Misfits.
His debut, The Scouting Book For Boys, took £28,666 from an £11,343 start in 2010.
Horror sequel The Woman In Black: Angel Of Death hit £5m from a £2.4m start in 2015, while Wild Rose reached £2.9m from a £771,929 opening in April this year.
Harper is a Screen Star of Tomorrow (2006) alongside Redmayne (2005), Jones (2007), supporting cast members Himesh Patel (2019) and Phoebe Fox (2011), and co-writer Jack Thorne (2007).
Liar to make good?
Warner Bros unites three industry stalwarts in The Good Liar, as Bill Condon directs Ian McKellen and Helen Mirren in a thriller about a con artist (McKellen) who begins to care for the wealthy woman (Mirren) he is planning to rob.
Condon has strong box office pedigree through titles such as 2017's Beauty And The Beast (opened: £19.7m, closed £72.4m) and The Greatest Showman, which he co-wrote (opened: £4.7m, closed: £47.9m), and the final two parts of the Twilight series, which he directed to £31.1m and £37.9m in 2011 and 2012.
He also directed McKellen in 2015's Mr. Holmes, which started with £741,080 and ended on £2.7m.
McKellen has a plethora of box office hits such as The Lord Of The Rings and Hobbit franchises, in which he played Gandalf, and the X-Men films, where he played Magneto. The highest-grossing of these remains 2001's The Lord Of The Rings: The Fellowship Of The Ring, which opened to £11.1m and closed on £63m.
Mirren is perhaps best-known for her Oscar-winning role in 2006's The Queen (£9.4m total gross) and for leading the ensemble of 2004's Calendar Girls (£20.4m total).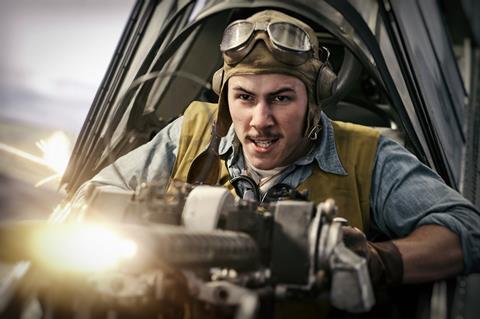 Also out this weekend is Roland Emmerich's Second World War drama Midway, produced through Stuart Ford's AGC Studios and with an ensemble cast led by 2013 Star of Tomorrow Ed Skrein.
German director Emmerich has made 17 features since 1984, the highest-grossing of which is 1996's Independence Day, which made £37.1m from a £7m start.
Meanwhile, Netflix is holding limited releases for two films.
Martin Scorsese's The Irishman, which premiered at New York Film Festival, is considered an awards contender for the director and its lead cast Robert De Niro, Al Pacino and Joe Pesci.
Klaus, the Santa Claus origin story from former Disney animator Sergio Pablos, will look to gain attention from the family market before Frozen 2's release in two weeks, on November 22.
Altitude is releasing Werner Herzog's latest documentary, Meeting Gorbachev, in which the German filmmaker sits down with the final president of the Soviet Union to discuss his life. Herzog co-directed the film with André Singer, and it premiered at Telluride in September.
Further titles include PJ Harvey documentary A Dog Called Money through MUBI; animated comedy Polar Squad and action feature Rise Of The Footsoldier 4: Marbella, both through Signature Entertainment; and Nick Hamm's Venice 2018 closing title Driven, through Vertigo Films.
A strong performance from The Aeronauts, The Good Liar or even Midway might finally dethrone Joker. The supervillain story set a 2019 record of five weeks at the top of the charts last time out, and became the highest-grossing 15-rated title of all time in the UK on Thursday.
Also looking to take the crown through superior holds will be on-release titles The Addams Family, Maleficent: Mistress Of Evil, and Terminator: Dark Fate.