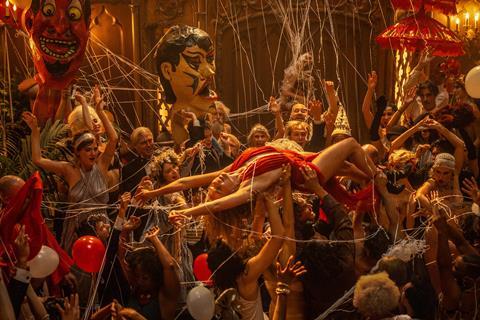 Damien Chazelle's Babylon is the widest new release at the UK-Ireland box office this weekend, playing at 631 sites for Paramount, and hoping to make a dent on Avatar: The Way Of Water's box office dominance, after five weeks atop the chart for Disney.
It is Chazelle's widest release in the territory – beating his Oscar-winning musical La La Land, which opened at 606 sites in 2017 for Lionsgate, and took £5.6m at the box office in its opening weekend, plus £943,751 in previews.
Chazelle's latest paints a hedonistic portrait of 1920s and 1930s Hollywood, bolstered by a starry ensemble cast featuring Margot Robbie, Brad Pitt and Tobey Maguire. It has just been nominated for three Baftas – original score, production design and costume design.
Elsewhere, it's a restrained week for new releases. Anime title That Time I Got Reincarnated As A Slime The Movie: Scarlet Bond from director Yasuhito Kikuchi is at 89 cinemas for Sony.
Trinity Film/Cine Asia has Hong Kong feature Everything Under Control at 57 locations, ahead of Chinese New Year this weekend. It marks the second feature of director Ying Chi Wen, after sports comedy Life Must Go On, and stars popular Hong Kong singer Hins Cheung. Two security guards travel to a remote village to retrieve stolen diamonds, where they encounter a ghost and motley band of villagers. It is a remake of 2021 Taiwanese film Treat Or Trick.
Mubi is releasing Ali Abbasi's Holy Spider at 38 sites. The Cannes premiere is set in the Iranian holy city of Mashhad, but shot in Jordan, and unfurls around a serial killer.
Modern Films is playing Emily Atef's Cannes title More Than Ever at 15 spots. It is the final film appearance of actor Gaspard Ulliel, who stars opposite Corsage's Vicky Krieps. Ulliel died in a skiing accident last year. In this feature, a terminally ill woman decides to take ownership of her own death.
Lionsgate is putting Mary Nighy's Toronto premiere Alice, Darling, at 10 locations. Anna Kendrick plays a woman stuck in a psychologically abusive relationship.
The iconic Chelsea Hotel in New York is reborn in documentary Dreaming Walls, released by Dogwoof at seven sites. In the 1960s, it was a hub for cool counter-cultural figures, like Patti Smith, Jim Morrison and Andy Warhol. Now, it's reopening as a luxury hotel. Maya Duverdier and Amélie van Elmbt's documentary premiered at Berlin.
Another documentary out this weekend is Hide And Seek (Nascondino). It's set in Naples, and follows three generations of the same family, focusing on an unruly boy on the cusp of adolescence. The documentary played at BFI London Film Festival and CPH:DOX and is out at one site, London's Bertha DocHouse.
Sovereign is opening The Substitute in five sites this weekend – a figure that will be plumped up to 25 locations across its first week of release. Diego Lerman's Argentinian thriller, which played at Toronto and San Sebastian, follows a substitute teacher in Buenos Aires who becomes caught in a conflict between a drug gang and one of his students.
Also playing this weekend is The Book Of Vision, starring Charles Dance and directed by Carlo S. Hintermann. A young doctor finds her fate becomes entangled with that of an 18th century physician in this psychological thriller. It premiered at Venice, back in 2020, and is releaesd by Parkland Entertainment.
Key holdovers include M3GAN (Universal); Whitney Houston: I Wanna Dance With Somebody (Sony); A Man Called Otto (Sony); Empire Of Light (Disney); and Avatar: The Way Of Water (Disney),