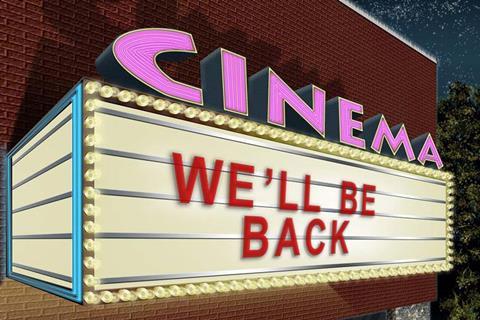 All cinemas in the mainland UK and Ireland are closed. (Two on the Isle of Man and one on Guernsey are open.) Northern Ireland has a preposed reopening date of February 6, although this is subject to reassessment, and cinemas in Ireland are looking at a tentative opening date of January 31.
In France where all cinemas are also closed, culture minister Roselyne Bachelot said this week cultural spaces including cinemas are unlikely to reopen in January. The National Federation of French Cinemas went to court before Christmas to protest the forced closure of cinemas at a time when non-essential shops were allowed to open. The legal bid was rejected by France's Council of State.
Cinemas in both Germany and Italy remain closed, until at least January 10 and 15 respectively. Covid-19 infection rates are starting to decline in Germany, raising hopes entertainment venues could soon reopen, although daily deaths continue to increase.
In Italy both daily cases and deaths have been declining since November.
Spain is one of the few major European territories where cinemas are open. Since the national closure in spring 2020, reclosures have been on a regional level, with most regions allowing venues to operate since late November, with social distancing measures in place.
In China most cinemas are open although they are subject to regional closures.
In Japan, where all cinemas are open, restrictions on opening hours will begin from tomorrow (January 8) in Tokyo and three neighbouring prefectures, following an increase in cases. The country has had one of the lowest infection rates in the developed world since the pandemic began.
South Korean cinemas are all open. However leading exhibitor CJ CGV has scheduled the closure of 30% of its screens over the next three years, claiming the industry was on "the brink of collapse"; multiplex operator Lotte Cinema has followed suit with plans to close 20% of its sites across two years; and both exhibitors have raised ticket prices alongside fellow operator Megabox, to offset Covid-related losses.
The majority of cinemas in Australia and New Zealand are open. Australia has already brought in $10m this year from 141 releases. As of January 2, 2021, facemasks became mandatory in all enclosed places in the Greater Sydney area, including cinemas. New Zealand experienced one of the smallest drops in box office revenue year-on-year with takings down 47.6% in 2020 compared to 2019.
It is a mixed picture across the Middle East region, as some territories push ahead with cinema screenings while others have been closed for much of the last year. Egypt, the United Arab Emirates, Saudi Arabia, Bahrain, Iraq, Palestine and Tunisia all currently allow cinemas to operate. Egypt also hosted the Cairo Film Festival, one of the region's major industry events, in early December 2020, with both local and international guests present and engaging within social distancing guidelines.
However cinema doors are shut in Algeria, Jordan, Kuwait, Lebanon, Libya, Morocco, Oman, Qatar and Sudan.
With restrictions determined at state level, cinemas are currently permitted to open throughout the US. However, not all exhibitors have chosen to open including the Cineworld-owned Regal chain, which is aiming to reopen its 536 US venues by March this year.
Canada's Covid-19 restrictions are determined on a local level across the country's 10 provinces and three territories.
Two provinces – Quebec and Ontario – have stay-at-home orders until January 11 and 23 respectively. Sixty percent of Canada's population lives in these two states. Cinemas are permitted to open in the other nine provinces and three territories.
Here is Screen's running list of where cinemas are open.