Inside the life of Kathryn, locked into a fixed position due to ALS but never static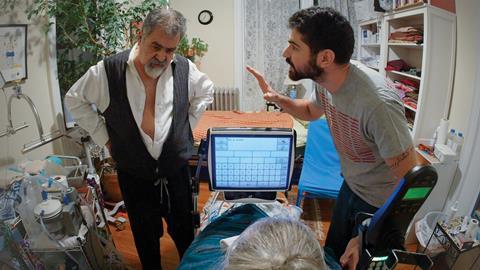 Dirs: Noah Arjomand, Adam Isenberg, Senem Tuzen. US/Spain/Turkey. 2021. 74mins
While there are many documentaries devoted to exploring the lives of those with physical and mental ailments, few are able to fully immerse the viewer in the way of Eat Your Catfish, a remarkable documentary which follows several months in the life of ALS sufferer Kathryn, who is fully paralysed and can only communicate by moving her eyes to letters on a special keyboard. Filmmakers Noah Arjomand (who is Kathryn's son), Adam Isenberg and Senem Tuzen have kept the set-up simple, mounting a camera to the back of Kathryn's wheelchair in her New York apartment so that we see everything from her point of view; regular joys, frequent frustrations and the despair she feels at being trapped inside herself.
The viewer is locked into Kathryn's field of vision, observing her world from one fixed point
With its intimate, brutally honest approach, Eat Your Catfish should receive plenty of festival attention after its premiere in IDFA's Envision Competition, and specialist documentary distributors could well be attracted by the film's themes as well as its easily accessible fly-on-the-wall style. This is bare-bones filmmaking, though; there's no film crew, no evocative score or talking heads. The viewer is locked into Kathryn's field of vision, observing her world from one fixed point. We only move when she is moved, the only direct interactions come from painfully slow computer conversations with her family, carers, friends who must stand directly in her eyeline. At one point, even Kathryn herself worries that the film — and indeed she — may come across as boring, and decides she must be overly dramatic in the style of Julia Roberts' performance in August: Osage County. (Kathryn's reference to a scene in which Roberts' character shrieks "eat your catfish" is what gives the film its enigmatic title).
Kathryn's smart, witty personality comes across through her computer's tinny voice. She is also, at times, rude, belligerent, selfish and angry, speaking frankly about the unfairness of having a working brain attached to a failing body — "Its like watching yourself get hit by a bus in excruciatingly slow motion" — the humiliations of having other people look after her and her overwhelming desire to die; the only thing keeping her going, she says, is her love for her children. Kathryn and her clearly-struggling husband Said frequently argue about his level of commitment; beloved son Noah — who takes on a great deal of Kathryn's care — regularly fails to hide his frustration with his father, his mother, the entire situation.
Yet there is also plenty here that's life-affirming, especially as the family prepare for the wedding of Kathryn's daughter Minou. And there are some rich moments of detail, such as Kathryn watching Stephen Hawking drama The Theory Of Everything or regaling various wedding guests with the same funny story, verbatim. But, crucially, the film gives Kathryn a platform to tell — and indeed show — her story, in her own unique way. Her lingering hope is that viewers don't think she's pathetic, but plucky. Painstakingly edited by Adam Isenberg and Senem Tuzen, this film grants her that wish.
Production company: Zela Film
International sales: Deckert Distribution info@deckert-distribution.com
Producers: Noah Arjomand, Adem Isenberg, Senem Tuzen
Cinematography: Noah Arjomand
Editing: Adam Isenberg, Senem Tuzen
Music: Daniel Whitworth