As the 2020 European Film Market (EFM) kicks off, Screen highlights the buzz titles ready to entice international buyers.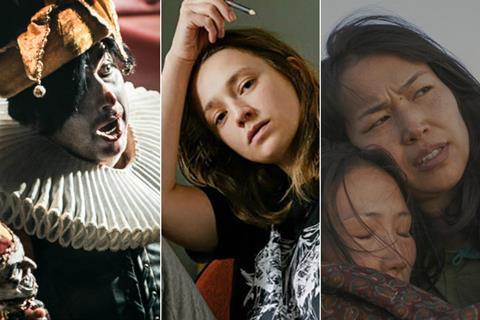 Spain
Filmax will have market screenings of thriller Cross The Line (which it also produced) and coming-of-age drama The Innocence. Directed by David Victori, Cross The Line stars Mario Casas as a good guy who buys a round-the-world ticket to start a new chapter of his life after his father's death and ends up on a hellish journey. The film is scheduled for an autumn release in Spain. The Innocence, which premiered in San Sebastian in September, is directed by Lucia Alemany, one of the new wave of Catalan women filmmakers.
Latido Films' EFM line-up includes Ukrainian director Oleg Sentsov's Numbers, which is screening in Berlinale Specials. Based on his stage play of the same name, the film was made while Sentsov was serving a prison sentence in Russia after his arrest in 2014. The dystopian drama portrays a society in which 10 numbers obey the strict rules dictated by 'the Great Zero'. Sentsov, who has since been released from prison, directed the film in collaboration with Akhtem Seitablaev. Latido's slate also includes Argentinian box-office hit The Heist Of The Century, a true story about a gang that used toy guns to stage a bank robbery on the outskirts of Buenos Aires. Ariel Winograd directs and Guillermo Francella and Diego Peretti star in the comedy, which has its market premiere in Berlin.
Film Factory Entertainment is handling sales on Competition title The Intruder, which it describes as a "giallo-infused psycho­sexual thriller". The Argentina-Mexico co-production is directed by Natalia Meta and stars Erica Rivas alongside 120 BPM (Beats Per Minute)'s Nahuel Perez Biscayart and Cecilia Roth (All About My Mother). Film Factory Entertainment is also selling Generation Kplus title Schoolgirls by Pilar Palomero. The 1990s-set coming-of-age drama is produced by Bteam Pictures and Inicia Films; the latter company was behind Carla Simon's Summer 1993.
Nordics
REinvent International Sales, the company Rikke Ennis founded in 2018, has entered into a new sales partnership with SF Studios, which has therefore shut its own inter­national sales arm. REinvent, with Helene Auro as head of sales, will be attending the EFM. The slate includes Antti Jokinen's Finnish action thriller Omerta, which is a two-film and TV project; Bille August's The Pact, a drama about author Karen Blixen; and Swedish horror The Other Side. Christina Rosendahl's The Good Traitor, starring Ulrich Thomsen, will have a market screening. On the TV side, REinvent is selling Berlinale Series selection Sex, a Danish web series; and the upcoming Snow Angels, a Stockholm-set crime drama about a missing infant.
TrustNordisk's new titles include Yngvild Sve Flikke's Norwegian motherhood comedy drama Ninja­baby; A Taste Of Hunger starring Nikolaj Coster-Waldau and Katrine Greis-Rosenthal as husband-and-wife restauranteurs and Norwegian Second World War drama Betrayed. The company will show promos for all three films at its screening for buyers on February 20. Survival drama Breaking Surface, starring Moa Gammel and Madeleine Martin as sisters who get trapped on a diving trip in northern Norway, will have its first market screening.
LevelK will host market screenings for four of its titles: John Sheedy's heartwarming Australian comedy-drama H Is For Happiness; Jenni Toivoniemi's Finnish comedy Games People Play; Philippine documentary Aswang; and Icelandic gay vampire thriller Thirst.
The Yellow Affair has Barbara Ott's German drama Kids Run, which will open Perspektive Deutsches Kino. The story is about an ex-boxer and father who returns to the ring to pay off his debts. The Yellow Affair also hosts a market screening of Pamela Tola's Finnish comedy Ladies Of Steel.
Eyewell brings war drama Blizzard Of Souls, and will host two market screenings. Dzintars Dreibergs' film has set box-office records in its native Latvia.
Rest of world
Odin's Eye Entertainment has boarded sales on Telefilm Canada-backed animated feature Dino Dana The Movie, based on Sinking Ship Entertainment's TV series Dino Dana. The Australian outfit has worldwide rights outside of North America. Odin's Eye has also taken all rights excluding Scandinavia to Danish filmmaker Anders Refn's local box-office hit Into The Darkness, produced by Lene Borglum and Nicolas Winding Refn's Space Rocket Nation.
Russia is out in force at the EFM under the Created In Moscow programme. Vega Film has Forum title In Deep Sleep by Maria Ignatenko, and will be pre-selling Conference by Ivan Tverdovsky. The latter is about a woman involved in the terrorist attack in Moscow in 2002 who wants to commemorate the victims.
Central Partnership is bringing new projects to market including Danila Kozlovsky's Chernobyl: Abyss, Klim Shipenko's Son Of A Rich, which was a runaway hit at the Russian box office, grossing $48m, and Ilya Uchitel's Streltsov, which tells the story of famed Soviet-era Russian footballer Eduard Streltsov. The company also has Second World War film Last Frontier from director Vadim Shmelev.
Art Pictures Studio is continuing sales on Invasion, Fedor Bondarchuk's sequel to sci-fi blockbuster Attraction. Mars Media will screen 40 minutes of footage from family adventure film A Dog Named Palma, and is joining forces with Art Pictures to sell the film.
All Media Company has The Last Warrior: Root Of Evil, a co-production with Disney and the sequel to The Last Warrior by Dmitriy Dyachenko.
Mint Films International has 47 by Alexey Uchitel, where mourners bring back to Leningrad the body of a famous Soviet rock star.
Russian World Vision presents The Watchman, a drama by Yuriy Bykov about a devoted watchman who decides to help a hiding couple.
Planeta Inform gives a market premiere to sci-fi feature Coma by Nikita Argunov about an architect who finds himself in a dystopian world filled with the memories of coma patients.
Russian film studio Proline Film is presenting its feature Palmyra directed by Ivan Bolotnikov, about a father who discovers his daughter has gone to Syria to join Isis.
Hungarian hopes are strong for Oscar winner Istvan Szabo's Final Report, which is being sold by NFI World Sales, the rebranded international sales division of National Film Institute Hungary. NFI is also selling Agnes Kocsis's Eden, fresh from festival screenings at Rotterdam and Göteborg. The biggest upcoming Hungarian project on the slate isThe Story Of My Wife, directed by Golden Bear winner Ildiko Enyedi (On Body And Soul) and starring Léa Seydoux, Gijs Naber and Louis Garrel.
Budapest-based Luminescence is selling The Barkers: Mind The Cats!, the latest feature from producer Sergey Selyanov.
From Benelux, Dutch Features is launching pre-sales on family title Sihja, which tells the story of a cheeky fairy and an eccentric boy who have to overcome their fears to save nature. It is produced by Tuffi Films, Windmill Film and Den Siste Skilling, and is directed by Marja Pyykkö.
Dutch sales outfit Incredible Film has several market premieres at EFM, among them Alzheimer-themed drama Shit Happens, starring Jeroen Krabbé and Hadewych Minis; and teen thriller Vicious, directed by Dennis Bots, about four female high-school friends whose post-exam retreat to a cottage in the Ardennes turns into a terrifying nightmare.
Amsterdam-based Nine Film has Panorama title Black Milk, written and directed by Mongolia's Uisenma Borchu.
At its first EFM, nascent Belgian outfit Best Friend Forever (BFF) will give a market premiere to Belgium-Colombia film Valley Of Souls from director Nicolas Rincon Gille. The title took the best film prize at International Film Festival Marrakech in November and has screened in Busan, Rome and Rotterdam, among other festivals. Other titles on BFF's slate include Radu Jude's documentary Uppercase Print, which tells the story of a Romanian teenager who used graffiti to protest against Romanian dictator Nicolae Ceausescu, and Caroline Monnet's drama Bootlegger.
Adventurous buyers may be intrigued by the return of Jan Bucquoy, director of The Sex Life Of The Belgians (1994) and founder/curator of The Museum of Underwear, which showcases celebrity underwear. Bucquoy's upcoming comedy-drama The Last Temptation Of The Belgians is represented by Be For Films. The company is also giving a market premiere to Vero Cratzborn's Into Dad's Woods starring Ludivine Sagnier.
Austrian documentary specialist Autlook Films is pushing its Sundance title The Painter And The Thief. Directed by Benjamin Ree, it is a story of the friendship between an artist and the drug-addicted thief who stole her work. The film won the World Cinema Documentary special jury award for creative storytelling at Sundance.
Heretic Outreach is handling Siamak Etemadi's Panorama title Pari, about an Iranian mother searching for her missing son in Athens, and Janis Rafa's Rotterdam Tiger contender Kala Azar. It is also executive producing and selling A House In Jerusalem from writer/director/producer Muayad Alayan (The Reports On Sarah And Saleem), due to shoot later this summer.
New Europe Film Sales is anticipating strong pre-sales on Valdimar Johannsson's supernatural drama Lamb, starring Noomi Rapace, and will be screening Danish filmmaker Malou Reymann's debut feature A Perfectly Normal Family fresh from its Rotterdam premiere, where it won the VPRO Big Screen award.
Canada-based Attraction continues to sell European family fare. Among its titles are Danish feature All I Want For Christmas 2 and from Sweden The Ape Star.
Cork-based SMP Distribution, the international sales arm of Silver Mountain Productions now headed by Isabel Pascual, is handling world sales of The New Music from debut director Chiara Viale. The film is about a talented young pianist with a promising career who runs away from his uptight family after receiving a diagnosis of early-onset Parkinson's disease, instead embracing a rebellious new lifestyle in Dublin.
More EFM buzz titles