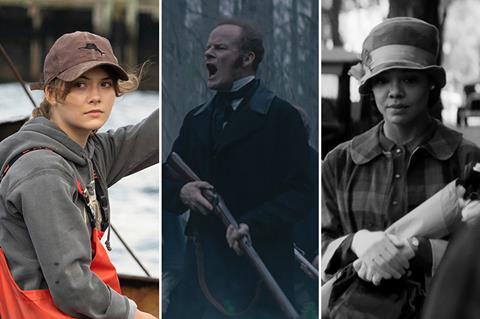 From the story of racial identity in 1920's Harlem to a documentary about the constitutionality of Zimbabwean elections, the titles in this year's Sundance Film Festival resonate with our times and are expected to offer plenty for buyers to get excited about.
Screen profiles 15 hot titles that could make a splash and eventually get to play at a cinema or large-screen home cinema or drive-in near you in the months to come.
Click here to read what buyers and sellers are saying about this year's crop. Sundance runs January 28-February 3.
US DRAMATIC COMPETITION
CODA
Dir: Siân Heder
Premiere date: January 28, 5pm
Rising UK star Emilia Jones, whose credits include Brimstone. and High-Rise, plays the only hearing member of a deaf family in Heder's second feature following Tallullah which played at Sundance in 2016. The young woman must decide whether to remain in service to her parents as a translator, or pursue her dream. Marlee Matlin, Troy Kotsur, Daniel Durant and Eugenio Derbez also star in the crowd-pleaser. A Day One screening.
Sales: Pathé; ICM Partners, CAA
John And The Hole
Dir: Pascual Sisto
Premiere date: January 29, 3pm
There's plenty of curiosity about visual artist Sisto's feature debut, which producers Mutressa Movies and 3311 Productions have pretty much kept away from buyers ever since Thierry Fremaux included it in his Cannes Label selection last year. The coming-of-age tale follows a teenager, played by Charlie Shotwell, who puts his parents and sister in a bunker near their luxury house. Michael C. Hall, Jennifer Ehle and Taissa Farmiga co-star.
Sales: Nick Shumaker, UTA Independent Film Group; ICM Partners
On The Count Of Three
Dir: Jerrod Carmichael
Premiere date: January 29, 6pm
Carmichael, the stand-up comic and executive producer of The Carmichael Show, stars as Val, who makes a suicide pact with his best friend Kevin (Christopher Abbott) which they agree to honour once they've taken care of other business.
Sales: Mikey Schwartz-Wright, UTA Independent Film Group
Passing
Dir: Rebecca Hall
Premiere date: January 30, 3pm
Hall's black and white feature directorial debut is based on Nella Larsen's Harlem Renaissance novel about two African American women and old high school friends who have divergent views on "passing" as white. Tessa Thompson and Ruth Negga star.
Sales: Endeavor Content
Wild Indian
Dir: Lyle Mitchell Corbine Jr.
Premiere date: January 30, 12pm
Years after a bullied Anishinaabe boy murders a schoolmate, he and his best friend have grown up and need to face up to what happened.
Sales: Endeavor Content, 30West
US DOCUMENTARY COMPETITION
Summer Of Soul (…Or, When The Revolution Could Not Be Televised)
Dir: Ahmir "Questlove" Thompson
Premiere date: January 28, 7pm
Questlove's documentary is a hot ticket and focuses on Harlem Cultural Festival of 1969 which took place over the same summer as Woodstock. The footage lay in a basement for half a century until now. A Day One screening.
Sales: John Sloss, Cinetic
WORLD CINEMA DRAMATIC COMPETITION
Luzzu
Dir: Alex Camilleri
Premiere date: January 29, 12pm
A cash-strapped Maltese fisherman desperate to care for his family falls in with an illegal black market fishing expedition.
Sales: Memento Films
One For The Road
Dir: Baz Poonpiriya
Premiere date: January 28, 7pm
The director behind 2017 Thai hit Bad Genius is back with the story of a New York-based barman summoned to Thailand by a dying friend with a bucket list. Revelations ensue. Wong kar-wai is among the producers. A Day One screening.
Sales: CAA;international, Virginia Leung, Block 2
WORLD CINEMA DOCUMENTARY COMPETITION
The Most Beautiful Boy In The World

Dirs: Kristina Lindström, Kristian Petri
Premiere date: January 29, 12pm
Decades after playing Tadzio in Luchino Visconti's Death In Venice, when the director labelled him "the most beautiful boy in the world", 60-something Swedish actor and musician Björn Andrésen lives in semi-squalor, haunted by his past.
Sales: Films Boutique
President

Dir: Camilla Nielsson
Premiere date: January 29, 9am
An intimate chronicle of electioneering in Zimbabwe as young opposition leader Nelson Chamisa challenges Emmerson Mnangagwa from the ruling ZANU PF party in the African nation's first elections since dictator Robert Mugabe was ousted in a military coup.
Sales: Josh Braun, Submarine; Olivier Tournaud, Cinephil
PREMIERES
Eight For Silver
Dir: Sean Ellis
Premiere date: January 30, 6pm
In the late 19th century, a pathologist arrives in a French rural community where a boy has been killed and the villagers are tormented by nightmares. Ellis' follow-up to 2016 wartime thriller Anthropoid and 2013 Sundance World Cinema Audience Award winner Metro Manila stars Boyd Holbrook, Alistair Petrie and Kelly Reilly.
Sales: CAA; ICM Partners
How It Ends
Dirs: Daryl Wein, Zoe Lister-Jones
Premiere date: January 29, 3pm
In the vein of After Hours, Lister-Jones plays a young woman determined to make it to a wild party on the other side of Los Angeles before an asteroid strike destroys Earth.
Sales: Endeavor Content
In The Earth
Dir. Ben Wheatley
Premiere date: January 29, 6pm
After adapting Rebecca for Netflix, Wheatley returns to pure horror with the story of a doctor's quest to reach a test site deep within a forest as a virus ravages the planet. Neon holds US rights.
Sales: International sales, Protagonist
Mass
Dir: Fran Kranz
Premiere date: January 30, 12pm
Years after a tragedy ruined their lives, emotions are still raw as two couples agree to sit down and talk. Kranz, a former actor who has worked with Joss Whedon, makes his feature directorial debut. Jason Isaacs, Ann Dowd, Martha Plimpton, and Reed Birney star.
Sales: Jay Cohen, Gersh; CAA
NEXT
First Date
Dir: Manuel Crosby
Premiere date: January 31, 6pm
An innocent attempt to do the right thing on a first date leads to mayhem as a high school student becomes the target of criminals, police, and a cat lady.
Sales: Ryan Kampe, Visit Films