Production designer Tamara Deverell, set decorator Shane Vieau and costume designer Luis Sequeira tell Mark Salisbury how they realised Guillermo del Toro's rich visions for neo-noir Nightmare Alley.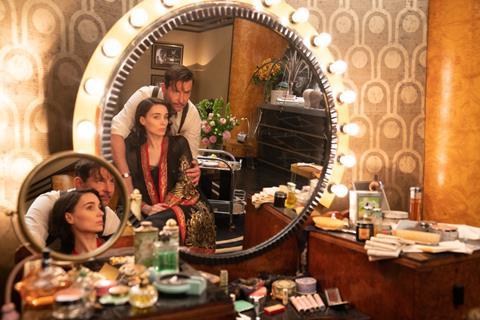 For Nightmare Alley director Guillermo del Toro, the look of his films is a way of developing character, telling the story and conveying emotion. "When people say the movie has great cinematography, the likelihood is they're saying there was great wardrobe, great set design and great cinematography, because cinematography can only be beaut­iful if wardrobe and set design are orchestrated well," del Toro says. "It's a single department, and the director makes sure those are telling the same story visually, and are narratively important."
Based on the novel by William Lindsay Gresham, and previously filmed in 1947, Nightmare Alley is set in post-Depression America and tells of Stanton Carlisle (Bradley Cooper), a drifter and hustler who transforms himself into a dazzling showman before falling foul of Cate Blanchett's femme fatale Dr Lilith Ritter, Richard Jenkins' volatile tycoon Ezra Grindle, and his own fragile ego.
While the original was very much a film noir, del Toro's Nightmare Alley is more neo-noir, eschewing the elements traditionally associated with the genre, but still remains a visual tour de force. It is also full of his signature design elements, in terms of architecture — geometric circles, soft arches — and colour, with the film emphasising red and green, be it in costumes, furniture or the sets themselves.
Tale of two halves
For most of its running time, Nightmare Alley is set in two distinct worlds. First, in 1939, there is the circus and the carnival folk who inhabit it: worn-in, rough, weathered, with sepia tones and nicotine-stained colours. Then in 1941, there is the bright lights of the big city, with its art deco glitz and glamour, monochromatic tones and metallic hints.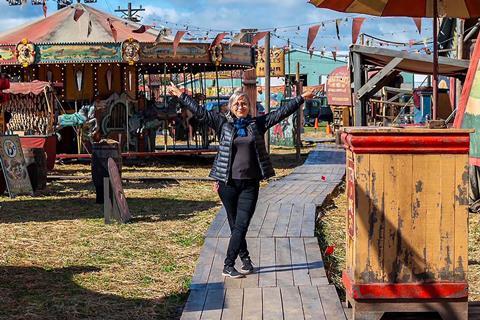 Del Toro and production designer Tamara Deverell, who worked with him on Mimic and TV show The Strain, looked to American realist painters such as Edward Hopper and Andrew Wyeth as well as Danish artist Vilhelm Hammershoi for inspiration when it came to the film's palette, texture, mood and lighting. To build the main carnival, Deverell commissioned 40 tents from Armbruster Manufacturing, the oldest tentmaker in the US. "They taught us how to install them, how to bring them up and bring them down. While we were practising, we filmed it and it was so beaut­iful out there in the middle of nowhere with the wind blowing," she recalls. "When we showed it to Guillermo and Dan Laustsen our DoP, they were like, 'This is so amazing. We're putting this in the film.'"
Meanwhile set decorator Shane Vieau went about sourcing a host of vintage carnival equipment and memorabilia, including a 1920s Ferris wheel and a 1930s carousel that needed to be completely restored. "It had been painted over in the 1970s," says Deverell. "So we lovingly repainted each horse. We found bumper cars. But the rest of the carnival was built."
Attractions included a heaven-and-hell themed funhouse — the House of Damnation — the exterior of which was constructed on location, with the interior built onstage; Molly's (Rooney Mara) electrical act; Zeena's (Toni Collette) fortune-telling stage; a 'geek' pit dug on location for the carnival's purported live freak show; and the 'pickled punks', jars of human foetuses preserved in formaldehyde that were created by the prosthetics department, with the main attraction a one-eyed abomination called Enoch. "Enoch was our special baby and we tried to design the tent like a little throne room, almost an altar with Enoch in it," Deverell reveals. "Every aspect was custom built — even the amber liquid they're floating in. Because we were shooting in Ontario, close to the winter, we had to wrap them in blankets so the liquid didn't freeze."
Then there was the Spider Woman act, played by Giada Cola­grande, inspired by one that del Toro had seen at a Mexican carn­ival when he was six. "We did our research and built the body of the spider, then had [Colagrande] poke her head through," remembers Deverell. "The banners were a big part of that and were based on actual Spider Woman banners we found." The main entrance to the carnival was, originally, a series of banners, "which never felt right to me," continues Deverell. "Then Guillermo said, 'We need some light. We need some illumination. I want neon.' And he sent me an image from Strangers On A Train, and we did a total homage to Strangers On A Train and Hitchcock for that."
The carnival was constructed on the site of the former Markham Fairground outside Toronto and was nearing completion in early 2020 when the production was shut down due to the pandemic. Returning in mid-August, they found the circus had taken a severe weather battering. "A few tents were standing, but most were in a field, withered and rotten," notes Vieau, who won an Oscar and Bafta for del Toro's The Shape Of Water. "Some of them ripped and we repaired them," adds Deverell. "That became part of the patina and part of the history of the tents. What nature offered us made the carnival better."
Striking it rich
After Stanton and Molly become romantically involved and leave the circus in search of a better life, the plot jumps forward two years to find them in the big city, performing on the circular stage of the Copacabana nightclub, which Deverell created in downtown Toronto's historic Round Room at The Carlu, an art deco venue on the seventh floor of a former department store. Del Toro initially wanted to build the club as a set, because he felt The Carlu's ceiling was too high. "As I was designing it, he kept bringing the ceiling down, which is another Guillermo thing, he loves to see the ceiling," she notes, "and The Carlu has this incredible, beautiful round one." In the end, Deverell created "a wedding cake platform" on the stage to raise the actors up, to be closer to the ceiling.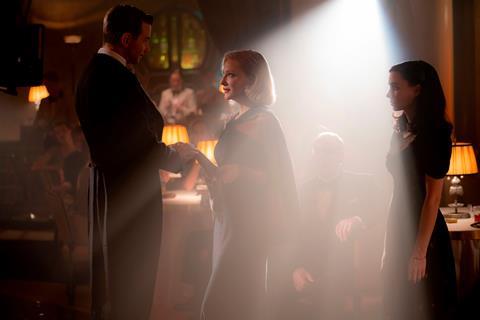 It is at the Copa that Stanton meets Blanchett's psychiatrist. Standing in for the exterior of her office building was Buffalo City Hall, while the interior was one of the film's major sets, a stunning Art Deco space based on the Weil-Worgelt study, a famous interior by Parisian firm Alavoine, which can be seen at the Brooklyn Museum. With palisander and olive wood veneers, abstract lacquer panels, and patterns in the wood resembling Rorschach blots, the office was originally much smaller, but kept getting longer and longer at del Toro's request. "Eventually it felt like it became a train, long and narrow," says Deverell. "It evolved in such a way Guillermo could have the actors move through. I kept thinking of Cate like a tiger circling her prey, Bradley. There were secret doors and safes Guillermo wanted to shoot through. It was a very complicated build for the carpenters."
The floor was made of real marble, while the furniture was a combination of original pieces and custom-­built creations, with every item designed to emphasise character. "It was amazing how well that black shiny floor was symbolic for the character," says Vieau. "If you also look at the angles of the furniture in that office, they're feminine yet very, very masculine. Most of the lamps were strong female characters. The ashtray and two lamps on the side were strong female forms. It was that cold, deco, strong female look that matched Lilith."
Among the items on Lilith's desk was a cigarette lighter used in The Maltese Falcon that del Toro instructed props to source. The director also bought props himself, including the radio Stanton has at the beginning of the film. "He would go on eBay then say to our props guys, 'I found this great ivory-­handled straight-edge razor,'" laughs Deverell. "In the hotel lobby, there's a series of mailboxes — Guillermo found those on eBay and bought them."
The hotel room that is Stanton and Molly's home in the city was inspired by the style of the beaux-arts Parkwood Estate in Ontario, which also stood in for the garden of rich industrialist Grindle. The plan had been to shoot there, but given the number of scenes inside, Deverell opted to build it onstage, doubling the original room size. "It evolved," she reveals. "We started with the deer bas-relief that we 3D replicated to put above our fireplace. Then on the other side was a tapestry of a buck and a doe — [representing] Bradley and Rooney's relationship. We were always looking for ways to make it special."
Costumes, too, were mostly split into two distinct worlds: circus and city. And as with Deverell, costume designer Luis Sequeira, who had previously worked with del Toro on The Shape Of Water and The Strain, did extensive research into the period. "I'm a research nut, so I already had the basics," he explains. "I had a book that is everything you could possibly want to know about 1939 menswear, and it was the bible for the city portion. I also have a lot of catalogues from the time. I started collecting fabrics and putting together a palette of textiles. We had five volumes of photo research."
The right fit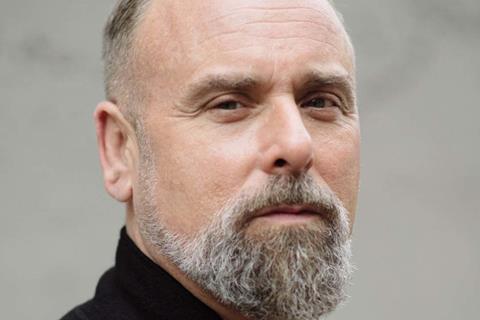 When it came to Stanton, the idea was to transform him from drifter to showman to down-and-out in two-and-a-half hours. "With Bradley's character, initially, it was taking away [his] movie star quality, so everything hung a little bit," says Sequeira. "When we moved to the city, it was all about impeccable tailoring, the best of fits and the highest quality of fabrics."
Cooper's city clothes were tailor-­made, based on a 1939 suit sourced from a UK rental house that had never been worn and still had its tags on. Nevertheless, Stanton's clothes were designed to be subtly garish, again to reflect his character.
"He was the only one who had patterned ties. Everyone else had very subdued, monochromatic ties," says Sequeira. "There's one sequence where he wears a canary yellow shirt, which is the tell-tale sign he's a fraud. So it was about nuances." Del Toro had the idea for the yellow shirt. "He gives you bio­graphies he's written about the characters, which is amazing. From that I start creating what I believe the characters should be, bringing together samples of vintage clothing we can look at, and we build the character in the fitting room."
Blanchett's elegant, luxurious look was all high fashion, with lavish pantsuits and haute couture evening wear, in plum, green and black. "For her, it was old money, on-the-point fashion rather than the nouveau riche look Molly has, because, in my mind, Stanton had bought everything for Molly," says Sequeira. Molly's outfits were various shades of red, the colour most associated with the circus. "With Cate, it was about finding the fabrics that had light within them and were giving back. So her suit had a pebble finish. Her silks were reflective."
Sequeira's favourite outfit in Blanchett's wardrobe was the one that garnered the least screen time. "It's the dress we first see her in, sitting in the shadows. I call it the shadow dress. It was a velvet with gold embroidery in small pill-sized motif. If you shone light onto it, it would have gleamed."
As with props, del Toro had his own costume demands, bringing in items for Sequeira to incorporate. "He loves to go out and get little pieces when he's at antique fairs, [for instance] the doe pin he bought for Molly. It was Mexican and silver and I had it remade in gold so it would be more of the period. She wears it with the second red coat, the one she leaves town in."
Ultimately, every design decision is made by del Toro in close conjunction with his department heads. "Cate's blouse, for instance, I went into the set with Tamara and I said, 'These are two shades I'm thinking about,'" recalls Sequeira. "The set had yet to be painted, but we had a sample. It had a yellow hue and my blouse was more of a blue-grey, so we were like, 'That's going to work.' And with Dan [Laustsen], any meeting I would have with Guillermo, Dan would be there.
"I would lay out the fabric stories and double-check, 'Will it work with your lighting? Are we going to see it? Is it too dark? Is it too bright?' It was always a very cohesive, open dialogue and collab­oration between everybody."