Playing a vital role in the UK production space are companies strongly - or exclusively - associated with one particular director. Screen spotlights five enduring partnerships.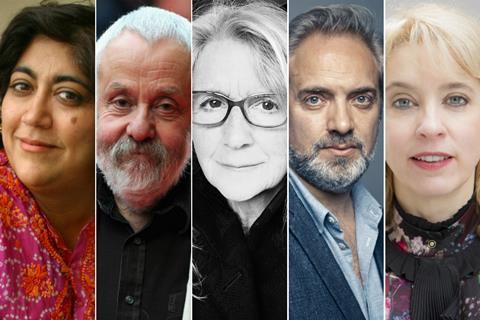 Bend It Films
Formed in 2002 by Gurinder Chadha and her partner Paul Mayeda Berges, Bend It Films struck gold that year with Chadha's Bend It Like Beckham, going on to deliver features such as Bride & Prejudice and Viceroy's House. Bend It has in post Blinded By The Light, based on Sarfraz Manzoor's memoir Greetings From Bury Park, about growing up as an Asian Bruce Springsteen fan in Luton. Produced with Ingenious Media and New York-based Levantine Films, Cornerstone Films is selling the picture and eOne has territories including the UK. Chadha and Berges are currently in Rajasthan shooting Bend It's first major TV drama, Beecham House, a six-episode look at the lives of residents in a Delhi mansion at the cusp of the 19th century. The ITV commission is being distributed globally by Fremantle. Chadha says Bend It is driven by her passion for "telling diverse, emotionally engaging stories for mainstream international audiences".
Adventure Pictures
Christopher Sheppard founded Adventure Pictures when he joined forces with writer/director Sally Potter in 1990. The company began with Potter's Oscar-nominated Orlando (1992), starring Tilda Swinton, and has produced the filmmaker's subsequent six features, culminating most recently with 2017's The Party, produced with Kurban Kassam. Starring an ensemble cast including Kristin Scott Thomas, Cillian Murphy and Patricia Clarkson, The Party went out in the US via Roadside Attractions, grossing $750,000, and in the UK via Picturehouse Entertainment, reaching $1.48m (£1.13m). In the 1990s, Sheppard directed nine episodes for Channel 4 documentary series Cutting Edge.
Cannon and Morley Productions
Cannon and Morley Productions was founded by Manchester-born writer/director Carol Morley and US-born producer Cairo Cannon to make Morley's documentary confessionalThe Alcohol Years (2000). It has gone on to produce all of her work, including documentary Dreams Of A Life and fiction feature The Falling, starring Maisie Williams and Florence Pugh. The pair's Out Of Blue, adapted from the Martin Amis novel Night Train, received a Toronto premiere. Morley was the recipient of the 2015 Wellcome Screenwriting Fellowship in partnership with the BFI and Film4, which resulted in Morley's next feature project: Typist Artist Pirate King, based on the life of archivist artist Audrey Amiss.
Neal Street Productions
Recent years have seen director Sam Mendes and producer Pippa Harris's company focus on TV (Call The Midwife, Britannia and counter-terror drama Informer, which began its run on BBC One in October), while the director helmed back-to-back James Bond films Skyfall and Spectre for Eon Productions. Now Mendes is back in the saddle at Neal Street, which is producing World War One drama 1917 for Amblin, written by Mendes with Krysty Wilson-Cairns and due to shoot next spring. In development are Beautiful Ruins for Fox 2000 and The Magic Faraway Tree for Studiocanal. Caro Newling runs the theatre unit at Neal Street, which has The Lehman Trilogy at London's National Theatre and Jez Butterworth's The Ferryman on Broadway.
Thin Man Films
Thin Man was founded by writer/director Mike Leigh and his late producer Simon Channing Williams in 1989, and since the latter's death in 2009 has been co-run by Leigh with Georgina Lowe, who has produced his features from Another Year (2010) onwards. The outfit only produces Mike Leigh films, and "does not accept submissions, treatments or screenplays of any kind". Leigh is currently on the festival trail with Venice premiere Peterloo, his drama about the 1819 massacre that saw British forces attack a peaceful pro-democracy rally in Manchester. The passion project received backing from the BFI, Film4 and Amazon Studios, and releases via eOne in the UK in November and Amazon in the US next April.