The director discusses her follow-up to A Girl Walks Home Alone At Night and the "chaotic absurdity" of the Trump campaign.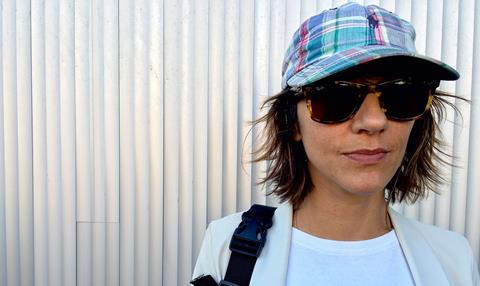 Following her debut vampire-noir A Girl Walks Home Alone At Night, writer-director Ana Lily Amirpour returns with The Bad Batch, a film that also borrows elements from spaghetti westerns and David Lynch but features an even meatier story containing outlaws, rejects and cannibalism.
While squeamish body-chopping is rife throughout the dystopian drama, Amirpour again adds her stamp of pop iconography, slow-cooked scenes and stunning backdrops.
The Iranian-American film-maker spoke to Screen during the Toronto International Film Festival, where the film received its world premiere.
What were the origins of this film?
I started writing this when I was editing A Girl [Walks Home Alone At Night]. I had this image of a girl with an arm and a leg missing in the middle of the desert, who was alive and who was going to go on. I thought, "What's the story that this moment exists in?". It all grew out of that, and things I was going through at the time.
Both A Girl Walks Home Alone At Night and The Bad Batch are reminiscent of darker versions of Sergio Leone's spaghetti westerns. Are those films an inspiration?
For Batch, I sent crew members Westerns like El Topo and Once Upon A Time In The West to study before the production. I like quiet scenes – but some people find this hard. Just because there isn't a lot of dialogue doesn't mean there isn't a story.
And yes, I like outlaws – people that don't fit into the neat border. Maybe that is most people. When I was designing The Bad Batchworld, I asked myself, "What are people at their core?" We do pretty heinous things to each other every day for reasons much worse than hunger. So when people say this film feels post-apocalyptic, I think, "No, it's really right now. There is nothing post about it."
How did you technically create this cannibalistic world filled with limbs and amputations?
Shooting amputation scenes is very tedious and technical with a lot of prosthetics and special effects. But I don't like pure CGI – it looks chemical. And I shoot with anamorphic lenses to get that softer and romantic '90s feeing. So I wanted a mix of practical and CGI effects where it had a fleshy life-like feeling.
Tony Gardner was my prosthetics guru - he designed the main character Arlen's nub. We tested it and she [actress Suki Waterhouse]would have her arm behind her shoulder when filming, and then we could remove her arm in post. I think this was hard for Suki, but when I met her I told her she was going to suffer physically and mentally more than she could imagine. She was a true warrior.
You were initially interested in Jennifer Lawrence for the role of Arlen.
I mentioned the idea of Jennifer Lawrence in Sundance when I was halfway done with script. But she is a movie star. It's a different structure – the hunger and motivation for how you make art – it's just not very 'Bad Batch'. I don't think any one person should be bigger than the movie. The movie is the star.
Suki was a discovery. When she came in and read, I knew instantly. She can hold your attention no matter what she's doing.
You have some big names on board, including Keanu Reeves, Jim Carrey, Diego Luna and Jason Momoa. Were they easy to attract?
Momoa was first – I wrote that part ['Miami Man'] because of him. He was in the DNA of the idea. 'Miami Man' is juicy, delicious, primeval. But he is also tender: a brother and a father. I told Annapurna Pictures in one of our first meetings that if he didn't do it, I wouldn't do the movie. I told them it was his destiny to do the movie. I hadn't met him, but I just knew. I had the same feeling with Keanu, Jim and Diego. They were all incredibly collaborative, and part of the whole in a selfless way.
You write your scripts in Las Vegas. Why does 'Sin City' inspire you?
I like Vegas because on the drive there I listen to music and I think about the story. I stay for five days, and I don't leave the room for 48 hours so I can shit out some pages. I reward myself and have a steak, and then go back to my room and push through more pages. There is this amenity to life there – I can walk around a casino with my headphones and be totally undercover. And I can be inspired by other people. I feel like the Vegas hotel room understands me more than most people.
You used crowdfunding for A Girl Who Walks Home Alone At Night. This time you had backing from Megan Ellison's Annapurna Pictures. Was this reassuring, or did this create more pressure?
I felt I could breathe a sigh of relief for a second. But there is no sigh of relief when doing this stuff. There is no sigh of relief until the film is finished. Then there is anxiety because I want to be making another film. I have to be making a film to know what I am doing on this Earth.
Some have called the film an anti-Trump statement. Did his campaign influence the creation of The Bad Batch?
I feel this film is a love letter to America. People find that confusing because maybe it feels critical to things. I don't need things I love to be perfect. In fact, I mistrust that and so I love America even though it has a lot of problems. As for Trump, I finished the script several years ago so he did not influence this. But if this movie helps in any way to highlight the fucked-up chaotic absurdity of that potential reality, then I am happy to help draw attention to that.