Vue International CEO Tim Richards acknowledges that his 228-site circuit is emerging from the pandemic as a "bruised" operation, but the Canada-born cinema executive sees opportunity ahead as he looks to rebuild.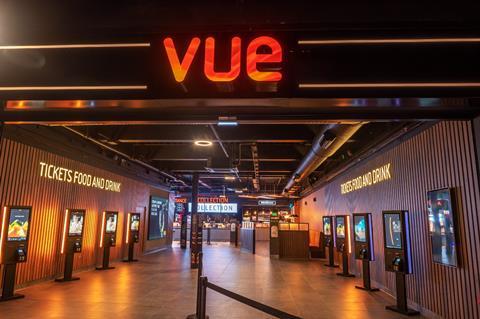 Tim Richards, founder and CEO of Vue International, is done with the pandemic. He has banned all talk of it at work and has his sights firmly set on the future. Vue International operates 228 cinemas and 1,992 screens in nine countries — in the UK and Ireland (91 sites) and the Netherlands (20 sites) as Vue; in Germany (31 sites) and Denmark (three sites) as CinemaxX; in Italy as The Space (36 sites); in Poland (45 sites) and Lithuania (one site) as Multikino; and in Taiwan, where it operates a single 20-screen multiplex as SBC. It is the largest privately owned cinema chain in the world, split between investors Omers (36.5%), AIMCo (36.5%) and management (27%).
Vue weathered the pandemic better than most, with only one closure, in Latvia, due to the expiration of the lease and unrelated to Covid-19. Vue even opened two new cinemas in the Netherlands and Scotland in June 2021 and has several more planned for the near future.
The company reported revenues of $1.1bn (£853.7m) in 2019 in its last set of accounts before the pandemic hit, with admissions of 96.3 million, while the 12 months to February 2020 was the biggest trading period in company history, with more than 100 million admissions. In 2021, admissions across Vue's territories were, like everyone, duly impacted by Covid-19, as restrictions were lifted at different times in different countries — May in the UK, July in Germany. Admissions for the first half of the year were down to 1.3 million, from 31.6 million in the same period in 2020. Towards the end of 2021, admissions were back at circa 70% of the three-year average pre-Covid, reflecting what Richards dubs a "huge, pent-up demand for the big-screen experience".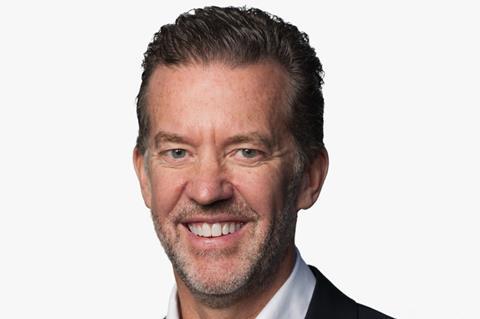 Canada-born Richards worked as a corporate lawyer in international finance and M&A before moving to Los Angeles, where he joined Warner Bros in 1994 as a senior vice president. In 1999, Richards left Cali­fornia for the UK to launch start-up Spean Bridge Cinemas with Stewart Blair, a former executive of United Artists Theatres, initially with a single site in Livingston, Scotland. By 2002, the company, which rebranded as SBC International Cinemas, had opened six sites — four in the UK, one in Faro, Portugal (closed in 2014) and the still-running Taipei location — before, in 2003, it completed the purchase of Warner Village Cinemas' 36 UK sites for $325m (£250m).
Further acquisitions over the years of the UK's Apollo Cinemas, CinemaxX, Multikino, The Space, JT Bioscopen in the Netherlands and Ireland's Showtime Cinemas have expanded Vue to its current footprint. In February 2021, Richards succeeded Josh Berger, former Warner Bros president and managing director, UK, Ireland and Spain, as chair of the British Film Institute.
How do you see the product line in 2022-23? Which upcoming films excite you the most?
This has been a little bit of a lumpy year with big movies coming out, but not the full range of films we would normally expect. But there's been enough, so we know there are no infrastructural issues with the business, which, for anyone in the business, is not a surprise but it's nice to have confirmed.
Two of the four biggest films in history have been released in the past six months [No Time To Die and Spider-Man: No Way Home], and when you consider an amazing film like Belfast, a black-and-white movie about the Troubles, delivers £16m ($20.8m) [in the UK], we know the older audiences are there as well.
We've got lots to look forward to this year: Doctor Strange In The Multi­verse Of Madness, Top Gun: Maverick, Mission: Impossible 7, Jurassic World: Dominion, Minions: The Rise Of Gru for the kids and Avatar 2, which looks extraordinary.
The breadth and depth of content and films for 2023 looks like a normal pre-pandemic year — a full range of films for all ages, all demographics. This year is a recovery year; it's laying down a foundation for the future.
How did the pandemic affect Vue's business? Did you have to lay people off? Did you close any sites apart from one in Latvia?
It's important to look at where we were before [Covid], and not unique to Vue. The industry globally was experiencing huge year-on-year growth. We had our biggest 12-month trading period in company history, and then, three weeks later, we closed every cinema in nine countries.
We were closed for the best part of 18 months. As a company, we would run sensitivity analysis, and we would run it on a few movies not working or somebody building [a cinema] across the street from you. [But] full closure [of our cinemas] in nine countries was not one of our scenarios. And it hit very hard.
We went in very conservatively, from a capital structure perspective. We had very low levels of debt. We were probably in the best position of anyone to see this through, and we have come through this, but we're still bruised. I think this is going to be the year where you're going to see some companies really struggle.
How are the company's finances considering the pandemic? Are they secure?
Like others, we've come out of this weakened but we survived because everyone pulled together. What was very important to us from a very early stage was to support the 10,000 employees that helped us build the company. And we have retained all our employees.
That became a little bit easier as different countries introduced furlough programmes. But even before the furloughs were introduced, we made a commitment that we would try to do our very best for all our employees.
In terms of post-pandemic recovery, what differences have you seen across the nine markets in which Vue operates?
Different markets came out of [Covid] at different times. We were just on [a call] with our operations in Taiwan and our managing director was saying there were over a hundred schools [now] closed in Taiwan. Even though they're going through the same experience we are, different governments react differently.
Turning the clock back to last year when cinemas opened up between April and July across Europe, some markets opened up slower than others. Some markets like Germany, in their first opening few weeks, were running at levels that were 120%‑130% of pre-Covid.
Now, in the last couple of weeks, we've seen all restrictions lifted in all of our markets with the exception of Taiwan.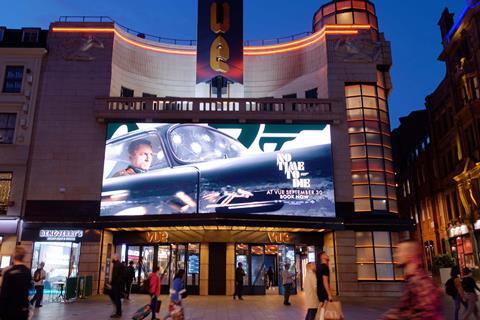 What are your feelings now about No Time To Die? Delays to its release meant you kept cinemas closed during the pandemic. Could it have helped the sector if it had been released earlier, or did its success justify the delay?
There was no playbook for what happened for anyone. I think we have pulled together as an industry, and a lot of films were delayed. We understand filmmakers want, and in some cases need, to get their films out as soon as they can. And they just couldn't. So the whole industry was suffering. Bond was an extraordinary film, broke records, the biggest month of October in British history.
I think Eon Productions and Barbara Broccoli and Michael G Wilson deserve a huge amount of credit because it looks to me like they timed it absolutely perfectly.
How does the cinemagoing experience remain relevant for audiences used to streaming? What conversations are you having with streamers to encourage their support for the space?
Subscription services are our friends, not our enemies. We are all part of the same ecosystem and we want to work with anyone investing in and producing high-quality content. The future of the industry is going to be two channels: in-home and out-of-home. They are very different models. They are not in competition with each other. They're just a different model. People who love movies, love movies in all formats. They love watching them at home, they love watching them with their friends and family when they go out.
What we've seen over the past two years is a situation where the studios had no choice and released their films directly to their subscription services, or they released films day and date with a limited release. And what they saw was they lost a lot of money. I've been in this business for 30 years but the old adage of cinema exhibition being the engine that drives all the ancillary revenue streams has not changed.
What are your thoughts on the importance of theatrical windows and how has Vue been affected?
The theatrical release window has been a thorn in the industry side for as long as I've been in the business. They were an old, antiquated model not really fit for purpose.
The new window is a more flexible window. We have agreed 45 days, and for certain smaller films 31 days. That is a window everyone has bought into and everyone believes is the best way to release their films and monetise their films.
Traditionally cinema has weathered recessions. Have you seen any impact on the current cost-of-living crisis?
We are still a very competitive form of out-of-home entertainment, compared to all other forms. In terms of leaving your home with your friends, your family, your kids, your partner, for an evening out for two or three hours of escapism, we're good value.
Interest rates are also rising. What impact will that have?
We're not immune to what's going on. We have the same issues with our utility bills with energy costs. But we're doing our best right now to manage the situation on all fronts. Our focus is still to provide the very best experience we can. Even during lockdown, we continued to roll out our leather recliner seats, to refurbish our cinemas, we opened new cinemas. I think there's a pent-up demand to go out and see movies like never before.
Are there plans to open any more sites or screens in the UK or elsewhere soon?
We are very close to announcing a large number of new deals in different markets. There aren't as many greenfield opportunities as there used to be. But there's certainly opportunities to build high-quality cinemas in a number of markets.
The UK leads the world in terms of boutique cinemas. Does Vue have plans to offer anything similar?
We're constantly testing and trialling. We've tried food service, sofas, bean-bag chairs. We've tried everything over the years. Our focus right now as a company is back-to-­basics. We want to provide the most comfortable recliner seat. We want to have the most incredible Dolby Atmos sound systems. We want to have the laser projectors throwing incredible light and colour onto the screens. Our focus is on the cinematic experience for our customers, and I think our cinemas and our seats stand up against anything, anywhere in the country or globally.
What are your plans for a future beyond films, for example showing TV shows, concerts, Premier League football or Wimbledon tennis?
Cinemas globally, in mature markets, have occupancy rates of around the low 20%; if you flip that around, that's a 70%‑80% opportunity. So we try to find ways of filling our screens.
If you look at the BTS concert [BTS Permission To Dance On Stage], that was a big event. It was the first or second highest-grossing screen when it was released that night. So there's a market. But our core business is film. We look at alternative content as complementary when we're not showing film.
We also know there's a market for smaller films, for foreign and independent films. We're playing the same smaller, hidden gems [as independent and arthouse cinemas]. And we are looking at what we can do to cater to that audience more effectively across our circuit. Part of that is more films.
We've had AI [artificial intelligence] booking our films for the last eight years. Because of that, we play more films, longer, than anybody else. Factually. There's a perception that Vue and certain other multiplex operators only show big popcorn-­and-Coke movies, which is not the case.
Vue is an independent company and, pre-pandemic, there had long been discussion that you were preparing to sell. What's the current state of play? Is Vue for sale?
We are not for sale right now. We are in rebuilding mode. It's our company and all of us love what we do, all of us are committed to the company for years to come. We're not getting any younger but we've still got years to go.
What are you expecting from CinemaCon — taking place April 25-28 in Las Vegas — this year?
[We are expecting to be] laying a foundation for the future. We're coming together as an industry for the first time in several years. It's a chance to see old friends, share ideas and experiences.
We have two executive calls a week and four weeks ago I stopped all discussions on the pandemic. I don't want to hear about it. I don't want to talk about it. It's in the rear-view mirror. I want to look forward. I want to look to what I think is going to be a very exciting future. I believe CinemaCon is going to be a little bit [about] the hardships the industry has gone through, but the focus and excitement is on the future.