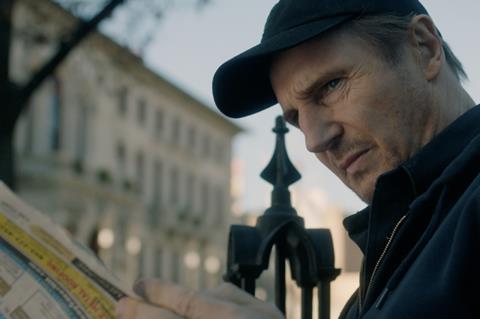 | Rank | Film (Distributor) | Three-day gross (Oct 23-25) | Total gross to date | Week |
| --- | --- | --- | --- | --- |
| 1 | Honest Thief (Signature Entertainment) | £209,383 | £253,162 | 1 |
| 2 | Two By Two: Overboard! (eOne) | £191,966 | £329,788 | 1 |
| 3 | The Secret Garden (Sky Cinema/Altitude) | £153,976 | £153,976 | 1 |
| 4 | Tenet (Warner Bros) | £134,000 | £17.1m | 9 |
| 5 | Pixie (Paramount) | £111,000 | £116,000 | 1 |
GBP to USD conversion rate: 1.31
Signature Entertainment's Honest Thief opened top of the UK box office this weekend, ending Tenet's eight-week run in first position, as the UK box office battled back with four new titles in the top five.
The cumulative total for the top five films this weekend was £800,325 - up 40% on last weekend, an impressive increase given that cinemas in Ireland, Northern Ireland and now Wales are closed.
Honest Thief opened to £209,383 from 302 locations for a £693 location average. Including previews, the film has £253,162.
The three-day opening figure was the third-highest for a film in the UK since cinemas reopened in July, behind Tenet (£3.27m) and The New Mutants (£359,962).
Signature also opened Lydia Dean Picher's historical drama A Call To Spy to £4,452 from 32 locations at an average of £139.
Including previews, the highest-grossing title this weekend was eOne's animated adventure Two By Two: Overboard!. With figures still to report, the film has £191,966 across the three-day session and a further £137,822 from preview screenings dating back to the previous weekend, for a total of £329,788 to date. It opened in 344 locations, with a £558 average (or £959 including previews).

The Secret Garden, released by Altitude on behalf of Sky Cinema, also usurped Tenet this weekend, grossing £153,976 from 204 locations for an average of £790 – a good result in the current circumstances. The film was released day-and-date, meaning it did not play in any Odeon or Vue cinemas, with the UK's other major chain Cineworld having closed all its sites earlier in the month.
Altitude also opened Covid-19 documentary Totally Under Control from Alex Gibney to £1,123 from 10 locations at a £125 average.
Tenet held a top-three spot for Warner Bros, adding £134,000 – a reasonable 28% drop on its ninth weekend. The film has now passed £17m and is the third highest-grossing title of 2020 behind 1917 (£43.8m) and Sonic The Hedgehog (£19m).
Warner Bros also has Cats and Dogs: Paws Unite! which added £91,000 to top £1m on its fourth weekend; and Bill And Ted Face The Music, which put on £8,000 for £1.3m on its sixth.
Paramount's first new title since the pandemic began, crime comedy Pixie, opened to £111,000 from 326 locations at an average of £340, and took an extra £5,000 in previews, with a few sites still to report.
Saint Maud kept moving for Studiocanal, adding £74,568 – a 44% drop – on its third weekend. The religious horror now has £681,400.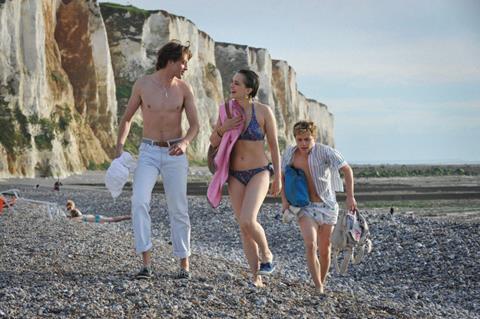 Studiocanal also opened François Ozon's Cannes 2020 label title Summer Of 85 to £21,439 including previews from 30 locations; and the 4k restoration of 1955 crime comedy The Ladykillers to £1,783 from four.
With Halloween approaching, 1993 family fantasy feature Hocus Pocus increased its takings for the second successive weekend, adding £53,429 through Park Circus to reach £155,523 after three sessions.
Romantic drama All My Life opened to £50,489 from 238 sites at an average of £225 for Universal, which also had Miranda July's Sundance 2020 title Kajillionaire adding £7,481 for £128,564 after three sessions.
Box office success story After We Collided is still taking money for distributor Shear Entertainment. It slipped back 59% on its eighth session with £41,273 bringing it to £3.9m – the 14th highest-grossing film of 2020.
Sofia Coppola's On The Rocks added £31,854 on its fourth weekend for Trafalgar Releasing on behalf of A24 and is now up to £399,049.
Max Winslow And The House Of Secrets opened to £30,634 for Munro Films, with several locations still to report. Including previews, the film has £44,684. The distributor also played Canadian horror Antrum in one site, taking £20; while Dave Mclean's Scottish comedy Schemers has topped £100,000 total.
Onward added £17,288 for Disney and is now up to £7.6m.
The Climb opened to £13,500 over the weekend for Sony at an average of around £68 from over 200 locations. Including previews, the film has £15,000.
Yemi Bamiro's sports documentary One Man And His Shoes took £1,949 from nine locations for Dartmouth Films and has £3,543 including previews. It will play as part of BBC Film and the BFI's new British Film Premieres season, broadcast on BBC Two next month.
Modern Films released documentary Raise Hell: The Life And Times Of Molly Ivins to £702 in three locations, as well as an online release through Curzon Home Cinema, IFI at Home and 14 virtual cinema partners. The film, which follows the late US political commentator Mary Tyler 'Molly' Ivins, has further upcoming screenings tied to coverage of the US election, including discussions with US actress Kathleen Turner who played Ivins in a stage play.