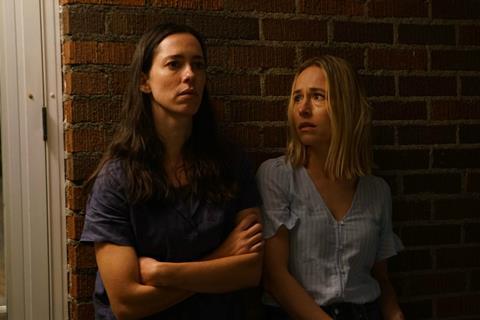 FEBRUARY 5 UPDATE: Netflix has confirmed its worldwide acquisition of The 40-Year-Old Version, the latest in a slew of activity from streamers who dominated a Sundance Film Festival 2020 that got off to a typically cagey start.
Towards the end of the first weekend and into Monday (January 26-27) the market in Park City exploded into life and one week later, by the end of the festival, it is estimated that buyers have laid out in the region of $80m all told. Dozens of titles remain available and more deals are expected in the days and weeks ahead.
At time of writing interest continued to swirl around the likes of music industry sexual harassment documentary On The Record, The Glorias starring Julianne Moore as feminist icon Gloria Steinem, and The Dissident, a documentary about the Saudi-sanctioned ambush and murder of journalist Jamal Khashoggi.
A list of known deals at time of writing appears below. Prices are estimated based on sources and reports.
The Night House: Searchlight Pictures, worldwide, $12m;

Uncle Frank: Amazon Studios, worldwide, $12m;

Ironbark: Lionsgate (Roadside Attractions overseeing theatrical release), US, mid-seven figures;

Herself: Amazon Studios, North America;

Palm Springs: Hulu / Neon, worldwide, $17.5m and 69 cents;

Boys State: Apple / A24; worldwide; $12m;

The Fight: Magnolia, worldwide, seven figures;

Assassins: Magnolia, worldwide;

Bad Hair, Hulu, worldwide, $8m;

Farewell Amor: Film Constellation, international rights;

Identifying Features: Kino Lorber, North America;

Spree: RLJE Films, North America, $2m;
On The Record: HBO Max, US;

Siempre, Luis: HBO, worldwide TV and streaming rights, mid-seven figures;

I Carry You With Me: Sony Pictures Classics, Stage 6, worldwide;
The 40-Year-Old Version: Netflix, worldwide, mid-to-high seven figures;
Kajillionaire: focus Features, worldwide;
Shirley: Neon, North America, seven figures;

(Pre-buy)Zola, Sony Pictures Worldwide Acquisitions, international; and

(Pre-buy) The Truffle Hunters, Sony Pictures Classics, worldwide, $1.5m.