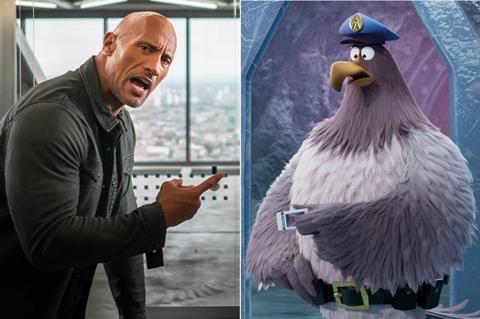 Franchise titles Fast & Furious: Hobbs & Shaw and The Angry Birds Movie 2 are aiming for different audiences in their opening weekends at the UK box office, with The Lion King looking to hold its top spot for a third week.
Universal's Fast & Furious: Hobbs & Shaw is a spin-off from the Fast & Furious franchise, starring Dwayne Johnson and Jason Statham as a special agent and mercenary who team up to stop a genetically-enhanced villain played by Idris Elba.
As the below chart shows, the franchise has steadily grown since the £1.7m opening of The Fast And The Furious in September 2001, with the most recent title, The Fate Of The Furious, opening to £14m in April 2017.
| Title (year) | Opening weekend (£) | Total box office (£) |
| --- | --- | --- |
| The Fast And The Furious (2001) | 1.7m | 6.6m |
| 2 Fast 2 Furious (2003) | 2.7m | 7.7m |
| The Fast And The Furious: Tokyo Drift (2006) | 1.8m | 5.8m |
| Fast & Furious (2009) | 4.9m | 13.7m |
| Fast Five (2011) | 5.3m | 18.5m |
| Fast & Furious 6 (2013) | 8.7m | 25.3m |
| Furious 7 (2015) | 12.7m | 38.6m |
| The Fate Of The Furious (2017) | 14m | 29.7m |
Total box office has typically increased too, although the eighth title was down about £9m on the £38.6m of Furious 7 – the seventh-highest grossing title in the UK in 2015.
This could indicate a slight fatigue in the franchise beyond the core group of fans, who will look to see the film on its first weekend.
The deviation from the main franchise, plus middling reviews, may also harm Hobbs & Shaw's prospects; although Universal will hope the high-wattage power of Johnson, Statham, Elba and fellow cast Vanessa Kirby, Helen Mirren and Eiza Gonzalez will counter that.
Sony's The Angry Birds Movie 2 will aim for the family/kids audience that has already seen Disney's The Lion King, Toy Story 4 and Aladdin post big numbers this year.
Based on the popular app game, the first film Angry Birds started with £2.1m in May 2016, ending on £10.7m.
The voice cast includes Jason Sudeikis, Josh Gad, Danny McBride, Leslie Jones, Bill Hader, Awkwafina, Peter Dinklage and Trinidadian rapper Nicki Minaj.
The film's U rating and an absence of other new family-friendly titles at the box office this weekend should boost its takings.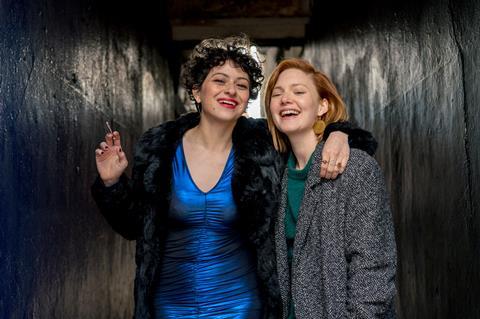 Indie releases
In the independent realm, Picturehouse Entertainment is releasing Sophie Hyde's Animals, a UK-Australia-Ireland co-pro which premiered at Sundance in January this year.
Produced by Sarah Brocklehurst Productions in the UK and Vico Films in Ireland, the adaptation of Emma Jane Unsworth's novel of the same name stars 2009 Screen Star of Tomorrow Holliday Grainger and Alia Shawkat as two hard-drinking best friends who start to pull in different directions as one of them turns 30.
Australian director Hyde's festival hit 52 Tuesdays opened to £6,428 in August 2015, ending on £19,137.
Grainger recently led another two-hander in Annabel Jankel's Tell It To The Bees, which opened to £17,133 from 23 sites last month.
Her diverse career has also seen key roles in 2015's Cinderella (opened: £3.9m, ended £21.3m); 2014's The Riot Club (£496,647, £1.6m); and 2012's Great Expectations (£544,636, £2.5m).
New distribution outfit Anti-Worlds is launching a Sundance title from last year, Isabella Eklöf's Turkey-set crime drama Holiday.
Making her feature debut as director, Eklöf co-wrote the screenplay for Ali Abbasi's 2018 Cannes Un Certain Regard prize winner Border, which opened to £41,883 for MUBI in March this year.
Anti-Worlds was formed in May by Rook Films producer Andy Starke, exhibitor Jason Wood of Manchester's HOME cinema, and publicist Zoe Flower.
Holiday is their second title, after Penny Slinger - Out Of The Shadows, released at the end of June.
Pinpoint Films is releasing Jamie Adams' Balance, Not Symmetry, a drama about an American art student in Glasgow with an original soundtrack written by Scottish rock band Biffy Clyro.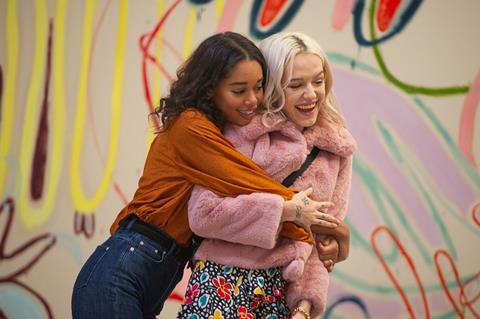 The film debuted at Edinburgh International Film Festival in June, and is one of four music-themed features directed by Adams in the past two years, alongside Wild Honey Pie!, Alright Now and Bittersweet Symphony. BlacKkKlansman's Laura Harrier, The Florida Project's Bria Vinaite and Pin Cushion's Lily Newmark lead the cast.
Adams' record UK gross is the £16,894 brought in by BIFA-nominated Black Mountain Poets in 2015.
Curzon is opening Ritesh Batra's Mumbai-set romance Photograph, about a struggling street photographer who convinces a shy stranger to pose as his fiancée.
Batra's highest-grossing title in the UK is BBC Films-backed mystery The Sense Of An Ending, which opened to £329,948 and ended on £1.2m in April 2017. His debut feature, 2013's The Lunchbox, took £487,006 and sold around the world.
Matchbox Films is releasing Filipe Matzembacher and Marcio Reolon's chatroom drama Hard Paint. The film has won awards across the festival circuit, including two on debut at the 2018 Berlinale - the Teddy prize for best LGBTQ+ film and the Panorama C.I.C.A.E. award.
Also out this weekend are animated comedy Charming, produced by Shrek series producer John H. Williams and distributed by Blue Finch Films; Rodrigo Sorogoyen's Toronto 2018 title The Candidate, which won seven awards at Spain's Goyas this year; plus three further Indian titles – Sikander 2 from B4U Network, Chal Mera Putt from Rhythm Boyz Entertainment, and Jabariya Jodi from Zee Studios International.
Re-releases include Robert Bresson's 1965 romance Une Femme Douce and a 30th anniversary re-release of Spike Lee's Do The Right Thing from Park Circus; plus a 4k restoration of Park Chan Wook's 2003 Oldboy from Arrow Films.
Event cinema specialists Trafalgar Releasing will screen the performance of Mozart opera The Magic Flute from Glyndebourne on Sunday in over 100 locations.
Key holdovers from last weekend include The Lion King, which was already up to £36.8m after just two weekends; Toy Story 4, which had passed £50m; and Spider-Man: Far From Home, which was up to £30.6m.