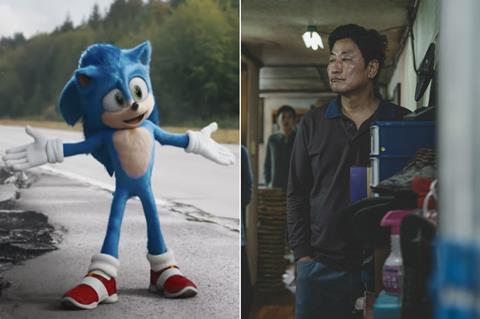 Sonic The Hedgehog marks the first cinema outing for the popular Sega video game character at the UK box office this weekend, as Oscars winner Parasite expands its locations by over 200%.
Released through Paramount, Sonic The Hedgehog sees a small-town police officer discover the titular animal, and attempt to defeat an evil genius who wants to do experiments on it. Ben Schwartz voices Sonic, with James Marden and Jim Carrey as the cop and evil genius.
Films based on video games have had mixed success at the box office; a pre-existing fanbase can provide a ready-made audience, but differences in tone and style between the two mediums can also bring criticism.
Warner Bros scored a hit with Pokemon Detective Pikachu, which dislodged Avengers: Endgame from top spot with a £4.9m opening in May last year. It ended on an impressive £13.6m.
Another Warner Bros title, 2018's Tomb Raider, performed less well, opening to £2.6m but ending on just £7.7m.
There have been seven films based on the Resident Evil franchise, the highest-grossing of which is 2010's Resident Evil: Afterlife 3D, which opened to £1.7m and ended on £4.8m.
Assassin's Creed disappointed with a £1.9m opening and £8m final cume in January 2017.
Combining its family-friendly nature and PG-rating with the character's enduring popularity across several decades, Paramount will hope for a fast start similar to that of Pikachu.
Universal is distributing Emma, the latest title in its long-standing output deal with Working Title Pictures.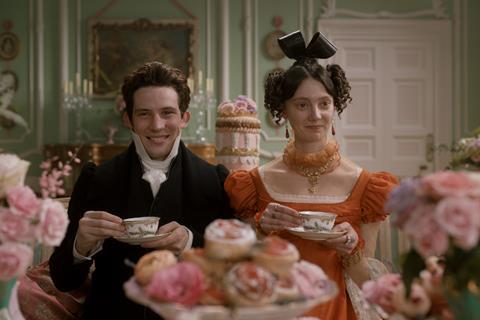 Anya Taylor-Joy takes the title role in the latest adaptation of Jane Austen's 1815 classic about the perils of misconstrued romance. Autumn de Wilde directs, with Screen Stars of Tomorrow Johnny Flynn (2005), Josh O'Connor (2016), Mia Goth (2014), Callum Turner (2014) and Chloe Pirrie (2013) also in the cast.
Disney's 1996 adaptation starring Gwyneth Paltrow opened to £402,155, going on to £5.3m – a decent result for that time.
The book had also been loosely adapted by Amy Heckerling the previous year for the modern-day LA-set Clueless (opened: £638,212, closed: £3.9m), which stars Alicia Silverstone and is widely-considered a teen drama classic.
Rajshree Ojha directed a 2010 Hindi-language contemporary adaptation, which opened to £52,759 and ended on £118,792.
Taylor-Joy has worked consistently since her feature debut in Sundance 2015 breakout The Witch, released in the UK in August 2016 to a £1.2m total gross. Her highest-grossing titles are the second and third instalments of M. Night Shyamalan's Eastrail 177 trilogy, 2017's Split (£11.4m) and 2019's Glass (£11m).
Parasite expands
Following on from its shock best picture and best director win at last weekend's Oscars, Bong Joon Ho's Parasite will look to build on the £2.6m it has already made as it expands its locations by over 200%.
Distributed by Curzon in partnership with Studiocanal, the film will grow from 136 sites to 430 from today (Friday 14), making it one of the widest non-English language releases of all time at the UK box office.
Its midweek performance has held strong from its £1.1m opening weekend, with the film in third place behind 1917 and Birds Of Prey from Monday to Wednesday, and moving to second above the latter yesterday.
It has also grossed the highest first-week amount of any title to have played at Curzon's venues. It took £300,715, topping the £298,561 of 2015's Spectre.
Further openers
On Valentine's Day, Signature is distributing something of a counter-programming option – Takashi Miike's First Love, a comedy-crime-romance hybrid about a boxer and sex worker who get caught in a drug-smuggling scheme in Tokyo.
The film debuted in Directors' Fortnight at Cannes last year.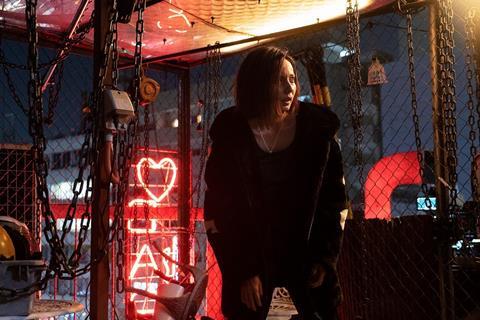 The prolific Miike has directed 88 titles since 1991 across theatrical and straight-to-video releases, his most successful being 2011's 13 Assassins (opened: £108,445, closed: £380,481).
New Wave Films has Jean-Paul Civeyrac's French drama A Paris Education, which debuted in Panorama at Berlinale 2018.
Wildcard Distribution has Ciaran Cassidy's documentary Jihad Jane, about two American women who went looking for love online and end up being imprisoned on terrorism charges.
Doc specialist Dogwoof has When Lambs Become Lions, a Tribeca 2018 premiere about an ivory dealer in Kenya trying to protect his trade from exterior forces.
Five days after Parasite broke new ground, several non-English language titles hit UK cinemas.
Phoenix Productions is releasing Sicilian-set Polish romance drama 365 Days; Kaleidoscope has Chinese animated comedy Spycies, which is released with an English-language dub; while B4U Network has Jagdeep Sidhu's Punjabi-language romance Sufna.
Rep titles include Joel Schumacher's 1987 comedy-horror The Lost Boys through Warner Bros; and Jerry Zucker's 1990 fantasy romance Ghost through Park Circus.
As well as Parasite, key holdovers include the second weekend of number one title Dolittle; the ongoing run of 1917, which on Wednesday became eOne's highest-grossing theatrical release of all time in the UK by reaching £36.5m; and Warner Bros' Birds Of Prey.