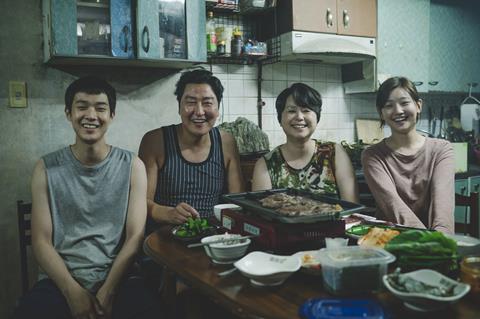 | | | | | |
| --- | --- | --- | --- | --- |
| Rank | Film (Distributor) | Three-day gross (Feb 7-9) | Total gross to date | Week |
| 1 | Dolittle (Universal) | £3.12m | £5.08m | 1 |
| 2 | Birds Of Prey (Warner Bros) | £2.83m | £2.83m | 1 |
| 3 | 1917 (eOne) | £2.27m | £35.9m | 5 |
| 4 | Parasite (Curzon/Studiocanal) | £1.08m | £1.39m | 1 |
| 5 | Bad Boys For Life (Sony) | £1m | £13.1m | 4 |
Curzon/Studiocanal
Bong Joon Ho's Parasite has recorded an exceptionally strong opening at the UK box office, the day after becoming the first non-English language film to win best picture at the Oscars.
The South Korean drama took £1.08m from 136 sites from Friday to Sunday, which translates into a screen average of £7,895.
After adding previews, including a live-streamed Q&A on Monday (Feb 3) after the film won two awards at the Baftas, this rises to an opening of £1.39m.
The record-holder for a subtitled film over a three-day weekend at the UK box office remains Mel Gibson's Apocalypto, which took £1.34m in January 2007. With previews, this rose to £1.36m.
The theatrical release of Parasite is being handled by Studiocanal, which has booked the Palme d'Or winner into UK cinemas on behalf of Curzon – an arrangement usually struck in order for a film to access pay-TV or streaming deals the other distributor may have in place.
Universal
After four weekends at the top of the box office, Sam Mendes' 1917 has been unseated by family adventure Dolittle.
The Universal release, starring Robert Downey Jr. as the eponymous doctor who can talk to animals, took £5.08m from 601 locations, including £1.96m in previews.
After several Avengers films, in which he starred as part of an ensemble, it marks the first lead role for Downey Jr. since The Judge, which opened to £420,000 in October 2014.
Robert Eggers' black and white psychological horror The Lighthouse, which picked up a brace of prizes at the Independent Spirit Awards on Saturday, recorded £199,000. This takes it to £803,000 after two weekends.
Warner Bros.
DC Comics adaptation Birds Of Prey took flight with £2.83m from 630 sites. The film stars two-time Oscar nominee Margot Robbie as anti-hero Harley Quinn and is the eighth entry in the DC Extended Universe.
The performance may come as something of a disappointment to Warner Bros., which saw DCEU title Batman v Superman: Dawn Of Justice open to £14.6m in March 2016 and Suicide Squad – in which Robbie made her first outing as Quinn – open with £11.3m in August 2016.
Meanwhile, Clint Eastwood's Richard Jewell added just £25,000 on its second outing, taking the real-life drama to a total of £312,000 to date.
Destin Daniel Cretton's Just Mercy, another true story starring Jamie Foxx and Michael B Jordan, took £40,000 and is now at £1.45m after four weekends.
eOne
After five weekends, seven Baftas and three Oscars, First World War epic 1917 fell from the top slot.
But the Sam Mendes-directed drama, distributed by eOne, still managed to take a strong £2.27m and is now up to £35.9m, meaning it has entered the top 100 highest-grossing titles of all time in the UK.
Queen And Slim, starring Daniel Kaluuya and Jodie Turner-Smith, made £162,600 on its second weekend, taking it to a total to date of £940,600.
Sony
Sony continues to perform strongly with its current slate of titles. Bad Boys For Life added £1m on its fourth outing, taking it to £13.1m total. Last week, it became the highest-grossing of the Will Smith and Martin Lawrence franchise, beyond the £8.7m of 2003's Bad Boys II.
Oscar-winner Little Women topped the £20m mark on its seventh session, taking £305,000 at the weekend to reach £20.8m.
Jumanji: The Next Level dropped 35% on its ninth weekend, with £391,000 taking it to £34.8m.
Marielle Heller's A Beautiful Day In The Neighborhood brought in £225,000 on its second outing, taking it to £1.12m.
Horror The Grudge edged over the million mark on its third weekend, with £60,000 taking it to £1.1m.
Lionsgate
Armando Iannucci's The Personal History Of David Copperfield took £528,000 on its third weekend taking it to £5.08m.
Bombshell added £61,800 for £2.07m after four weekends; while Knives Out put on £12,700 for £12.97m after 11 sessions.
Entertainment Film Distributors
Guy Ritchie's The Gentlemen added £350,000 from 323 sites, which brings it to £11m after six weekends.
Paramount
Paw Patrol: Ready Race Rescue took £218,000 on its third weekend, taking it to £1.19m to date.
Playing With Fire made £33,000 on its seventh session, taking it to £2.83m.
Reed Morano's The Rhythm Section took just £12,000 on its second outing for a total of £337,000.
Disney
Kristen Stewart action drama Underwater opened with £200,000 from 335 sites.
Buoyed by awards attention, Taika Waititi's Jojo Rabbit added £215,000 on its sixth weekend, a 29% fall which took it to £7.25m total.
Spies In Disguise fell 31% on its seventh session with £230,000 taking it to £6.95m.
Frozen II dipped 21% with £210,000 taking it to £52.9m after 12 weekends.
Star Wars: The Rise Of Skywalker dropped 65% on its eighth session, with £87,000 bringing it to £58m total. It will finish as the fourth highest-grossing Star Wars title, behind The Force Awakens, The Last Jedi and Rogue One.
Yash Raj Films
Bollywood action romance Malang – Unleash The Madness opened with £61,770 from 64 sites.
Phoenix Productions
Polish gangster thriller Jak Zostalem Gangsterem added £23,000 on its second weekend, taking it to £267,000.
BFI Distribution
A re-release of Elia Kazan's 1951 classic A Streetcar Named Desire, starring Vivien Leigh and Marlon Brando, opened with £5,204 from five sites – a screen average of £1,040.