Universal's Puss In Boots: The Last Wish heads the new films in UK-Ireland cinemas this weekend, looking to usurp Avatar: The Way Of Water from top spot and halt six consecutive sessions of decline.
Opening in 637 cinemas, Puss In Boots: The Last Wish is a sequel to 2011's Puss In Boots, which is a spin-off of the Shrek franchise itself, making The Last Wish the sixth film in the Shrek canon.
The Last Wish follows the eponymous cat as he journeys to find the mystical Wishing Star's Last Wish in order to restore the first eight of his nine lives. Antonio Banderas and Salma Hayek Pinault reprise their voice roles as Puss and Kitty Softpaws respectively, with the voice cast also including Florence Pugh, Harvey Guillen, Olivia Colman, Ray Winstone and John Mulaney.
The film was stuck in a lengthy development period from 2012 onwards, with Spider-Man: Into The Spider-Verse director Bob Persichetti originally attached to direct in February 2019; before The Croods: A New Age director Joel Crawford took over in 2021.
The animation uses a 'storybook' style similar to Spider-Verse, rather than the 'realistic' style used in the Shrek films.
The Last Wish was a box office hit in the US following its December 21, 2022 release: it is currently the second-highest-grossing animated release of 2022, with $142.8m, behind only Minions: The Rise Of Gru.
Should it replicate this performance in UK-Ireland, it will likely end Avatar: The Way Of Water's six-week reign atop the chart. A strong showing could also turn the overall box office takings in a positive direction, after six weekends of decline. The top five titles grossed £13.4m on The Way Of Water's opening weekend of December 16-18, 2022; but that was down to £6.4m as of last weekend (January 27-29, 2023).
Another title looking to contribute to an increase is Universal's Knock At The Cabin, opening in 578 locations. The M. Night Shyamalan thriller stars Dave Bautista, Jonathan Groff, Ben Aldridge, Nikki Amuka-Bird and Rupert Grint, in a story about a girl and her parents who are taken hostage by armed strangers who demand that the family make a choice to avert the apocalypse.
This is Shyamalan's 15th feature film; his high watermark remains 1999 horror The Sixth Sense, which opened to £292,295 in just nine locations, going on to a huge £25.8m. While subsequent releases haven't hit quite those heights, he is still a reliable box office draw, with titles including 2000's Unbreakable (£11.6m), 2002's Signs (£16.2m), and 2004's The Village (£10.3m).
After a run of sub-£10m titles, he returned to eight-figure territory with the sequels to Unbreakable (known as the Eastrail 177 trilogy) – 2017's Split (opened: £2.6m, closed: £11.4m) and 2019's Glass (opened: £3.4m, closed: £11m). His last film Old, released in July 2021, didn't manage those figures, opening to £867,431 and closing on £3.4m.
Whale's time
A series of 2022 festival titles get their theatrical UK-Ireland debuts this weekend, including Darren Aronofsky's The Whale on 384 screens through A24 Films. The film premiered in Competition at Venice Film Festival in September, where praise for Brendan Fraser's performance as a morbidly obese writer trying to reconnect with those he loves kickstarted his awards campaign.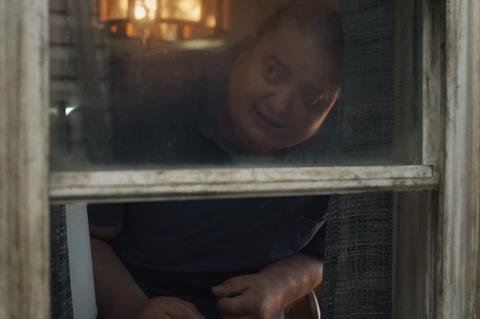 Fraser is odds-on favourite with bookmakers to win the best actor Oscar at next month's Academy Awards. His return to screens has been dubbed the 'Brenaissance', after an extended absence since his 90s and 00s heyday in films such as 1997's George Of The Jungle (opened: £43,234; closed: £7.6m), 1999's The Mummy (opened: £3.3m; closed: £8.7m) and 2000's Bedazzled (opened: £1.1m; closed: £3.3m).
It is an eighth directorial feature for US director Aronofsky, whose box office peak here remains 2011's Black Swan (opened: £2.8m; closed: £16.5m).
Another Venice Competition title, Alice Diop's Saint Omer, is starting in 31 sites through Picturehouse Entertainment. Having worked as a documentary filmmaker, Saint Omer is Diop's fiction debut, and centres on a pregnant novelist who attends the trial of a Senegalese woman accused of murdering her 15-month-old child.
It won the Silver Lion Grand Jury prize and Luigi De Laurentis Lion of the Future awards on debut in Venice, and went on to play both Toronto and New York Film Festivals; before being selected as France's entry for best international feature film at this year's Oscars. It made the shortlist for that prize, but did not get down to the final five nominations.
BFI Distribution is opening Jerzy Skolimowski's Cannes 2022 title EO, a drama exploring a vision of modern Europe through the people encountered on the journeys of a donkey.
Sony is opening its latest anime release, Sword Art Online The Movie: Progressive – Scherzo Of Deep Night in 97 cinemas; while Park Circus is re-releasing William Wyler's 1953 classic Roman Holiday starring Audrey Hepburn for its 70th anniversary, in 136 sites across the next week including Odeon cinemas.
Limited releases include Signature Entertainment's She Is Love starring Haley Bennett and Sam Riley, in two Curzon cinemas; I Get Knocked Down, a documentary about Chumbawumba star Dunstan Bruce, in two sites through MusicFilmNetwork and expanding across the next month; and Modern Films' You Resemble Me.
The Way Of Water again leads the holdovers, with a strong showing on debut from Yash Raj's Bollywood drama Pathaan last weekend, and £1m+ openings for Lionsgate's Plane and eOne's The Fabelmans.