Liz Shackleton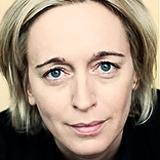 Contact Info
Liz Shackleton
Asia Editor
China's Dalian Wanda group held a launch ceremony at the weekend for its latest entertainment projects, Wanda Movie Park and Han Show Theatre, in the Chinese city of Wuhan.

Japanese animator and creator of the Evangelion series, Hideaki Anno, talks to Liz Shackleton about the joys of destruction.

CHINA BOX OFFICE: Zhang Yibai's Fleet Of Time stayed at the top of China's box office in its second week, grossing $35.64m from 6.3 million admissions.