With three original features under its belt, Netflix's animation division is ramping up production and aiming to deliver six films a year. Screen talks to feature animation VP Gregg Taylor and filmmakers about the streamer's giant steps in this space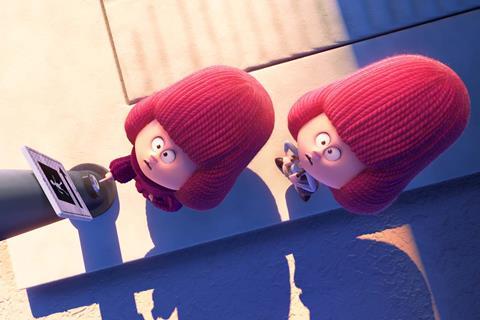 Netflix has become a force in feature animation sooner than some in the industry — maybe even a few of the streaming giant's own executives — expected.
When the company began its push into the genre just over three years ago, says vice president of feature animation Gregg Taylor, "My biggest concern was whether or not we could find enough quality stories to become a true destination for family content in a short amount of time."
But Taylor and his colleagues discovered "a pool of fantastic filmmakers eagerly waiting for a more non-traditional place to bring their stories". That, in turn, has allowed Netflix to complete its first three feature projects and swiftly assemble what Taylor describes as a "pretty hefty" development slate.
The animated features Netflix currently has in awards season contention — originals Over The Moon and The Willoughbys, as well as acquisitions Bombay Rose, A Whisker Away and A Shaun The Sheep Movie: Farmageddon — illustrate the "variety and originality" the company is targeting, Taylor suggests. "There isn't one type of family enjoying our movies, and our job is to create a unique collection of best-in-class stories for them to choose from."
The Willoughbys is Netflix's second in-house original — after 2019 holiday release and Oscar nominee Klaus — though it is what the streamer calls a 'partner-managed' project, the production partner in this case being Canada's Bron Animation.
Based on Lois Lowry's 2008 children's novel and developed at Bron for a year before Netflixboarded, the film centres on the four, very different Willoughby children, who hatch a plan to send their selfish parents on vacation but end up on their own adventure revealing the true meaning of family. A world-weary cat, voiced by Ricky Gervais, narrates the action.
Kris Pearn, who started out as the project's writer but ended up making his solo directing debut, says the CG film's stylised, almost stop-motion look helped bring out the quirky tale's "Roald Dahl quality" and made it possible to tell "a story about a dysfunctional family in a way that gave people permission to laugh, to know this wasn't a documentary — that it was a parable, a fairy tale".
Canadian Pearn has done his time working on Hollywood studio animations (he co-directed Sony's Cloudy With A Chance Of Meatballs 2) but credits his stint as a storyboard artist with UK stop-motion experts Aardman Animations as an important influence on The Willoughbys, which uses techniques such as variable frame exposure and heightened textures to achieve its visual style.
"I am not a CG animator, necessarily," Pearn concedes. "I'm definitely a paper guy. I would say, 'Can we make it look like the old days?' and a bunch of smart people would go off, rub their chins and figure out how to trick the computer into doing it."
Making the film for Netflix and Bron meant working to a budget that Pearn confirms was closer to the norm for independent animation than to the levels associated with Hollywood studio projects. "But there's a freedom in that," he insists, "and it leads into creative choices. Knowing that going in, it was an interesting puzzle to figure out how to get it all to fit, how to get as much as possible on screen."
Full blast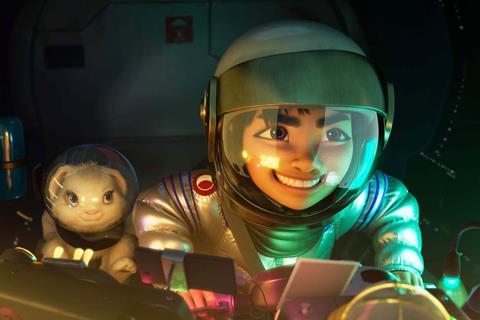 Over The Moon is a co-production with China's Pearl Studio but stands as Netflix's first 'self-managed' animated feature — and probably as the company's most expensive animated project to date (neither Net­flix nor its filmmakers will reveal specific budgets). First put into development when Pearl, now owned by China Media Capital (CMC), was operating as a joint venture with DreamWorks Animation, the film — about a young Chinese girl who, while grieving for her mother, builds a rocket to the moon to prove the existence of a legendary moon goddess — fits Pearl's mission of telling stories rooted in Chinese culture but aimed at a global audience.
The script (by the late Audrey Wells) persuaded longtime Disney animator Glen Keane, an Oscar winner for animated short Dear Basketball, to make his feature directing debut. Keane and producer Gennie Rim had the idea to add what eventually became eight songs to the action, ranging in style from Broadway to K-pop.
"As we were reading the script, it became clear there were moments that were perfect for songs, to launch the story from one place to the next," says Keane. "I kept hearing [famed Disney lyricist] Howard Ashman's voice in my head, his way of embedding important story points within songs."
To inspire the animation of the film's eye-popping land of Lunaria and its fantastic creatures, Keane pointed production designer Celine Desrumaux to the work of Spanish artist Joan Miro and a Pink Floyd album cover. "I gave Celine 'The Dark Side Of The Moon' cover and said it's got to have that kind of sense of light," he recalls, describing the resulting sequences as "ludicrously beautiful".
Making the film as a co-production took advantage of the fact "Pearl has more opportunities in China [where Netflix does not operate and where CMC gave the film a theatrical release] and Netflix has a really strong presence in the rest of the world," says producer Peilin Chou, until recently Pearl's chief creative officer but now at Netflix Animation.
"Working with Netflix gave us a lot of creative freedom," says Rim. "We could really make the team and the pipeline very bespoke to what the show needed."
Keane likewise says Netflix was "very true to their word" about creative freedom. "And it was the most efficient movie I've ever worked on," he says, "in terms of all the dollars being up on the screen."
Netflix's slate of upcoming animated features (see sidebar) boasts some high-profile names — Guillermo del Toro, Henry Selick and Chris Williams, another Disney alumnus, among them — and a diversity of animation approaches that backs up Taylor's insistence the streamer is not tying itself to a single house style.
Facing powerful competition for the animated audience from new streaming services such as Disney+ (whose parent revealed plans to start pulling content from Netflix back in 2017) and Peacock (launched by DreamWorks Animation owner NBCUniversal), Netflix recently said it is on track to release up to six animated features a year, more than any major studio has ever managed.
Taylor predicts that number could be reached in 2022. And although Netflix has not yet ventured into the $150m-$250m budget range occupied by some of the biggest animated releases from the likes of Disney and Pixar, that level of project is not something he rules out. "We want to have those big tentpole movies that are huge in scope," he says, "but they don't all have to be that."
In his previous job at DreamWorks, says Taylor, "There were movies we couldn't make — we had a certain box we were trying to fit in because of the business model. At Netflix we really have a chance to tell a wide variety of stories."

THE NETFLIX SLATE - Upcoming original animated features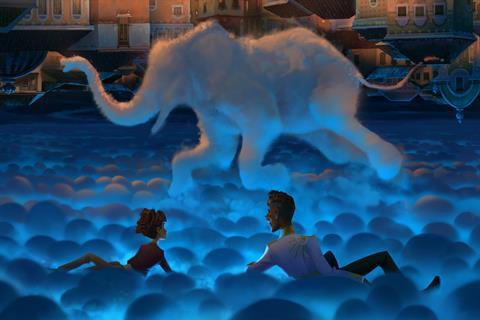 Back To The Outback
A ragtag group of Australia's deadliest creatures plot a daring escape from their zoo to the Outback. Directed by Clare Knight and Harry Cripps, and set for release in 2021.
Arlo The Alligator Boy
A boy who is half-human and half-alligator leaves his sheltered life in the swamp to search for his long-lost father. Directed by Ryan Crego, and set for release in 2021.
Trollhunters: Rise Of The Titans
Adventure set in the world of Guillermo del Toro's Tales Of Arcadia series. Directed by Johane Matte, Francisco Ruiz Velasco and Andrew L Schmidt, produced with DreamWorks Animation. Set for release in 2021.
My Father's Dragon
2D animated story of a young runaway who searches for a captive dragon and finds much more than he anticipated. Directed by Nora Twomey, produced with Mockingbird Pictures and Cartoon Saloon.
Pinocchio
Stop-motion animated musical drawing on the classic Carlo Collodi tale about a wooden boy brought magically to life. Directed by Guillermo del Toro and Mark Gustafson, produced with The Jim Henson Company and ShadowMachine.
Wendell & Wild
Stop-motion tale of two demon brothers who escape the underworld but must evade a teenager trying to destroy them. Directed by Henry Selick, written by Selick and Jordan Peele.
Escape From Hat
A fairy-tale magic rabbit rallies a band of allies in a quest to escape from inside a magician's hat. Directed by Mark Osborne.
The Sea Beast
A charming seafarer sails into uncharted waters and discovers an unlikely ally in a sea monster. Written and directed by Chris Williams.
Apollo 10 ½: A Space Age Adventure
Combines hand-drawn animation, live action and CGI to tell the story of the first moon landing, from the views of the astronaut and mission control and the perspective of an excited child. Written and directed by Richard Linklater, it is produced with Detour Filmproduction and Submarine.
Chicken Run sequel
Follow-up, again produced by Aardman, to the 2000 stop-motion hit, with the flock living on an island sanctuary while on the mainland chicken-kind faces a terrible threat. Directed by Sam Fell.
The Magician's Elephant
Based on Kate DiCamillo's novel about a boy who, in searching for his long-lost sister, must first find a mysterious elephant and the magician who will conjure it. Directed by Wendy Rogers.
High In The Clouds
Based on the children's novel by Paul McCartney and Philip Ardagh about an imaginative squirrel pulled into a ramshackle gang of teenage rebels who live in the clouds. Directed by Timothy Reckart, produced with Gaumont.
Thelma The Unicorn
Musical about a pony's wish to become a unicorn and her rise to pop stardom. Directed by Jared Hess.
Pashmina
Fantasy adventure, based on Nidhi Chanani's graphic novel, about a young American girl of Indian descent exploring her family history with the help of a magical pashmina. Directed by Gurinder Chadha, produced with Hyde Park Entertainment and Bend It Films.