At the Screen Film Summit, the UK film industry's top experts debated the big issues of the day, such as declining box-office admissions, new models of financing and supporting talent.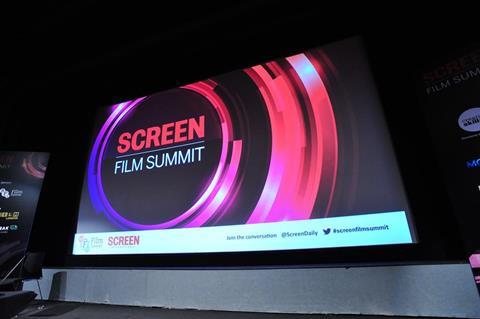 Improving the box-office performance of British films was one of the hot themes of the Screen Film Summit, which gathered UK industry experts at the BFI Southbank on December 1.
Amanda Nevill, CEO of the British Film Institute (BFI) - which partnered on the event - revealed an ambition to see the market share of British films in the UK double to 16%.
Opening the summit, Nevill said: "The share of UK films in our home theatrical market has been bumping along at around 8% for the past five years with the occasional spike when we have films such as The King's Speech, The Woman In Black or The Inbetweeners. I don't think 8% is good enough. What would the world look like if that doubled? Just imagine the financial benefit it would bring to indigenous producers and the sector as a whole.
"It's a complex algorithm that involves so many sectors - production, distribution, exhibition, education and audience development," she added.
"We all know our current UK model will not sustain exactly as it is," Nevill continued. "Theatrical admissions are plateauing and the Cinema Exhibitors' Association is working on this. Digital revenues are slow. We need to look at what we can do to speed up growth here."
This year's box-office woes - UK admissions are down 5.3% year on year - was a recurring topic across the day. "Audiences are more discerning and unforgiving than ever," said Danny Perkins, CEO of StudioCanal UK, in his keynote.
"If what you're doing isn't first rate, you often can't compete," he told the 350-plus delegates. "There is so much competition for audience attention in this connected, digital world."
While Perkins stated that he continued to support the full theatrical window to "protect the experience of people going to the cinema together", he added that lower-budget features could benefit from more flexible terms. "Rather than spending P&A money on releasing a film theatrically and then waiting four months before spending more money on DVD, being flexible on the windows is something that could ultimately benefit the film," he explained.
Lionsgate UK CEO Zygi Kamasa reiterated his suggestion that lower ticket prices for British films could stimulate admissions. "My objective is simple," he said. "I want to increase cinema admissions. Particularly for British movies. This idea may go nowhere. But we need to have the debate and explore other opportunities."
Vue CEO Tim Richards said ticket pricing is "absolutely not" the cause or answer to falling cinema admissions in the UK. "We are in an industry in which people will pay virtually anything to see a film they really want to see. If there is a film they do not want to see, they will not go even if it's free," he continued.
"[The 2014 slump] is not a Netflix issue or an infrastructural issue. It's a movie slate issue," Richards said, pointing to some strong Hollywood blockbusters coming in the 2015 and 2016 pipeline.
Perkins does not back the idea of cheaper ticket prices for British films. "It might be better to look behind the scenes as to how we support these films because it is super tough for them, rather than having something up front and public-facing because I'm not sure long-term that's the best message to give the consumer."
That challenging climate for independents was also addressed by BBC Films head Christine Langan. "What we're seeing is that there are almost two separate industries. The diary going forward for the next couple of years is full of enormous Hollywood films, which are branded goods. There's another industry that is much more personal, which is about auteur voices and human stories. Digital distribution is only so helpful for those pieces because they don't have the advertising [budgets] to get above the parapet."

Supporting talent
Director Amma Asante spoke unequivocally in her keynote about the need to support film-makers beyond their debut feature. She said: "For a film-maker, the first movie is tough - but I would argue that the second movie is at least as tough, if not more difficult to get off the ground. Those difficulties appear to become compounded when the film-maker is female and/or of a minority."
It took Asante more than nine years to follow her Bafta winning feature debut A Way Of Life with Belle. "It makes sense for all funding entities of our industry to play a part in this. The leap between the first and second movie is often laden with the ambitions of the film-maker who wants to make a bigger second movie than their publicly funded, low-budget debut, alongside fears from commercial entities."
BFI Film Fund head Ben Roberts discussed the need for directors to better understand the potential markets for their films. "You've got to present yourself as a financeable proposition," he said. "Think about who and what you are as a director and what your market is… It's important that film-makers aren't film-makers alone, but that they are also part-businessman, part-marketeer, etc."
Producer Dominic Buchanan touched on the importance of strong producer-director relationships, and said that he looked to the future with Lilting director Hong Khaou before they made their Sundance hit: "When we set out, I spoke to Hong about the importance of him and us making a plan and having a road-map post-Lilting."
Producer Christopher Granier-Deferre of iFeatures recommended that all feature films could take on an associate producer to learn producing skills on the job.

Connecting globally
The 'international ambitions' panel of experts spoke of the increasing importance of international sales companies in financing and packaging. Josh Varney, partner at management/agency/production company 42, said: "The most important people are the sales agencies." And Blueprint Pictures' Graham Broadbent added that "their numbers are essential" for planning the budget and shooting days.
Hammer Films CEO Simon Oakes warned: "The UK independent model is a semi-broken model. It's not making the most money in its home market and you're taking a smaller MG or P&A commitment just to make sure you get the film made."
Fabien Westerhoff, head of sales at WestEnd Films, spoke of the different types of UK films that hit in different markets. There are films such as Belle that can hit adult audiences (or older 'grey dollar' audiences) in North America or Australia/New Zealand and other historical Commonwealth territories.
Then there are auteur-driven films such as '71 or The Selfish Giant that sell well to specialty distributors in western Europe and North America, and then the more commercial genre fare that sells well to Southeast Asia and Latin America, he said.
Working with China is another beast altogether. "China is like this candy apple we would all like to bite into. Right now we can lick it but not bite it," Westerhoff said.
Although Isabel Davis, head of international at the BFI, said of China, "It's something we want to commit to for the long term." She hopes the UK-China co-production agreement will be ratified soon. "It will open up Chinese appetite for more diverse content, but it's definitely going to take time."
Looking at the finance models for independent film, Elizabeth Karlsen spoke about how Number 9 Films had pieced together finance for Todd Haynes' New York-set Carol to shoot in the US.
"It's a period, lesbian love story and that has a certain price tag in the marketplace - even though we eventually got an A-list cast of Cate Blanchett and Rooney Mara on board - and that's around $15m," said Karlsen. Although London-based sales company HanWay had achieved strong pre-sales on the title following its launch at Cannes in 2012 - to TF1 for France, StudioCanal for the UK and The Weinstein Company in the US - the film also needed to take advantage of Ohio's 25%-35% rebate as well as a 30% rebate for doing post-production in New York with Goldcrest.
Neil Thompson of Formosa Films, which has regularly used the Enterprise Investment Scheme, said the company taps into high-net-worth individuals with a passion for UK film rather than expectations of making money on their investment.
"Our niche is people to whom we say, 'You're going to lose your money.' Most of our investors invest with us because they're fans of British films, know it's hard to produce them and are in a position where they can help," he said. "With the tax breaks, their exposure is pretty low and they're willing to write it off. They know it's like backing a horse and that nine times out of 10 you lose."

Changing audiences
Cinema across the globe needs to adapt to the digital age to remain "relevant" in the future, experts warned.
"The task for us is to make cinema relevant in a time when everything is changing. It's important to embrace all the other ways people can see films," said Clare Binns, director of programming and acquisitions at UK arthouse network Picturehouse Cinemas. Her company is very strong in alternative content and also experimenting with day-and-date releases like A Field In England.
"We just started something called ourscreen which allows people to book films of their choice into cinema slots. The most important thing is to make the cinemas somewhere you can see a film, where you can see alternative content [and] you can have something to eat," Binns added.
Andy Whittaker, founding chairman of distributor Dogwoof, added: "For us it's always a case of trying to understand the audience and working with people like YouTube, Netflix, Apple as well as the cinemas to find the combination that maximises revenue."
Reporting by Melanie Goodfellow, Wendy Mitchell, Michael Rosser and Andreas Wiseman. The Screen Film Summit, in partnership with the BFI, was supported by Creative Skillset London, Molinare, Nyman Libson Paul and Rentrak.