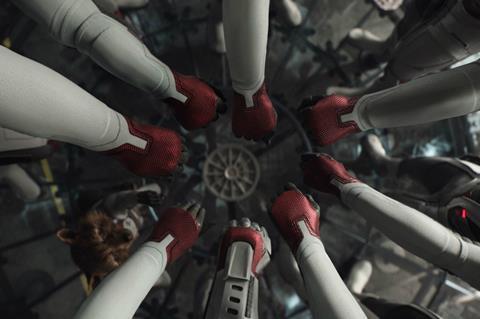 Today's GBP to USD conversion rate: 1.31.
| Rank | Film (Distributor) | Three-day gross (May 3-5) | Total gross to date | Week |
| --- | --- | --- | --- | --- |
| 1 | Avengers: Endgame (Disney) | £14.3m | £73.5m | 2 |
| 2 | Long Shot (Lionsgate) | £814,897 | £1.1m | 1 |
| 3 | The Curse Of La Llorona (Warner Bros) | £591,139 | £769,626 | 1 |
| 4 | Tolkien (20th Century Fox) | £550,348 | £742,771 | 1 |
| 5 | A Dog's Journey (eOne) | £499,207 | £813,320 | 1 |
Disney
Disney's Avengers: Endgame dominated the UK box office, achieving the second-highest second weekend ever and breaking into the all-time top 10 for the territory.
The film grossed £14.3m from Friday to Sunday, with only Sam Mendes' James Bond title Skyfall doing better over a second session, with £16.1m in November 2012.
Adding in the Monday Bank Holiday takings of £4.2m, the film is now up to £73.5m after just 12 days, breaking in to the all-time UK top 10 in eighth spot ahead of Harry Potter And The Deathly Hallows - Part 2 (£73.1m).
It has now passed the lifetime gross of all other Marvel titles, including Avengers: Infinity War (£71m), Marvel Avengers Assemble (£51.9m) and Black Panther (£50.6m), and is the highest-grossing superhero film of all time in the UK.
As far as Disney-distributed titles go, it is only behind the UK's highest-grossing film ever, 2015's Star Wars: The Force Awakens, which ended on £123.2m; and Toy Story 3, which took £74.1m in 2010. Endgame has comfortably surpassed that title's first (£34m) and second (£10.2m) weekends, so stands a good shot of taking the number one crown in weeks to come. However The Force Awakens played over the Christmas holidays which contributed to its strong tail; the film actually rose 1% to £10.3m from its second to third weekend.
Avengers: Endgame has also become the second-highest grossing film of all time worldwide, hitting $2.2bn, including $621.3m in the US.
Disney has three titles in the weekend top 10, with Dumbo taking sixth place with £475,000 Friday to Sunday to hit £24.3m to date; and Captain Marvel adding £161,000 to hit £39.3m.
Lionsgate
Romantic comedy Long Shot starring Seth Rogen and Charlize Theron opened in second place, with £814,897 Friday to Sunday and £1.1m including previews and the Bank Holiday takings.
This meant that for the second time in the past three weekends, no non-Avengers title took more than £1m. The only non-Avengers film to pass that mark in that time was Dumbo last weekend, which scraped past it with £1.016m.
Spy drama Red Joan dropped 61% on its third weekend, taking £166,964 to take it to £2.1m so far. Missing Link added £57,171 and has £3.1m.
Warner Bros
Horror The Curse Of La Llorona took third spot with a £590,000 Friday to Sunday result. With Monday's extras it has reached £769,626. This is the lowest start of the six titles in Warner Bros' Conjuring franchise, which so far includes two Conjuring films, two Annabelle films and last year's The Nun.
Shazam! took £142,000 at the weekend - a 64% drop no doubt in part due to Avengers - and £71,000 on Monday for £13.2m to date.
20th Century Fox
Dome Karukoski's Tolkien, about the formative years of the Lord Of The Rings author, opened to a disappointing £550,348, and has £742,771 across the four days. Interest does not seem to have transferred from Peter Jackson's Lord Of The Rings or The Hobbit trilogies, with the lowest opening of those six films coming in at £9.4m.
Indian romance Kalank added £36,136 on its third weekend for £962,378 to date.
eOne
A Dog's Journey opened in the top five with a £499,207 start, taking £813,320 to date including Monday.
Wild Rose added £107,657 on its fourth weekend and sits at £2.5m, while Peppa Pig: Festival Of Fun went up £46,540 for £2.6m.
Paramount
Family animation Wonder Park topped up £234,000 Friday to Sunday and has £4.2m including Monday's results. Pet Sematary added £34,000 on its fifth weekend, and is also at £4.2m.
Sony
Bo Burnham's Eighth Grade dropped 44% on its second weekend, adding £70,000. A further £27,000 on Monday took it to £334,000 overall.
Universal
How To Train Your Dragon: The Hidden World saw a 12% uptick on its 14th weekend at the box office, taking £51,308 for £19.7m so far.
Other Universal titles nearing the end of their run include Little, adding £49,158 for £1.8m after four weekends; Greta, adding £46,585 for £936,643 after three; Us - £40,531 for £9.9m after seven; and The Sisters Brothers - £13,205 for £752,948 after five.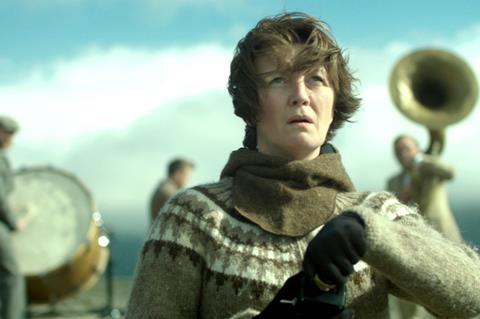 Picturehouse Entertainment
Benedikt Erlingsson's Cannes 2018 title Woman At War opened in 34 locations over the weekend, taking £57,043 for a decent £1,678 site average. Adding in previews and Monday's results, the film is up to £92,038 with a few sites still to report.
Curzon
Pop drama Vox Lux starring Natalie Portman took £31,517 from 34 sites, and has £49,105 including previews and Monday.
Loro added £16,235 for £146,964 to date, while At Eternity's Gate topped up £3,582 for £334,263.
Entertainment Film
Seaside singing feature Fisherman's Friends took £27,246 over the three days, and has risen to £7.1m.
Modern Films
A special presentation of An Accidental Studio: The Story Of HandMade Films took £2,135, and has £8,161 with previews, ahead of the its premiere on AMC'S UK channel last Friday.
Kinostar
Russian adventure comedy Milliard played in 12 locations, six of which have reported £1,602 takings so far.
Further box office results to follow.