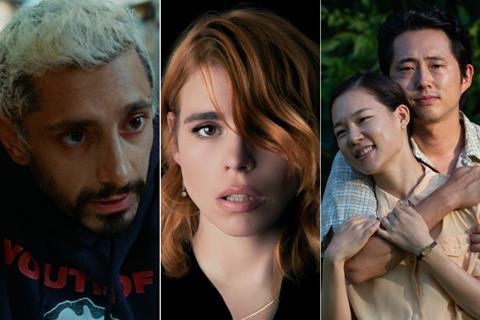 Independent UK distributors are feeling positive heading into the reopening of cinemas across the territory from next week (May 17), while noting ongoing confusion about the theatrical windows across different exhibitors.
"For the next few weeks, we're fully concentrated on the theatrical experience," says Rupert Preston, CEO at Vertigo Releasing which is distributing Oscar winner Sound Of Metal from Monday. "Digital and everything else will follow in a month or two."
Sound Of Metal, starring Riz Ahmed as a heavy metal drummer who suffers sudden onset deafness, will play in 300 cinemas by the end of May. Vertigo is also releasing Philippe Falardeau's Berlinale 2020 opener My New York Year (titled My Salinger Year in most territories including the US) in 250 locations on Friday May 21.
"It's an opportunity, it's exciting – I think people will genuinely want to go back to cinemas and see films back on the big screen," says Preston.
Vertigo was one of the busiest distributors in the theatrical space last year across independents and studios, releasing 10 titles in the periods when cinemas were open between July and November, and again in December. Its most successful titles were family animation 100% Wolf, which took £1.4m in the UK across a four-month theatrical run; and Matteo Garrone's Pinocchio, which brought in £790,184.
Last year, prior to most international lockdowns, the company also launched a co-distribution venture in Australia and New Zealand with Rialto Distribution which is based in the territory. It has released 25 films through the venture to date, taking over $10m in box office – which has proved useful for the UK reopening.
"We're able to look at the experience we've had there with cinema audiences – how quickly or slowly do they go back," says Preston. "This summer there are a lot more films being released so there is going to be a busier general marketplace. But at the same time, there will be a rich mix of films for people to see."
Altitude Film Distribution also handled multiple theatrical releases in 2020, including Russell Crowe thriller Unhinged, which topped the charts for four weeks in August and took £1.8m in total. The distributor will debut another Oscar winner, Lee Isaac Chung's Minari, on Monday 17, expanding to over 100 venues by the end of next week. Minari has been available on select VoD platforms since the beginning of April.
"We're trying to stay focused on the qualities that ourselves and Vertigo especially showed last year," says Hamish Moseley, managing director at parent company Altitude Media Group. "How can we find other mass audience films, exploit those and get them supported by cinemas and audiences amongst these delayed blockbusters – that's the challenge for the next year for us."
As well as films landing in UK cinemas for the first time – such as Minari and Tina Turner documentary Tina, which launched on VoD on March 28 – Moseley reports interest in UK drama Rocks, which had a theatrical release in September 2020 two weeks before going onto Netflix, but has since received a boost through its awards success.
Evolving situation
Congestion is part of the equation in choosing release dates for the reopening.
"For every title that went straight to a platform, there are 10 other titles that are still on the shelf and need to be released at some point," notes Zak Brilliant, founder of Republic Film Distribution. "I've been trying to second-guess how small independent films fit in the ecosystem when things start opening up."
Republic is releasing Billie Piper's directorial debut Rare Beasts day-and-date on Friday May 21, in 30 cinemas and on premium VoD platforms.
"I had thought that a lot of the awards movies would hold, then release quickly when things had reopened – I didn't think anyone would be foolhardy enough to go on the first weekend back," says Brilliant. "As it turns out, the situation evolved and most of those [awards] films went to platforms, and are now going to get some kind of theatrical exposure that first week back.
"That first week is going to have a huge amount of content because cinemas are booking all over the place."
Despite that, Brilliant reports advance numbers for Rare Beasts have been excellent, with many screenings either sold out or set to sell out in the coming hours, including those in which Piper is holding in-person post-screening Q&As. "If you want to gauge how people feel about cinemas opening, look at the ticket sales – it's really encouraging," he says.
Window cleaning
Another ongoing challenge is the lack of clarity regarding the theatrical windows required by different exhibitors.
In March, Cineworld agreed a 31-day exclusive theatrical window prior to VoD with Warner Bros, with the potential for extension to 45 days for films that open to an agreed-upon box-office threshold. This week it set similar deals with Universal and Disney. Negotiations between other major exhibitors and studios are ongoing; Vue Cinemas founder Tim Richards said last October that the company will be "flexible with windows."
"I don't think the rules are clear," says Moseley. "Studios and major exhibitors can only negotiate with each other bilaterally – there can't be an open agreement, and nor should there be. But as a result, consensus is slow to emerge on what the window should be.
"That's probably how it should be in terms of rules," he continues. "But the problem with the previous window was it was 'one rule to fit all' films and there was such a myriad of different types of films where it didn't work.
"Actually, amidst this chaos, there should be opportunity for people like us," adds Moseley.
"The windows policy hasn't evolved to the point where major circuits are looking at [Rare Beasts]," says Brilliant, while noting that the Everyman boutique chain has taken the film across its venues for an opening night screening with live-streamed Q&A beforehand. "Independent [distributors] aren't exactly front of the queue with the major circuits to work out what their deals are; it's all about studios. But once those deals are done, then it goes down the food chain and we understand what's doable for the independent releases."
Preston admits the windows situation "is a little tricky with some people from a practical point of view". He advocates a marketplace that allows each film to be judged on its merits.
"Certain films will have more of a life in cinemas than they would on digital; for others, the values in digital and SVoD might outbalance the theatrical values," he says. For Prano Bailey Bond's video nasty-themed horror Censor, which Vertigo is releasing wide at the end of June, "it's very much all geared towards that theatrical experience."
Moseley maintains that cinemagoers have little interest in theatrical windows. "I don't think audiences are keeping a keen eye on the timing between when films are in the cinema and when they're available at home," he says.
"People think, 'Do I want to see that film, and do I want to go out or not?'. When you go to a restaurant, you don't not order a steak if you've got a steak sat in the fridge at home. It's the whole evening – you want to enjoy being with people, you want someone else to make it, in a nice and appropriate situation, and enjoy it in the best possible surroundings. That's a perfect metaphor for going to the cinema."
UK theatrical releases in the first week
May 17 (indoor cinemas in England, Scotland & Wales can reopen)
Sound Of Metal (Vertigo), Spiral: From The Book Of Saw (Lionsgate), Nomadland (Disney+), The Courier (Lionsgate), Maya The Bee 3: The Golden Orb (Kaleidoscope), A Space In Time (Bohemia), Undergods (Munro), Those Who Wish Me Dead (Warner Bros), Ammonite (Lionsgate), Minari (Altitude), The Unholy (Sony), The Lady In The Portrait (Cinefile), Peter Rabbit 2: The Runaway (Sony), Radhe: The Most Wanted Bhai (Zee Studios)
May 18
Lupin III: The First (National Amusements)
May 21
Rare Beasts (Republic), The Human Factor (Dogwoof), My New York Year (Vertigo), Dawn Of War (Kaleidoscope), State Funeral (Mubi), Ściema Po Polsku (Magnetes)