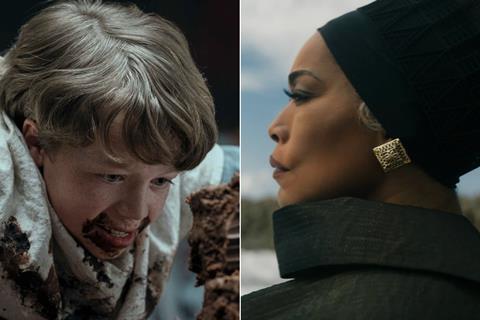 | Rank | Film (distributor) | Three-day gross (Dec 9-11) | Total gross to date | Week |
| --- | --- | --- | --- | --- |
| 1. | Roald Dahl's Matilda The Musical (Sony) | £2.1m | £10.8m | 3 |
| 2. | Black Panther: Wakanda Forever (Disney) | £802,106 | £30.8m | 5 |
| 3. | Violent Night (Universal) | £567,351 | £1.9m | 2 |
| 4. | Strange World (Disney) | £305,802 | £1.8m | 3 |
| 5. | The Menu (Disney) | £192,742 | £3m | 4 |
GBP to USD conversion rate: 1.23
Sony's Roald Dahl's Matilda The Musical held first place at the UK-Ireland box office for a third consecutive weekend, as cinemas await the arrival of Avatar: The Way Of Water.
On its third weekend in cinemas, Matilda - made by Sony-owned label TriStar Pictures - dropped just 16% on its previous session with £2.1m, a hold more than twice as good as its first-to-second weekend hold.
Starring Alisha Weir, Emma Thompson and Lashana Lynch, the film now has £10.8m – taking it above the £10.6m of 1996's Matilda, also based on Dahl's 1988 book and released by Sony. It will look to push towards the £20m mark as family audiences open up over the Christmas period.
Black Panther: Wakanda Forever has topped the £30m mark for Disney, dropping 47% on its fifth weekend with £802,106 bringing it to a £30.8m total. It is now the 15th -highest-grossing of 30 Marvel Cinematic Universe titles to date, overtaking the £30.7m of 2017's Spider-Man: Homecoming and with the £31.1m of 2017's Thor: Ragnarok next up. It is tracking behind the first film now, which took £1.9m on its fifth weekend to reach £42.8m.
Universal's Christmas action comedy Violent Night dropped just 31% on its second weekend, with £567,351 bringing it to a £1.9m cume. This included a drop of just 2% from Sunday to Sunday, as cinemagoers sought shelter from the thick snow.
Disney's Strange World posted a decent hold on its third weekend, dropping 31% with £305,802 taking it to £1.8m.
The Menu added £192,742 on its fourth session for Disney – a 42% drop that brought it past the £3m total mark.
With an identical top five to last weekend, takings for the top five dropped 29.1% to just below £4m – the lowest level since £2.3m on the weekend of September 16-18, when no film took more than £1m. Next weekend will see a significant increase, with the release of Disney's Avatar: The Way Of Water this Friday (December 16).
Muppets on the up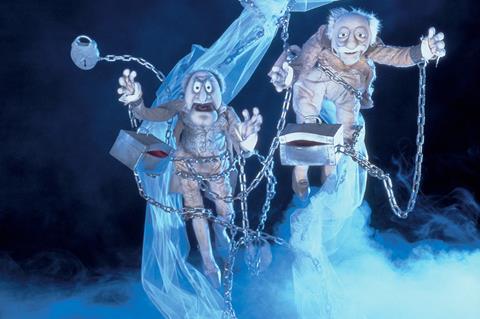 Festive favourite The Muppet Christmas Carol added £94,161 for Park Circus – a 35.9% increase on its first weekend. The re-release now has £172,675, in addition to the £2.8m from its 1992 release and £633,444 from a 2017 re-release.
Universal's #MeToo drama She Said added £80,815 on its third weekend – a 60% drop that brings it to a £1.2m total.
On its fourth weekend in cinemas, seven-time Bifa winner Aftersun added an extra £61,138 for Mubi – a 39.8% drop. It is now up to £831,705; another few weeks in cinemas could see it pass the £1m mark, which would be a strong result on the independent title.
Black Adam still leads Warner Bros' slate, adding £42,000 on its eighth weekend – a 54% drop – that sees it up to a £19.8m total. It will likely end as the sixth-highest-grossing of 11 DC Extended Universe films so far, behind the £22.2m of 2017's Wonder Woman.
Awards contender The Banshees Of Inisherin dropped 63% for Disney with an extra £37,349; but is still enjoying an excellent run, with an £8.8m total to date.
Luca Guadagnino's Bones And All starring Taylor Russell and Timothee Chalamet added £37,000, dropping 61.4% on its previous session and climbing to a £706,000 total from three weekends.
Lionsgate's Living added £36,796 on its sixth weekend – a 60.1% drop – and is up to a healthy £3.5m cume.
Palme d'Or winner Triangle Of Sadness added £29,917 on its seventh session, a drop of just 33.6% that brought it to a £1.4m cume.
Cannes 2022 title The Silent Twins opened to £26,859 for Universal from 158 locations, at a £170 location average.
Sony opened two films to limited audiences this weekend – Japanese animation The Quintessential Quintuplets Movie to £24,000 at £222 average from 108 sites; and romance A Love Song to £9,000 at £82 average from 110.
Lorcan Finnegan's thriller Nocebo opened to £13,685 from 138 locations for Vertigo Releasing, at a per-cinema average of £99.
Warner Bros' re-release of Michael Curtiz' 1942 classic Casablanca added a further £11,000 on a second weekend in cinemas to hit £70,000.
Moviegoers Entertainment's Pakistani action feature The Legend Of Maula Jatt added £7,240 on its ninth weekend, and is up to an impressive £1.4m cume.
Park Circus' 75th anniversary re-release of Henry Koster's The Bishop's Wife starring Cary Grant took £5,420 from 56 locations over the weekend, playing in 115 over its first week.
Courtney Barnett documentary Anonymous Club opened to £847 including previews for Munro Films, playing in four cinemas with two of them playing just two showings over the weekend.
Playing on three screens, Berlinale 2022 Competition title Mr Bachmann And His Class opened to £262 for New Wave Films.