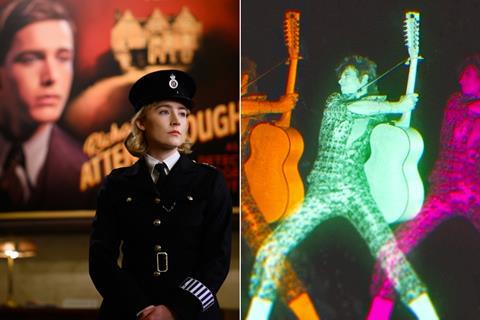 | Rank | Film (distributor) | Three-day gross (Sept 16-18) | Total gross to date | Week |
| --- | --- | --- | --- | --- |
| 1. | See How They Run (Disney) | £985,000 | £2.9m | 2 |
| 2. | Minions: The Rise Of Gru (Universal) | £321,746 | £45.1m | 12 |
| 3. | Top Gun: Maverick (Paramount) | £321,000 | £82.8m | 17 |
| 4. | Bullet Train (Sony) | £320,000 | £10.4m | 7 |
| 5. | DC League Of Super-Pets (Warner Bros) | £305,966 | £14.9m | 8 |
GBP to USD conversion rate: 1.14
David Bowie documentary Moonage Daydream scored an impressive £3,629 per cinema on its opening weekend at the UK-Ireland box office; but takings generally remained low across the board, with no film topping £1m for the second time in the last four weekends.
Playing exclusively in 50 Imax sites for its first week, Universal's Moonage Daydream took £181,467. Including Monday screenings – which were limited for all films, with most cinemas closed due to the funeral of Queen Elizabeth II – the film is up to £182,466.
Imax venues provide a higher per-ticket yield than regular screenings; but it still represents a promising start ahead of Moonage Daydream's rollout to non-Imax sites this week.
Disney whodunnit See How They Run held the box office crown for a second weekend. The film held well on its opening, dropping just 15.1%, with £985,000 bringing it to just short of £2.9m.
On its 12th weekend in cinemas, Universal's Minions: The Rise Of Gru went up the chart to second place. It dropped just 15.8% on last weekend, with £321,746 taking it to £45.1m in total, close behind the £47.8m of 2015's Minions.
Another long-runner, Paramount's Top Gun: Maverick, scored a 3% increase on last weekend, with £321,000 on an astonishing 17th session in cinemas. This was enough to move it from eighth to third place.
With £82.8m, it has now passed Star Wars: The Last Jedi to become the eighth highest-grossing film of all time in the UK and Ireland – which should be its final position, assuming the £88.7m of Avengers: Endgame is beyond its reach.
Sony's Bullet Train dropped just 7.3% on its previous session, with £320,000 taking it to almost £10.4m from seven weekends, and enough for it to regain a top five spot.
Warner Bros' DC League Of Super-Pets dropped 15.9% on its eighth session, with £305,966 taking it to a £14.9m cume.
The total for the top five films dropped a further 23.6%, to £2.3m – a worryingly low figure, that is down over 85% on the second weekend of July. Universal's Ticket To Paradise – opening today, delayed from last week due to the Queen's funeral – will attempt to fill the void, but exhibitors will also be looking ahead to the winter schedule for blockbusters to move the box office in the right direction.
Elvis, Orphan sequel hold well
Paramount family animation Tad The Lost Explorer And The Curse Of The Mummy added £282,000 at the weekend – a 19% drop – to reach £1.2m from two weekends.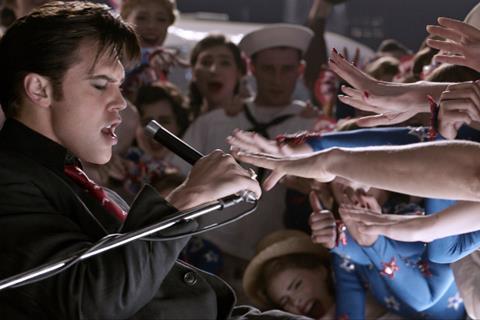 Warner Bros' music biopic Elvis added £203,966 on its 13th weekend, dropping just 4.9%. It is now up to £27.4m.
Bollywood title Brahmastra Part 1: Shiva added £202,000 – a 60.9% drop – to reach £905,000 from two weekends for Disney. One more weekend in cinemas should see it become a rare non-English language title to cross the £1m mark.
Sony's Bodies Bodies Bodies dropped 36.6% on its second weekend, adding £194,000 to reach £733,000.
Landing just behind Moonage Daydream, fellow Universal title Nope added £179,826 on its sixth session – a 40% drop – and is at £7.8m total.
Universal also continued its Jaws re-release, which added £165,610 to reach £848,674 from two weekends.
Signature Entertainment's horror sequel Orphan: First Kill continued a strong run on its fifth weekend. It fell just 13%, with £135,176 taking it to almost £2.2m. It is now coming up on the £2.6m of the 2009 first film.
Sony's Where The Crawdads Sing continues its song on a ninth weekend in cinemas, increasing 6.7% on last time with £80,000 taking it to a strong £8.1m cume.
Beast dropped 34.2% on its fourth weekend, adding £79,836 to reach £1.9m for Universal.
Tower thriller Fall climbed a remarkable 34.5% on last weekend, adding £72,838 for Signature Entertainment on its third session to reach £515,131.
Thor: Love And Thunder put on £56,000 for Disney on its 11th weekend, and is at almost £37.5m. It remains the ninth highest-grossing of the 28 Marvel Cinematic Universe titles in the UK and Ireland, with the £39.5m of 2019's Captain Marvel next ahead of it.
Universal's E.T. re-release added £36,844 on its third weekend to reach £640,170; while Sony's The Invitation went up 16.1% with £36,000 bringing it to £721,000 from four weekends.
Lionsgate opened comedy franchise title Clerks III to £32,150, with £49,289 including previews.
Curzon comedy Funny Pages started with £24,912 at the weekend from 35 sites, and has £33,783 in total.
Hallelujah: Leonard Cohen, A Journey, A Song opened to £24,000 from 69 sites, with £37,000 including previews, through Sony.
Universal drama The Forgiven added £22,303 on its third weekend, pushing it to a £411,616 cume.
Hanna Bergholm's body horror Hatching opened to £20,056 from 52 sites at a £386 average for Picturehouse Entertainment. With select sites still to report, the film has £75,500 including previews.
Irish drama Roise & Frank opened to €22,403 (£19,958) from 36 sites at a £554 location average.
Curzon's Official Competition added £17,384 on its fourth session, and is up to a respectable £309,911.
A re-release of Quentin Tarantino's Jackie Brown opened to £15,281 through Park Circus.
Verve Pictures started gay rugby drama In From The Side to £12,640 at the weekend, and £21,313 including previews.