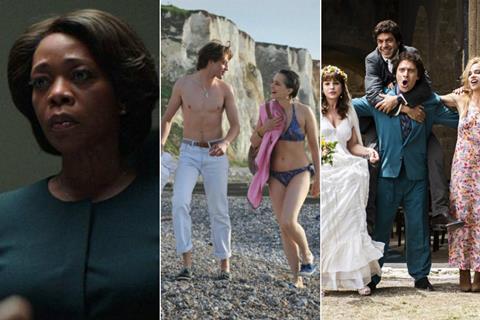 As cinemas begin to reopen again in many territories, Screen is tracking which films are being released in key territories each week.
France, opening Wednesday July 15
The French box office entered its fourth full week of activity on July 15, following the reopening of cinemas on June 22 after their 14-week Covid-19 hiatus.
New films on release this week include Francois Ozon's young adult drama Summer Of 85. Diaphana Distribution pushed the launch forward from France's typical Wednesday release day to Tuesday, to coincide with the Bastille Day public holiday on July 14. It is the first Cannes 2020 label film to go on release in France.
Further French-language releases on July 15 included couple comedy Divorce Club by Michaël Youn for SND and Philippe Garrel's Berlinale 2020 Golden Bear contender The Salt Of Tears for Ad Vitam.
The only new US studio film on release was Nisha Ganatra's feel-good film The High Note for UPI France.
French schools closed for the summer holidays on July 4 which has prompted the release of family films L'Aventure Des Marguerite for Pathé (as part of distribution pact with Orange Studio) and Danish animation Ternet Ninja for Alba Films.
International arthouse openers included Critics' Week 2019 title, Algerian thriller Abou Leila for UFO Distribution and Beloved (Art House), the third film in Israeli filmmaker Yaron Shani's 'Love Trilogy'.
Germany, opening Thursday July 16
Leonine opened Russell Crowe-led thriller Unhinged in German cinemas on July 16, two weeks before its US release date of July 31; while Burhan Qurbani's Berlinale competition title Berlin Alexanderplatz finally came to cinema screens, having had its release moved four times by eOne Germany from the originally planned launch date of April 16.
Further releases include Marjane Satrapi's Marie Curie biopic Radioactive (Studiocanal), which had originally been scheduled to open on April 9; Stefan Westerwelle's dance film and coming-of-age tale Into The Beat (Wild Bunch), starring newcomers Alexandra Pfeifer and Yalany Marschner; Kim Sung-Su's 2013 disaster film The Flu (Busch Media Group/Kinostar); Swiss directing duo Eric Bergkraut and Ruth Schweikert's family comedy Wir Eltern (W-Film); veteran Chilean documentary filmmaker Patricio Guzmán's The Cordillera Of Dreams (Real Fiction); and Justine Triet's black comedy Sibyl (Alamode/Wild Bunch).
Additionally, the theatrical arm of Studio Hamburg Enterprises is opening the documentary portrait Wim Wenders, Desperado which had been selected for this year's Cannes Classics programme.
Italy, opening Thursday July 16
Just three movies are opening this week, with 842 active screens - 30.3% of the total in Italy. That number is slowly increasing week-on-week.
One is Famosa, the debut drama from Alessandra Mortelliti distributed by Europictures. It premiered at the Rome Film Fest in the Alice In The City autonomous section and is produced by Palomar (Piranhas, Hidden Away).
Returning to screens is The Best Years, which had its February release cut short by the closure of cinemas in Italy. Written and directed by Gabriele Muccino and starring Pierfrancesco Favino (The Traitor), the potential blockbuster was originally released by 01 Distribution in February. It had grossed €5m (£4.6m) before cinemas closed.
Finally, Bim is distributing Arab Blues, a French-Tunisian comedy which premiered at Giornate degli Autori in Venice last year and is written and directed by Manele Labidi.
Two French films are on their second week on release: Gilles Bourdos' Venice 2017 title Endangered Species, and Edouard Bergeon's In The Name Of The Land starring Guillaume Canet.
Spain, opening Friday July 17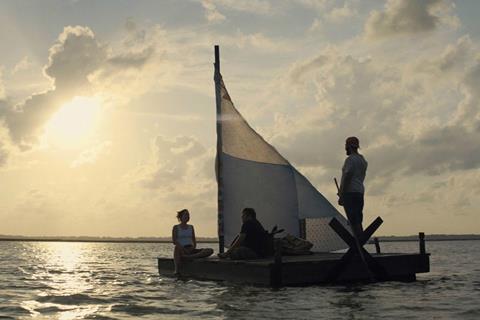 International openers in Spain include Tyler Nilson and Michael Schwartz's US indie The Peanut Butter Falcon through A Contracorriente Films. The drama follows a young man with Down's Syndrome, played by Zack Gottsagen, who sets off on a journey to fulfil his dream of becoming a professional wrestler. Dakota Johnson, Bruce Dern, John Hawkes and Shia LaBeouf co-star in the film which debuted at SXSW 2019..
Also opening is Brett and Drew T. Pierce's US horror thriller The Wretched through Selecta Vision.
Two German titles are debuting this weekend: Jan-Ole Gerster's Lara through Alfa Pictures, which won the special jury award and best actress award for Corinna Harfouch at Karlovy Vary last year; and The Collini Case, a courtroom drama by Marco Kreuzpaintner and distributed by Flins i Pinículas.
After Dreambuilders last week, this weekend's family-oriented animated feature is Chinese title Jana Y La Piruleta Mágica via Paycom Cinema.
DeaPlaneta's comedy Superagente Makey is the sole Spanish release of the week. It is directed by Alfonso Sánchez and stars Leo Harlem, Silvia Abril and Jordi Sánchez.
UK and Ireland, opening Friday July 17
Although takings are still low compared to pre-lockdown, UK and Ireland cinemas will be looking for a second consecutive weekend of growth to demonstrate audience confidence is starting to return.
Signature Entertainment's family animation Dreambuilders leads the new titles, opening in over 100 locations. From the animation team behind Big Hero 6, the film follows a young girl who discovers the ability to create and control other people's dreams.
It is directed by Kim Hagen Jensen and produced by Denmark's First Lady Film. Originally voiced in Danish, the UK and Ireland release has an English dub.
Phil Hunt and Lucy Fenton's nascent distributor Bohemia Media is teaming up with Eve Gabereau's Modern Films to release Chinonye Chukwu's Clemency in 31 locations. The release is also part of Modern Films' coronavirus initiative, through which audiences can stream films through its website and a percentage of the purchase price will go to an independent cinema of their choosing.
Racial justice and POC (people of colour) film organisations across the country are also included in the unique revenue-sharing model.
Clemency won the Grand Jury prize – Dramatic at Sundance 2019, and picked up nominations at the Gotham Independent Film Awards last year for lead actor and actress Aldis Hodge and Alfre Woodard.
The story is inspired by the case of Troy Davis, a US man who was convicted of an executed for a murder he maintained he did not commit in 2011. In the film, Woodard plays a prison warden who watches over a man – played by Hodge - in a similar situation.
Studio Soho Distribution is holding a small release for Richard Wong's Come As You Are, starring Grant Rosenmeyer, Hayden Szeto, Ravi Patel, and Gabourey Sidibe. Inspired by a true story, it follows three young men with disabilities who flee their overbearing parents for a road trip to a brothel in Montreal that caters to people with disabilities, in order to lose their virginity and embrace their independence.
Rep titles continue to dominate screens, with Studiocanal releasing a 4k restoration of 1989 comedy Bill & Ted's Excellent Adventure this weekend. Star Wars: Episode V – The Empire Strikes Back topped the chart last time out, with Altitude's Black Water: Abyss as the highest new entry.