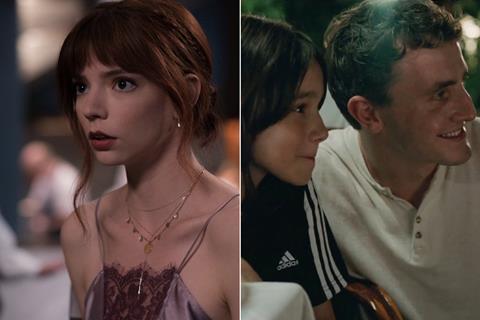 Disney comedy-horror The Menu and Mubi awards favourite Aftersun are among the new titles at the UK-Ireland box office this weekend.
Opening in 610 sites for Disney, Mark Mylod's The Menu sees a young couple travel to a remote island to eat at an exclusive restaurant, where the chef has prepared a lavish menu and some shocking surprises.
The film debuted as a special presentation at Toronto Film Festival in September, going on to play festivals worldwide including Zurich, Rio de Janeiro, Busan and Tokyo.
British director Mylod is well-known for his television work. He won the Emmy for outstanding drama series in both 2020 and 2022 as executive producer of Succession, and has directed 12 of the 29 episodes to date across three seasons, with further episodes at the helm in the upcoming fourth season. He also directed six episodes of HBO stablemate Game Of Thrones; and previously worked on UK series including The Royle Family and Shameless.
The Menu is his fourth feature film; he started with 2002 comedy Ali G Indahouse, which opened to £3.2m and ended on £10.3m through United International Pictures – a strong result for a release at that time. Subsequent Mylod films were 2005's The Big White (£60,697 total) and 2011's What's Your Number? (£838,836).
Mylod reunites with Succession writer Will Tracy, who wrote the screenplay for The Menu alongside Seth Reiss.
The Menu's cast is led by Anya Taylor-Joy and Nicholas Hoult as the couple, and Ralph Fiennes as the head chef. Having reached a wider audience through, and won a Golden Globe for last year's Netflix series The Queen's Gambit, Taylor-Joy starred in Robert Eggers' The Northman (opened: £897,529; closed: £4.7m) earlier this year, and has upcoming parts as the voice of Princess Peach in The Super Mario Bros. Movie and in the title role of George Miller's Furiosa.
Mubi's 109-location release of Charlotte Wells' Aftersun will be buoyed by the news of its three prizes in the British Independent Film Awards' craft categories, announced this morning. Gregory Oke for cinematography, Blair McClendon for editing and Lucy Bright in the new best music supervision category all took top honours.
Aftersun is the most-recognised title this year, and second-most ever, with 16 nominations; Wells is up for five awards at the December 4 ceremony, with leads Paul Mescal and Frankie Corio nominated in the best joint lead performance section.
The duo star as a father and daughter on a sun holiday in Turkey, as remembered by the daughter twenty years later. Launched in Critics' Week at Cannes this year, it is a debut feature for US-based Scottish director Wells, who previously made shorts including Laps and Bifa-longlisted Blue Christmas in 2017. The film has four nominations at the Gotham Awards - best feature, lead performance for Mescal, breakthrough performer for Corio and breakthrough director for Wells – and will be looking to sustain an awards run through to the Baftas and even beyond.
Named a Screen Star of Tomorrow in 2020, Mescal broke out with his performance in TV drama Normal People that year. He has since starred in Maggie Gyllenhaal's The Lost Daughter, and is Bifa-nominated in best lead performance this year for Saela Davis and Anna Rose Holmer's God's Creatures.
Time for Armageddon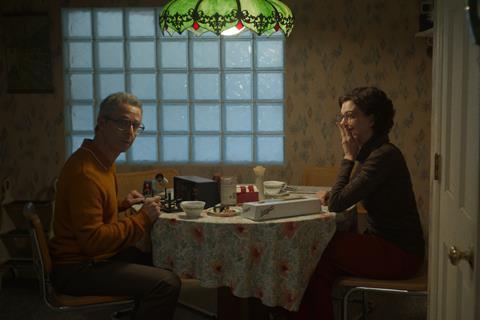 Universal is starting another Cannes 2022 title this weekend – James Gray's Competition entry Armageddon Time, in 312 locations.
Inspired by his own youth, Gray's eighth feature follows a young Jewish boy in 1980s New York City who befriends a rebellious African-American classmate, and begins to struggle with growing up in a world of privilege, inequality and prejudice.
Newcomers Banks Repeta and Jaylin Webb play the youngsters, with Anne Hathaway and Jeremy Strong as the young Jewish boy's parents and Anthony Hopkins as his grandfather.
Gray's debut feature Little Odessa was made in 1994 when he was just 24 years old, and grossed £73,000 in the UK and Ireland from a £12,049 opening for First Independent. He scored comfortably his record gross in the territory with his last title, Brad Pitt space drama Ad Astra, which opened to £2.3m in September 2019 and finished on £6.2m.
Paramount is opening Greg Mottola's comedy Confess, Fletch in 306 cinemas. Mad Men star Jon Hamm plays a man who strives to prove his innocence when he becomes the prime suspect in multiple murders; while he also searches for his fiancée's stolen art collection.
Adapted by Mottola and Zev Borow from Gregory McDonald's 1976 novel, the film is the third in the Fletch series after 1985's Fletch and 1989's Fletch Lives (opened: £123,397; closed: £567,139).
Mottola had a notable comedy success with 2007's Superbad (£1.5m; £6.5m). His other features include 2009's Adventureland (£210,671; £653,026) and 1999's Celebrity (£139,882; £652,064); Confess, Fletch is his first film since 2016's Keeping Up With The Joneses (£271,398; £692,684).
With significant non-English language releases in recent weeks including The Legend Of Maula Jatt and Decision To Leave, Trinity Film will be looking to follow suit with Cheuk Tin Ho's Hong Kong crime drama The Sparring Partner in 34 sites; as will Yash Raj Films with Abishek Pathak's crime sequel Drishyam 2 in 71 cinemas.
Limited releases include Cannes 2021 Directors' Fortnight entry Clara Sola in five sites through Peccadillo Pictures; Sheffield DocFest title Sansón And Me in one cinema through DocHouse.
Cosmic Cat is releasing Skint, a collection of short films made by filmmakers from deprived backgrounds, curated by Peter Mullan and Derry Girls creator Lisa McGree. The collection is available at a significantly discounted rate, so exhibitors can use ticket sales to raise money for their local food bank.
From the major streamers, Netflix is opening Alejandro González Iñárritu's Venice competition entry Bardo, False Chronicle Of A Handful Of Truths and Stephen Donnelly's animated Scrooge: A Christmas Carol; while Apple has Sean Anders' Spirited, also an adaptation of Charles Dickens' A Christmas Carol, starring Will Ferrell and Ryan Reynolds.
Black Panther: Wakanda Forever will lead the holdovers as it heads into its second weekend; followed by Warner Bros' Black Adam, Sony's Lyle, Lyle, Crocodile, and awards contenders The Banshees Of Inisherin and Living.