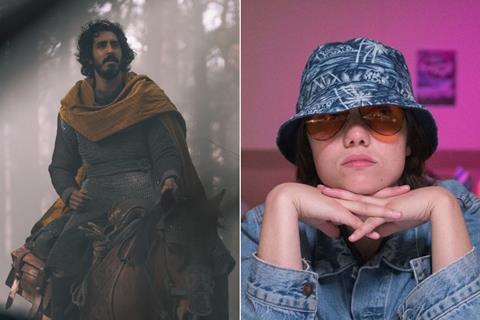 Fourteen new titles are looking to make the most of the last session at the UK-Ireland box office before James Bond film No Time To Die dominates cinemas.
Independent titles such as The Green Knight, Sweetheart, Gagarine and The Man Who Sold His Skin are going up against Warner Bros' The Many Saints Of Newark, in a truncated week for new titles.
No Time To Die opens on Thursday, September 30, with many cinemas screening the film from 00.01 BST. With projections from Gower Street Analytics that the film will take 92% of the total box office in its opening week, screens for other films will be scarce from that first day, meaning results this weekend are crucial for titles looking to secure the remaining space.
Opening day for Knight
Like the latest Bond, David Lowery's The Green Knight has undergone a bumpy journey to its eventual theatrical release. The title, produced by Sailor Bear and A24 from the US with Canada's Bron Studios, was scheduled for release through Entertainment Film Distributors (EFD) on August 6, but was delayed indefinitely just two weeks prior, reportedly due to the rise in cases of the Delta variant of Covid-19 in the country.
EFD then rescheduled the film to its current date; it will now release simultaneously in cinemas and on Amazon Prime Video.
The Green Knight is Lowery's adaptation of the 14th-century Middle English chivalric romance Sir Gawain And The Green Knight – a story of a knight at King Arthur's Round Table who beheads a mysterious arrival at the court but in doing so commits to taking a return blow one year and one day later. The film stars Dev Patel as Sir Gawain, with The Witch star Ralph Ineson as the Green Knight, and Alicia Vikander, Joel Edgerton, Sean Harris, Barry Keoghan and Kate Dickie also in the cast.
The film was due to premiere at South By Southwest (SXSW) in March 2020, but was pulled from the festival when the event moved online due to the pandemic. Lowery then spent six months re-editing the film to its current version.
It is the filmmaker's fifth feature: he started with SXSW title St. Nick in 2009, before writing and directing 2013 crime drama Ain't Them Bodies Saints starring Rooney Mara, Casey Affleck and Ben Foster. That film opened to £52,575 from 46 locations through The Works UK Distribution, going on to a £135,139 total.
Lowery followed it up with his first studio film, 2016's Pete's Dragon for Disney, loosely based on the 1977 Disney title of the same name. It opened to £845,145, finishing on £5.3m.
The director returned to the indie world in 2017, reuniting with Mara and Affleck for Sundance title A Ghost Story. The film found favour on the US critics' circuit, gaining multiple nominations; it was released jointly by A24 and Picturehouse Entertainment in the UK and Ireland, opening to £133,899 and ending on £481,298.
This weekend also sees Peccadillo Pictures release Sweetheart, the feature debut of UK filmmaker Marley Morrison. It depicts a socially awkward teenager forced to go to a coastal holiday park by her family, where she becomes captivated by a lifeguard names Isla. Peccadillo is opening the film in 114 locations – more than double the company's previous widest opening (2019's The Shiny Shrimps in 46).
Sweetheart debuted at the online Glasgow Film Festival in March 2021, where it won the audience award, to go alongside prizes from LGBTQIA+ festivals in Toronto and Los Angeles. It was the final title from the second wave of Film London's low-budget Microwave funding scheme, with additional backing from BBC Film and the BFI. Newcomer Nell Barlow leads the cast, alongside This Is England's Jo Hartley, Yesterday's Sophia Di Martino and Ella-Rae Smith.
The only new studio title this weekend is Alan Taylor's The Many Saints Of Newark from Warner Bros, in 632 sites. It opened on Wednesday 22, taking £186,818 from 579 locations on its first day. The film follows the formative years of Tony Soprano, known to fans of David Chase's popular HBO TV series The Sopranos, which ran for six seasons between 1999 and 2007.
Michael Gandolfini plays the younger version of the character played by his late father James Gandolfini, with Jon Bernthal, Vera Farmiga, Billy Magnussen, Corey Stoll, Alessandro Nivola and Ray Liotta also in the cast.
Cannes 2020 title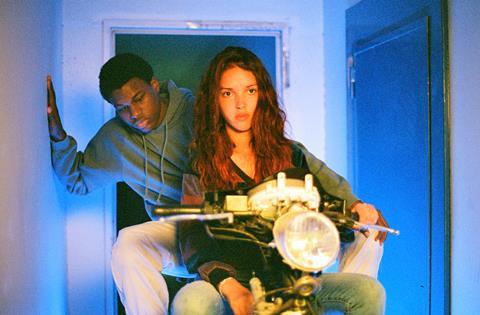 Curzon is distributing Fanny Liatard and Jeremy Trouilh's Cannes 2020 label title Gagarine in 30 locations. The film was selected in the First Features section of the festival, which did not take place due to the pandemic but announced an Official Selection in June 2020.
Gagarine tells the story of a young boy who fights to save his hometown of Cite Gagarine in the Parisian suburbs from demolition. Other films from the First Features section to have received theatrical releases include Viggo Mortensen's Falling, grossing £8,934 in December 2020 through Modern Films; and Suzanne Lindon's Spring Blossom, which took £4,755 in May 2021, also through Curzon.
Studio Soho Distribution is releasing Kaouther Ben Hania's drama The Man Who Sold His Skin in 18 locations. The film made history earlier this year as the first Tunisian title ever to be nominated for best international feature at the Oscars; it was Ben Hania's second time representing her country as the Oscar submission, after Beauty And The Dogs in 2019. The Man Who Sold His Skin debuted in Horizons at Venice Film Festival 2020; it centres a Syrian refugee in Lebanon who, through the work of a famous tattoo artist, turns his body into a piece of art.
Pema Tseden's Chinese drama Balloon is receiving an eight-location opening through Day For Night, adding a further eight locations in its second weekend then 22 more in its third. Also a Venice Horizons title, this time from 2019, it centres a family struggling against the conflicting dictates of nature, spirituality, politics, and free will.
Documentary specialists Dogwoof have Peter Mortimer and Nick Rosen's The Alpinist, about Marc-Andre Leclerc, a free solo climber who often climbs on ice. The film played in 80 cinemas on Thursday 23, expanding to 107 in its first week.
Munro Film Services has Chris Crow's UK thriller The Ballad Of Billy McCrae in 18 locations; Zee Studios is releasing Bollywood sequel Qismat 2 in 76 sites; and Sparky Pictures has Cornwall-set music drama The Tape.
With excitement building for Denis Villeneuve's remake on October 22, Lionsgate is capitalising with the re-release of David Lynch's 1984 Dune, playing in 344 sites.
Two event cinema releases have taken place this week, with encore screenings running into the weekend – Oasis Knebworth 1996 on Thursday 23 through Trafalgar Releasing; and La Traviata On Sydney Harbour, taking £65,243 from 290 locations on Tuesday 21, through CinemaLive.
Key holdovers include Shang-Chi And The Legend Of The Ten Rings, which will be confident of a fourth weekend on top before Bond takes over; plus Disney stablemate Free Guy, and Universal's Aretha Franklin biopic Respect.