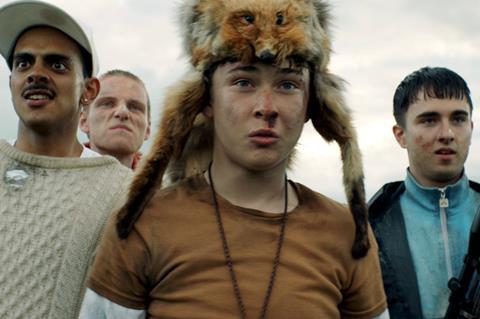 The Edinburgh International Film Festival (EIFF), proudly proclaiming its status as the world's longest continually-running film festival (running since 1947) wrapped on Sunday with the world premiere of Adrian Noble's Mrs Lowry & Son, starring Timothy Spall and Vanessa Redgrave.
The festival opened 10 days earlier with the scrappily entertaining Boyz In The Wood by Scottish director Ninian Dorff, setting the tone for the fifth edition under artistic director Mark Adams.
An eclectic range of features was dotted with the UK premieres of significant homegrown films in 2019 so far – Joanna Hogg's Sundance-winner The Souvenir, for example, Bait, and the moving Motherwell-set, Tribeca-winning documentary Scheme Birds.
Boyz In The Wood itself, which premiered in South By Southwest's Midnighters section and emerged with no distribution, was clearly a buoyant, overlooked item at the US event in April. This reinforces the growing understanding Edinburgh is a curated UK festival where it's possible to find unheralded local gems such as last year's Calibre.
Three juries awarded the three main prizes. The Michael Powell Award for outstanding British feature fiction went to Adewale Akinnuoye-Agbaje's Farming; Miia Tervo's Finnish refugee drama Aurora won best international film; and Ben Asamoah's first feature film Sakawa won best documentary film.
It is a tough field in the UK in June between Sheffield, Edinburgh and Sundance London, all dancing in the wake of Cannes, but Scotland's premiere programme, with a packed industry schedule, is nimble and can hold some winning cards.
There were naturally some disappointments. Angus Macfadyen's bloated passion project Robert The Bruce, written by the actor and directed by Richard Gray, opted to focus on the depressed Scottish King in retreat and finding refuge – and inspiration – with an irritating Highland family. Balance Not Symmetry, by the prolific Jamie Adams' (Black Mountain Poets) also failed to live up to expectations. The screeching collaboration with Scottish rock band Biffy Clyro was a gala screening, while Adams also had another world premiere, Bittersweet Symphony, in the Edinburgh selection.
How To Fake A War, a Georgia-Ireland co-production starring Katherine Parkinson, also fell flat; now it moves on to Galway's Fleadh in July.
The industry still likes to talk about Edinburgh's move from August to June (in 2008) and certainly there were some disasters that followed – the year with no director, for example - but the festival has assembled a strong programme for local audiences while also consolidating some hard work that has gone into assembling a solid business presence. Step by step, it has regained its footing
Fiive films that generated strong word of mouth at Edinburgh:
Overlooked at SXSW, this chaotic high-energy comedy is about a bunch of loser kids forced to take the Duke of Edinburgh award – or be expelled from school. Cast adrift in the Scottish Highlands, they become prey for local toffs, one of whom is played by executive producer Eddie Izzard while Tobey Maguire produced. Whichever way it came to the screen – it certainly arrived with no public funding – Boyz is an offbeat, uneven, hip-hop-tinged riot which should set music video director Ninian Dorff on his way and attract distribution.
Love Type D
The prospect of a supremely low-budget high-concept British comedy isn't reassuring, but this silly, engaging love story from writer director Sasha Collington about a woman who is convinced she is the wrong "type" of love gene is certainly charming. Australian actress Maeve Dermody stars.
John Hawkes and Logan Lerman star in this father-and-son road trip which runs from Alabama to Ireland and had the audience in tears along the way. It may follow a well-worn route, but this first feature by Elfar Adalsteins surely has further gas in the tank. Rocket Science is handling sales.
Admittedly Japanese but produced by the Recorded Picture Company's Jeremy Thomas. The latest twist in the unpredictable career of director Bernard Rose (Ivanxtc, Candyman) is a joyous adventure in period Japanese sword-and-skullduggery, scored by Phillip Glass and costumed by Emi Wada. Thomas's co-producer, Toshiaki Nakazawa, also worked with him on 13 Assassins.
Rowan Athale's follow-up to the low-budget The Rise is a surprisingly starry genre film with Amy Adams, Greg Kinnear, Brian Cox, Blythe Danner and Margaret Qualley (who also impressed in Quentin Tarantino's Once Upon A Time…in Hollywood). Focusing on a young woman who claims to be pregnant by a boyfriend who died five years previously and the ripples that sends through his bereaved family, Athale's involving story may escalate towards the overwrought, but it's unexpectedly, and classily, entertaining all the way through.