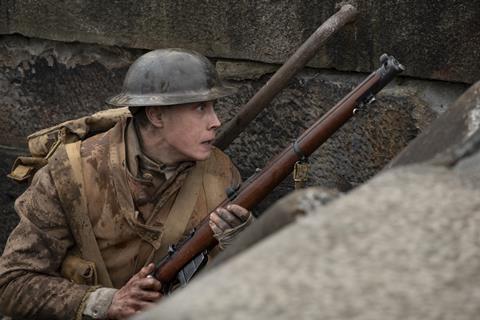 | Rank | Film (Distributor) | Three-day gross (Jan 10-12) | Total gross to date | Week |
| --- | --- | --- | --- | --- |
| 1 | 1917 (eOne) | £7.3m | £7.4m | 1 |
| 2 | Little Women (Sony) | £2m | £13.2m | 3 |
| 3 | Star Wars: The Rise Of Skywalker (Disney) | £1.9m | £54.9m | 4 |
| 4 | The Gentlemen (Entertainment Film Distribution) | £1.71m | £6m | 2 |
| 5 | Jumanji: The Next Level (Sony) | £1.68m | £31m | 5 |
GBP to USD conversation rate: 1.30
eOne
Sam Mendes' First World War epic 1917 has stormed the UK box office, with a £7.3m opening weekend taking it to the top spot.
The feature took £7.4m including previews; it played in 684 locations, grossing £10,731 per location.
1917 won best motion picture – drama at the Golden Globes the weekend before last, and has a strong haul of 10 Oscar nominations including best picture and best director. It is currently second-favourite to win the best picture prize with most bookmakers.
£7.3m represents an excellent result for eOne. It is the company's biggest opening weekend outside of four of the five Twilight films (it passes the £2.5m opening of 2008's first title Twilight).
The amount is not the highest for Mendes; that still belongs to James Bond title Skyfall, which opened to a stunning £20.2m in October 2012. It is also surpassed by the £20m of Mendes' second Bond instalment Spectre in 2015, and the £10m opening of Christopher Nolan's World War Two film Dunkirk in July 2017.
Sony
Greta Gerwig's Little Women fell only 24%, grossing £2m on its third weekend. This was enough to lift it past both Disney's Star Wars: The Rise Of Skywalker and fellow Sony title Jumanji: The Next Level. It has now grossed £13.2m in total, more than double the total of Gerwig's 2017 Lady Bird (£5.6m).
With six Oscar nominations including best picture, best supporting actress for Florence Pugh and best adapted screenplay for Gerwig – although she was not chosen in best director – Sony will look for the awards buzz to carry it to an even stronger result.
Despite falling below Little Women, Jumanji: The Next Level still took a decent £1.7m, a 45.8% drop. It now has an impressive £31m and has an outside shot of catching the first film's £38.5m.
Disney
Star Wars: The Return Of Skywalker dropped 58% on its fourth weekend with £1.9m taking it to £54.9m total. That makes it the 28th highest-grossing film of all-time in the UK, and the fifth highest-grossing UK release of 2019.
Taika Waititi's Jojo Rabbit, which scored six Oscar nominations for Disney, fell a reasonable 31.3% on its second session with £1m taking it to £4.3m total.
Frozen II, which did not make the best animated feature nomination selection, added £776,000 on its eighth weekend and now has £51.3m in total. It is 2019's sixth highest-grossing release.
Spies In Disguise added £680,000 on its third weekend, a 38.2% drop, and has £5.2m in total.
Bollywood drama Chhapaak opened to £88,000 from 45 locations for a decent £1,956 location average.
Entertainment Film Distribution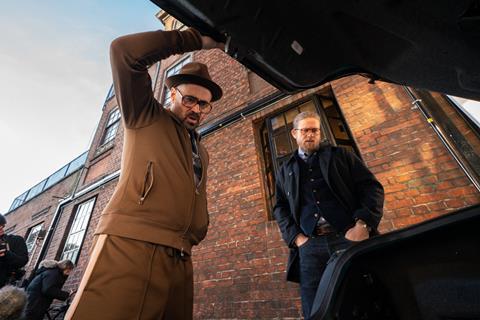 Guy Ritchie's The Gentlemen held well on its second session, dropping just 21.1% with £1.7m taking it to £6m in total. Despite not featuring in the awards conversation, the film may benefit as a counter-programming title in the coming weeks.
Universal
The much-maligned Cats dropped 56.6% on its previous session with £434,088 taking it to £11.2m. It will end as director Tom Hooper's third highest-grossing film to date, behind The King's Speech (£45.7m) and Les Misérables (£40.8m).
Benedict Andrews' political thriller Seberg starring Kristen Stewart as Jean Seberg took £37,460 on its opening weekend, with a total of £47,474 including previews.
Lionsgate
Knives Out, which scored a best original screenplay nomination for writer-director Rian Johnson, added £343,774 to its total, which stands at £12.2m after seven weekends.
Paramount
Playing With Fire fell 53.8% on its third weekend with £240,000 taking it to £2.4m.
Blue Story, the directorial debut of Screen Star of Tomorrow 2019 Rapman, is still in select cinemas after an impressive eight weekends, adding £18,000 to bring its total to £4.5m.
BFI Distribution
Federico Fellini's classic La Dolce Vita took £14,014 on its second weekend of re-release, for £62,453 in total.
Trafalgar Releasing
An event cinema release of Alban Berg's 1925 opera Wozzeck pulled in £111,005 from 188 locations for a £590 average.