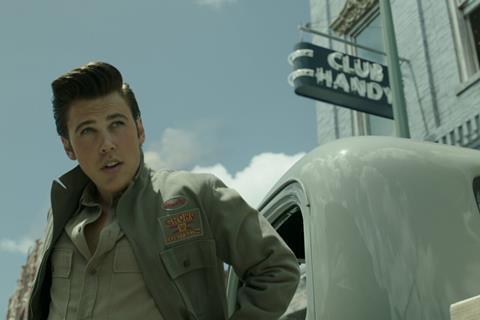 | | | | | |
| --- | --- | --- | --- | --- |
| Rank | Film (distributor) | Three-day gross (June 24 - 26) | Total gross to date | Week |
| 1. | Elvis (Warner Bros) | £4m | £4m | 1 |
| 2. | Jurassic World Dominion (Universal) | £3.4m | £27.1m | 3 |
| 3. | Top Gun: Maverick (Paramount) | £3.37m | £63.05m | 5 |
| 4. | Lightyear (Disney) | £2.3m | £6.9m | 2 |
| 5. | Doctor Strange In The Multiverse Of Madness (Disney) | £169,578 | £41.9m | 7 |
Warner Bros' Elvis topped the UK-Ireland box office chart on its opening weekend, with a three-day weekend of just over the £4m mark.
Playing in 742 locations, Elvis took an average of £5,423 per cinema. Compared to other titles opening this year in over 700 locations, it topped the £3.1m from 746 sites of Downton Abbey: A New Era and £2.2m from 705 of Belfast, but was down on the £5.9m from 714 of Fantastic Beasts: The Secrets Of Dumbledore.
Among music biopic comparisons, Paramount's Rocketman started with £5.3m in 2019, ending on £23.5m; Warner Bros will hope for Elvis to push past the £20m mark across its run.
Jurassic World: Dominion dropped 40.3% on its third weekend in cinemas, adding £3.4m to reach a £27.1m cume. While recording strong total, it will finish short of the £64.5m of Jurassic World, and is a long shot to reach the £41.6m of Jurassic World: Fallen Kingdom.
Top Gun: Maverick held well again for Paramount, dropping just 21% with £3.37m taking it to £63.05m from five weekends. The film is now in the top 25 highest-grossing films of all time in the territory, passing all three The Lord Of The Rings titles within the last week, and with Jurassic World's £64.5m next in its sights.
Disney's animation franchise title Lightyear dropped 38.4% on its second weekend, adding £2.3m to reach a £6.9m cume. It will end well short of the totals of Toy Story 3 (£74.1m) and Toy Story 4 (£66.2m).
Universal horror The Black Phone started with a £921,915 three-day weekend. Adding in £462,194 of previews, the film has a full opening just shy of £1.4m.
Leo Grande crosses £500k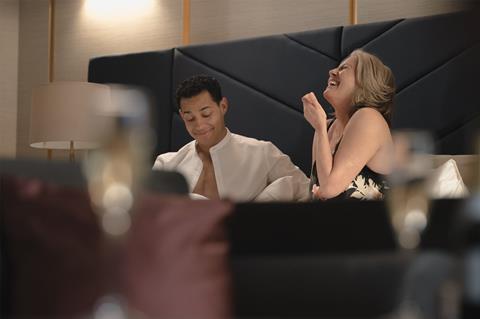 Lionsgate's Good Luck To You, Leo Grande dropped 38%, adding £118,213 to reach £527,185 total – enough to maintain a place in the top five for a second consecutive weekend.
A24 title Everything Everywhere All At Once is still going strong after seven weekends in cinemas. It dropped 41.5% on its previous session, adding £72,452 to reach a decent £4.9m cume.
Staying in the top 10 after a lengthy 13-week run, Paramount's Sonic The Hedgehog 2 added £65,000 – a 27% drop – to reach £26.7m total.
Universal animation The Bad Guys held firm on a 13th weekend in cinemas, dropping just 5.4% with £50,105 taking it to a strong £13.3m total.
In its eighth week in cinemas, Doctor Strange In The Multiverse Of Madness dropped 70.5% for Disney, with £50,000 bringing it to a £42m cume. It is the seventh-highest-grossing Marvel Cinematic Universe title from 28 releases.
Curzon re-release Wings Of Desire opened to £19,646, and has £19,864 including previews.
Downton Abbey: A New Era is closing out for Universal, adding £18,738 on its ninth weekend to reach £14.8m total.
Mubi limited release Faya Dayi brought in £4,676 including previews.
In event cinemas, Trafalgar Releasing played George Michael Freedom Uncut on June 22, taking £336,182 on the day and £420,959 to date including encore screenings.